Experiencing a hot, rally-inspired MG on Britain's most famous hillclimb is perhaps not something you'd have expected to see in 2023. But here we are.
It's the EX4 - a stripped-back, aggressively styled throwback designed in collaboration with the engineering maestros at RML, the motorsport outfit turned preparation specialist famed for the SWB, a stunning homage to the Ferrari 250 GT SWB.
The EX4 is what happens when MG – Chinese-owned since 2005 but linked with Britain's motoring history – taps into its sports car heritage. It's been designed as a futuristic tribute to the Group B MG Metro 6R4 rally car, and it certainly manages to capture some of the visual drama of that original.
With a front splitter jutting out like Durdle Door and rear spoiler not much further regressed than that, you're acutely aware that it means business. Just as well, then, that I, who barely knows how to put a racing helmet on, am not driving.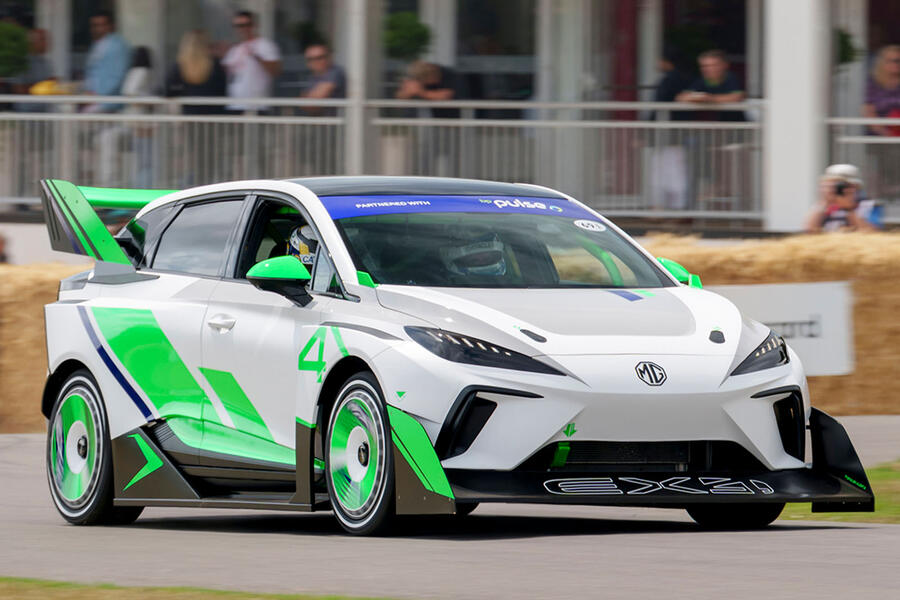 The man behind the wheel is British Touring Car Championship race winner Dan Rowbottom, a down-to-earth family man who enjoys chatting about the MG, his BMW M3 Touring and F30-gen 320d, and the intense pressures of touring car racing.
Before we can get round to that, though, it is the EX4's turn to clear its throat.
Or, rather, motors, because this botoxed hatchback produces 429bhp and a Mercedes-AMG A45-beating 0-62mph time of 3.8sec, so it has the twin-motor performance to match that love-it-or-loathe-it exterior. It's based on the MG 4 XPower, which sits ahead of us at the Goodwood start line.
The XPower thrusts away at an alarming pace and after four or five seconds is out of sight. Then it's our turn. Rowbottom nails the throttle and after a slight delay we accelerate through 20, 40, 60, 80 - the numbers come faster than I can speak. He floors the admittedly weak brakes on the approach to the first corner and balances the throttle before nailing it out the other end.