"The spirit of everything we learned from the Fiesta ST is definitely in there," says Leo Roeks, peering up at the differential housing of the latest, third-generation Focus ST.
He is not, I might add, talking about that specific piece of hardware, not least because this is the first time Ford has put an electronically controlled limited-slip differential in anything exclusively front-driven. The boss of Ford Performance Europe is instead referring to the entire car – the new Focus ST, yours later this summer for £29,495 – and how his engineers have captured the bubbly, chuckable persona of the smash-hit Fiesta ST in a larger, more refined package. It's something worth getting excited about, certainly, and Roeks makes the point again: "The DNA is very important to us."
We're stood in a service building at Ford's Lommel proving ground in Belgium, where a car like the Focus ST goes to be tortured when it finally moves off the computer screens, off the production line and into the light of day. By now the front-engined layout is well known to us, and underpinned by Ford's lighter, more rigid new C2 platform, which needs no strengthening.
Where the Fiesta ST uses a downsized three-cylinder engine, its bigger brother has gone the other way, reprising the turbocharged, all-aluminium 2.3-litre four-cylinder EcoBoost engine previously found in the Mk3 Focus RS, only this time with less pulverising but far from meagre totals of 276bhp and 310lb ft. That's more torque than any direct rival, in fact, and enough to see the ST out-perform the hulking old RS through the mid-range, says Roeks. How about that for progress?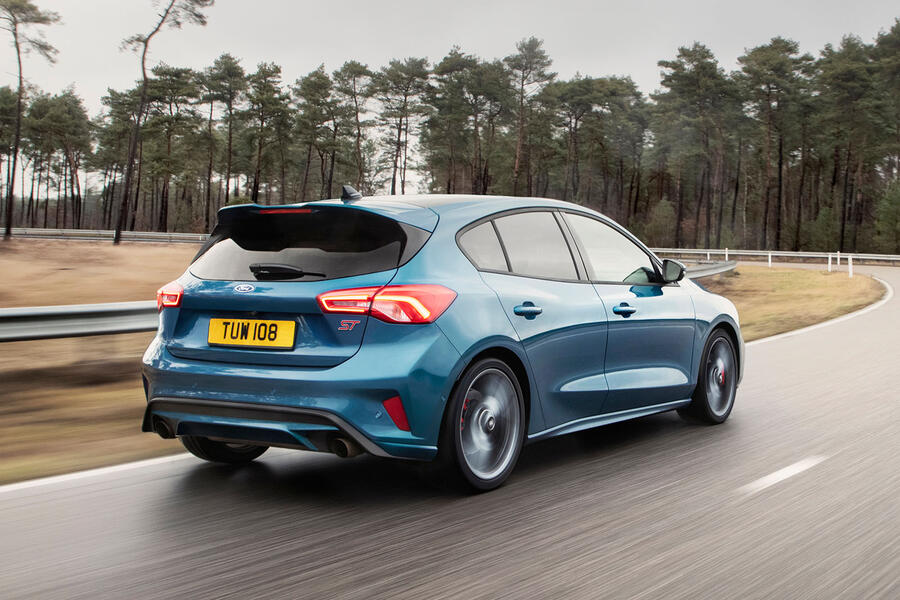 Off the line, the official 0-62mph time is 5.7sec – some 0.8sec quicker than the last generation of Focus ST and about as quick as it's possible to go without rear driveshafts. As for getting power to the front axle, it'll be possible to option a seven-speed automatic gearbox (though not in the 187bhp diesel estate ST) but the six-speed manual is what most owners will want. As such, Ford has put its back into developing this aspect of the car, not only reducing the throw but introducing rev-matching and a flat-shifting function. Basically, if you're close enough to the 6500rpm red line, you needn't lift off the throttle.