The Bentley Continental GT Convertible is just 0.1sec slower to 60mph from a standing start than its coupé sibling, despite weighing an extra 160kg.
The new drop-top features a 626bhp 6.0-litre W12 engine and, along with that impressive 3.7sec 0-60mph time, delivers a top speed of 207mph – the same as the coupé version. That's despite the new Z-fold roof mechanism contributing to a hefty weight of 2414kg. The roof, along with some rear styling features, are the only major changes from the coupé, with the two cars nearly identical mechanically.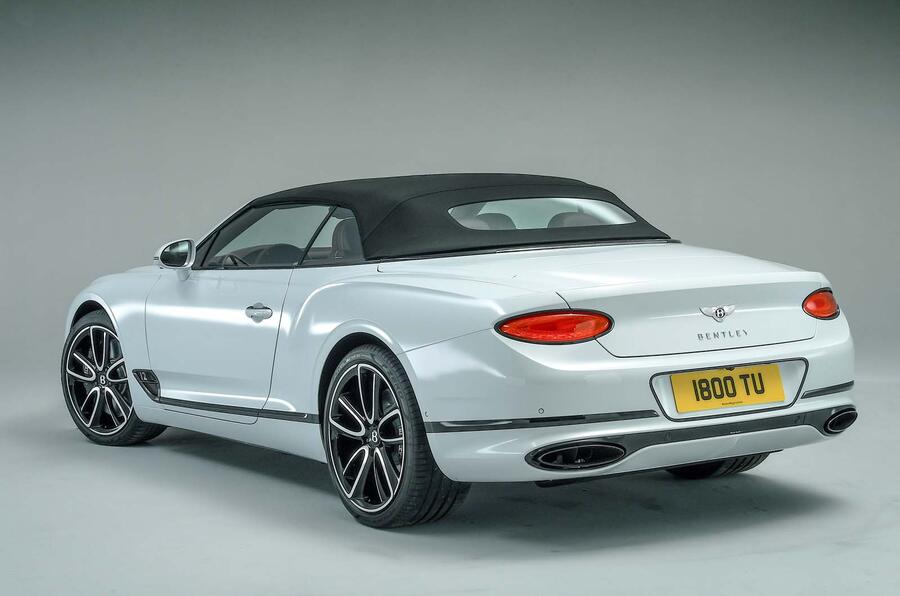 Bentley says the GT Convertible's Z-fold roof – able to retract in 19sec at speeds of up to 30mph – offers a "sportier appearance" and a three-decibel noise reduction compared with its predecessor. Seven different fabric roofs are available, including a tweed finish for the first time.
While the front of the GT Convertible is the same as its hard-top sibling, the rear has some design tweaks. The absence of the retracting spoiler on the convertible means the Gurney spoiler is slightly larger to help aerodynamics. For the same reason, the corners above the rear lights are different, with a wider lip than the coupé and more concave surfaces, all of which contribute to downforce.
Inside, the GT Convertible gets the same interior as the coupé, including a digital instrument panel and rotating display with a 12.3in touchscreen. The car has heated seats and steering wheel as before, plus wider neck-warmers and new heated armrests.