A development mule for the 2016 Mercedes-AMG E 63 has been photographed broken down in Germany, offering us our most detailed look at the next-gen super saloon yet.
The test mule confirms the look of the upcoming E 63 will add muscle to the latest E-Class's exterior, but in a predictably subtle way. More aggressive bumpers and quad-exit exhausts are the biggest give away for the car's added potency, but much of the design is unchanged from the regular car.
Our photographers also snapped a picture of the car's dash, which uses the same digital display as the regular E-Class but with a speedo that reads up to 330kmh. No doubt the car's top speed will fall short of this number (which equates to 205mph), but it confirms some of the menus and infotainment pages will be bespoke to the AMG.
What caused this particular mule's break down has not been revealed, but the development drivers were able to re-start it after following instructions on the phone, suggesting it was a minor electrical or software issue.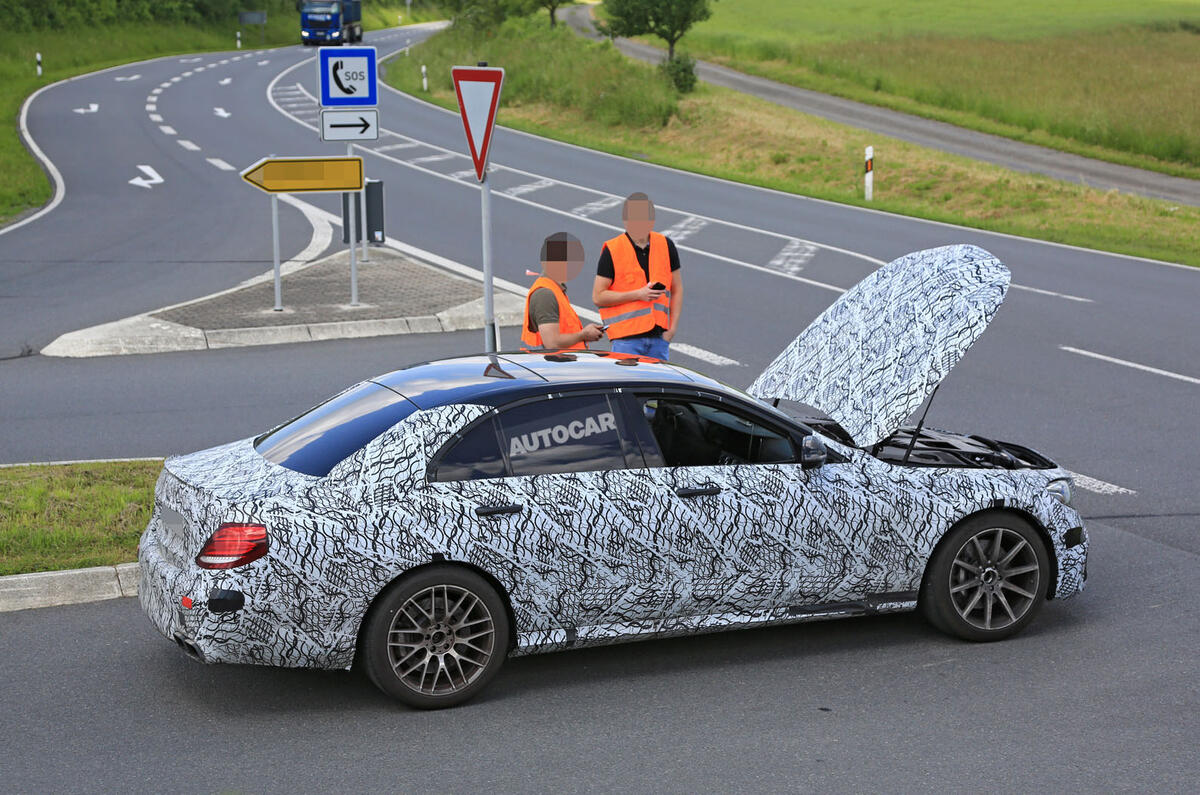 Performance
The new pictures follow a leak on a German car forum from earlier this year, which revealed the performance figures of the upcoming super saloon months ahead of its global reveal.
When translated, the two-page document suggested the E 63 will produce 603bhp and 627lb ft of torque from its twin-turbo 4.0-litre V8 engine in S spec, while the regular E 63 will produce 563bhp and 553lb ft of torque. This backs up earlier claims that the engine (which is a wet-sumped version of the dry sump unit featured in the 510bhp AMG GT) would be capable of more than 600bhp, and ensures the 2016 model will be significantly more potent than the Audi RS6 and BMW M6, both of which currently produce 552bhp.
The leaked photos also reveal straight-line performance figures. The E 63 is claimed to be capable of accelerating from 0-62mph in 3.7sec; the E 63 S is two 10ths quicker. Both are limited to a 155mph top speed, although the asterix next to that figure suggests the new car will be available with a raised top speed, should owners want one. Both models share the same claim for a 32.8mpg combined fuel economy figure, too.