The last few months have seen a series of videos delivering some of the world's finest drives.
The Dunlop Pure Driving Experience series has taken in the Isle of Man TT course, a 200mph run on an autobahn and a spectacular drive along the Stelvio Pass – all of which in some of the world's most exciting cars. And all in the interests of capturing the essence of a pure driving experience.
And now it's your turn to tell us where you'd like the Pure Driving Experiences team to go to next.
We've already lined up a Mercedes C63 AMG Black Series for the event, but would you rather see it attack: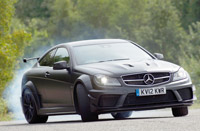 The handling track:
The Longcross test track in Surrey is the home of the Autocar video road test and some of our favourite bends, perfect for putting the C63 through a punishing handling test. Vote now