Lamborghini's new Huracán Evo Spyder has had its debut at the Geneva motor show.
The convertible supercar follows the launch of the Huracán Evo, an updated and more powerful Huracán coupé, late last year. It features the same 631bhp 5.2-litre naturally-aspirated V10, resulting in a 0-62mph time in 3.1 seconds – 0.2 sec slower than the hard-top model.
The 201mph top speed is identical to that of the coupé, however, despite the Spyder's 120kg weight penalty. Much of that extra weight is down to the car's soft-top mechanism, which uses an electro-hydraulic set-up to lower the roof in 17 seconds at speeds of up to 31mph.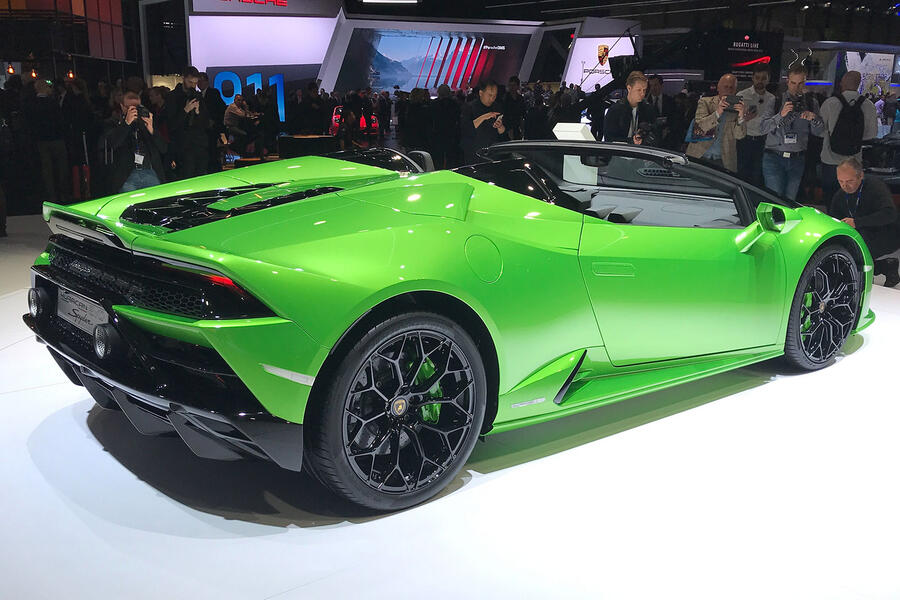 Automatic pop-up rollover bars are hidden behind the seats, while the rear window can be retracted electrically whether the roof is up or down, allowing the car's engine note to be heard more clearly by those in the cabin.
The Huracán Evo's range of new chassis technologies, including rear-wheel steering and four-wheel torque vectoring, carry over unchanged to the Spyder. Lamborghini says the car's aerodynamic prowess, with more than five times the downforce and aero efficiency of the old Huracán, is also maintained, while cabin airflow is said to be "minimised" to assure a "quiet cockpit environment" - when the V10 isn't on song, of course.
Lamborghini has confirmed the Huracán Evo Spyder will be available to order shortly and cost from £218,137 including taxes, making it around £12,000 pricier than the hard-top. UK deliveries are expected in the Spring.
Read more:
Lamborghini Huracan Evo 2019 review