Chinese start-up company Byton will bring its the M-Byte electric SUV to right-hand-drive markets such as the UK if there is enough interest, and "the signs are good", according to chief technical officer David Twohig.
The M-Byte has been in development for two years. Launching on the Chinese market initially, with customer deliveries set to get under way in the middle of 2020, it's planned to arrive in Europe in early 2021 at a starting price of €45,000 (£40,280).
Twohig, a former chief engineer at Alpine, claims the delay in getting the car to Europe is "mostly for software reasons". The company gets mapping data from Baidu - effectively China's Google - but must work with different partners in Europe. "We have to establish that and then iron out all the bugs, to ensure everything works as it should," Twohig said. A hundred prototypes have been built so far, with over half of those destroyed during testing.
The production car on display - described as 100% finished - bears a strong resemblance to the concept that was revealed earlier this year and retains that car's distinctive 48in curved 'Shared Experience Display', the largest infotainment screen yet fitted to a production car.
The screen forms part of what Byton calls "a digital lounge feeling" and allows passengers to access connectivity services and vehicle controls.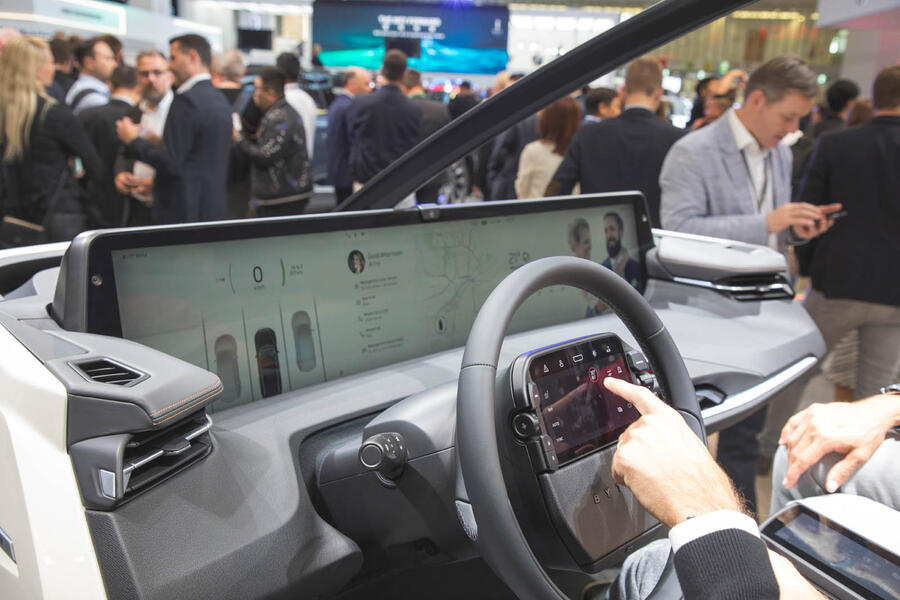 The display is not touch operated; instead, it is designed to be primarily controlled via a 7.0in screen located in the centre of the steering wheel or a 8.0in tablet mounted between the two front seats, but can also be controlled by voice or gesture control. It is covered by a layer of shatter-proof glass to minimise risk of injury in a collision.
Twohig reiterated the development and production cost involved in such a screen, noting that it's "automotive grade - meaning it has to last more than 10 years, is designed to cope with shocks of up to 2g, and extreme temperatures".