Bugatti has revealed the Chiron Super Sport 300+, a limited-run road-going version of its record-breaking hypercar.
Former Le Mans winner and Bugatti test driver Andy Wallace recently used a 'near-production' version of the Super Sport 300+ to set a top speed run of 304.773mph at the Volkswagen Group's Ehra-Lessien test track in Germany. While the run hasn't been recognised by Guinness as a world record, because it was performed in only one direction, Bugatti now claims to make the fastest production vehicle on sale today.
The Super Sport 300+ uses an uprated version of the Chiron's quad-turbocharged 8.0-litre W16 engine to produce 1578bhp - a 100bhp increase. A longer-ratio gearbox has been fitted to reach top speeds of more than 300mph, compared with the Chiron's restricted 261mph; the Super Sport 300+ will also be electronically limited out of the factory, but Bugatti has yet to reveal what its limit will be.
The road-going hypercar will share its styling with the record-breaker. An aerodynamically optimised body made from exposed carbonfibre, a long-tail rear end, a central rear diffuser and a modified exhaust layout help to reduce drag at high speeds, although ride height has been increased to make driving on public roads possible.
The Super Sport 300+ rides on magnesium wheels and carbonfibre is used for the engine cover and windscreen wiper in order to save weight. Orange racing stripes are a nod to the original Veyron Super Sport World Record Edition, which was the fastest production road car at the time of its introduction in 2010.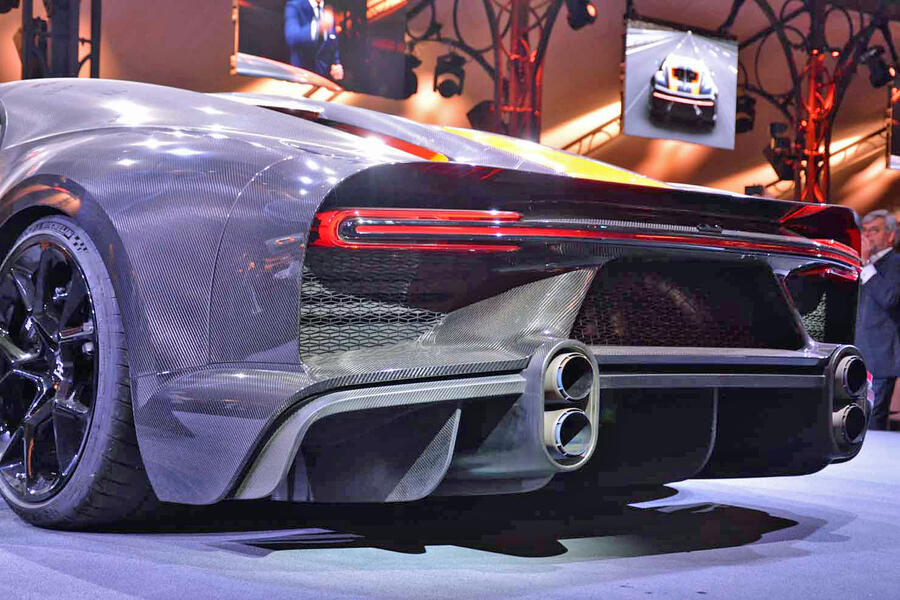 Unlike the record-setting prototype, which was stripped of its passenger seat and fitted with a roll cage and timing gear, the 30 customer cars will be fitted with the same opulent interior as the regular Chiron.
Bugatti is reported to be considering giving customers the option of adding the roll cage back in and granting access to the Ehra-Lessien test track for them to attempt their own high-speed runs.