The demand for diesel cars is set to slump due to concerns over emissions and pollution, according to a survey commissioned by Autocar, with more than a sixth of all motorists planning to buy a hybrid or electric car next.
In the wake of ongoing controversy about emissions and the Volkswagen Dieselgate scandal, Autocar teamed up with leading survey research advisor Simpson Carpenter to conduct a study on the attitude of motorists towards diesel engines. More than 1000 interviews were undertaken for the study in May.
Diesel engines: your questions answered
The results show that despite diesels currently accounting for around four in 10 cars on UK roads, just 23% of motorists plan to buy a diesel as their next car. Notably, more than half of all current diesel owners plan to switch to another fuel type.
Opinion: Why diesel controversy could be a tipping point for EV take-up
Jaguar Land Rover boss: there's nothing wrong with buying a diesel
Motorists turning away from diesel – and towards electric
The survey results showed that diesel owners currently comprise 38% of UK motorists, while just 2% of motorists owned a hybrid or electric machine.
But when asked what type of engine their next car was most likely to be powered by, less than one in four said they intended to buy a diesel. That drop contrasts sharply with a surge in demand for battery cars – 17% of motorists say their next car will be hybrid or electric-powered.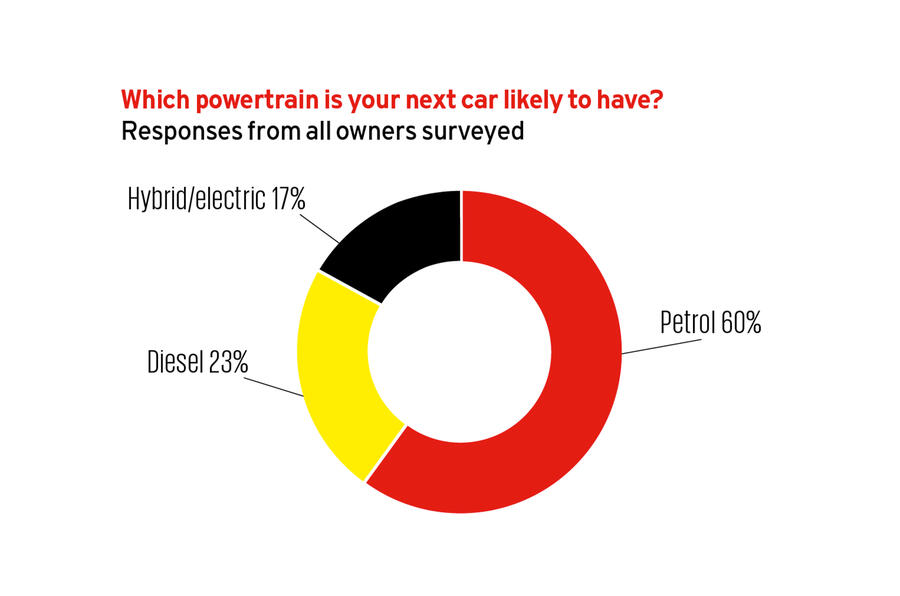 The survey also shows that current diesel owners are turning away from the engine format. Just 46% of drivers who currently own a diesel intend to replace it with a car featuring the same engine type, while 22% say they will invest in a hybrid or electric car.