Twisted, the Thirsk-based purveyor of modified Land Rover Defenders, has turned its attention to this cutesy off-roader to create the Suzuki Jimny Twisted. This is potentially excellent news.
I like what Twisted does with Land Rovers, I like the Jimny, and on that I'm not alone. When we road tested it, we said it was "one of the most likeable cars we've tested this year" while delivering only a three-and-a-half-star verdict because of the choppy ride, cumbersome handling and limited grip. It was so bouncy that one tester found it "tough to tolerate".
I'm inclined to make large allowances for that sort of thing when a car offers bags of character. And like the old Defender, the Jimny is one of those that does. It's "an analogue, simple 4x4", says Charles Fawcett, Twisted's founder. "They just make you smile when you drive them." Agreed.
It's not difficult to see the similarities with the Defender, in many ways. The Jimny was unusual when it was launched in retaining a separate ladder-frame chassis and body when everything else of its size had long ago adopted a monocoque construction.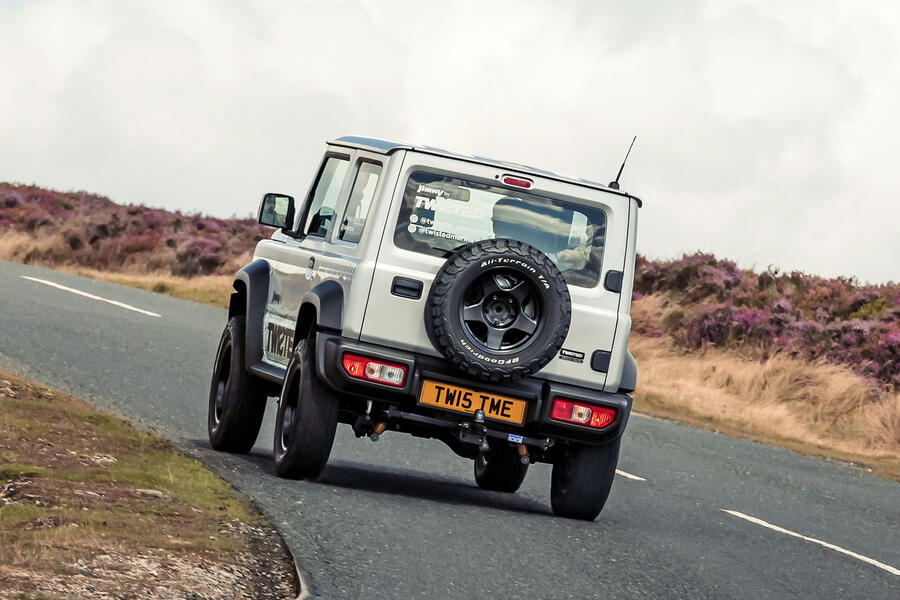 It has a longitudinal engine with beam axles front and rear and a low-range transfer case – although it can also be left in rear-wheel drive for better road-going economy. It's a proper off-roader, too. Its approach angle is nearly 40deg, its departure angle nearly 50deg and its breakover angle 28deg. The Jeep Wrangler betters only the approach angle.
The Jimny's body width (1645mm), 9.8m turning circle, 210mm ground clearance and 1135kg kerb weight enable it to go places where many other bigger, more powerful off-roaders will not. Throw in the charm and it's easy to see why it's so likeable.
You might remember that Suzuki had to take the Jimny off sale just two years after launch, in 2020, due to the implications of its relatively high official CO2 output (178g/km), but a regulatory quirk enabled it to return in 2021 as a van. Basically, it just lost its cramped rear seats.