Autocar Subscriber Extra is our package of exclusive benefits for our magazine subscribers. One of these is a weekly behind-the-scenes email newsletter from our editors. For a limited time, we're giving all Autocar readers free access to these newsletters and columns. You can We try to make Autocar's ratings more long-lasting and meaningful than that. Some erosion of any car's rating is to be expected as it ages, which is why even our scores must be considered in the context of the time at which they were published. But for an explanation of exactly what a five-star car is and does - and the same for 4.5, four, 3.5 and all the way down to no stars at all - look no further than the first page of our New Cars A to Z data section in the back of the magazine every week.
There you'll discover that a five-star car is "brilliant, unsurpassed," and if not quite flawless, "all but" that. You'll also find that, broadly speaking, a 2.5-star car is disappointing but just about acceptable; a three-star car is average; a 3.5-star car is good; a four-star car is very good; and a 4.5-star car is excellent. I frequently have cause to explain to car manufacturer PR bosses and managing directors that a 3.5-star recommendation is just that: a recommendation. For most car brands, it shouldn't really be cause for complaint.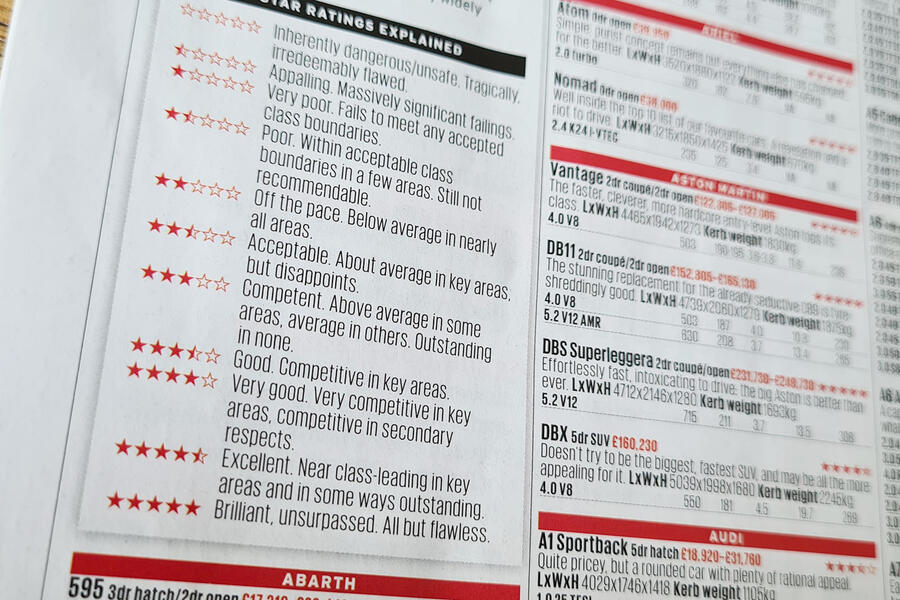 For a new car to get a two-star score or worse, it must be below average in most important areas. A 1.5-star car is downright poor. And to go lower still, a test subject must fail to meet an acceptable standard in any area whatsoever; or be irredeemably flawed, awful to drive and use, patently unreliable, shoddily constructed, or downright dangerous.
You can imagine, therefore, with modern car design, development engineering and vehicle marketing having become the carefully practised sciences they now are, that the occasions we have to hand out ratings of less than two stars are fewer and farther between than the statisticians may prefer. As road test editor, I've known only a handful of occasions when we've handed out a two-star rating; and in 18 years of reviewing, I think I've had cause to hand out only one 1.5-star score. It happens, though; and when it does, you'll know exactly why from the tenor of the review.