'Decarbonise the engine and report. Check power steering and front wheel alignment. Straighten up front bumper. To be completed by Thursday May 13th, please.'
So wrote Group Captain Douglas Bader, the celebrated RAF fighter ace, in a letter to the works service manager that he left on the seat of his Alvis ahead of its annual checkup. It's contained in a bundle of correspondence relating to Bader's many Alvis cars (each featured a Spitfire mascot), just one of thousands of copies of customer correspondence that Alvis has received since being founded in 1919 and still keeps and refers to, in addition to the vehicle records for each of the 22,000 cars it has produced and 17,000 technical drawings relating to every major component it has ever designed and manufactured.
"My chief interest when acquiring the company was these documents," says Alan Stote, the energetic 71-year-old boss of Alvis who bought the company from its retiring owner in 1994. "I'm very interested in 20th century industrial history."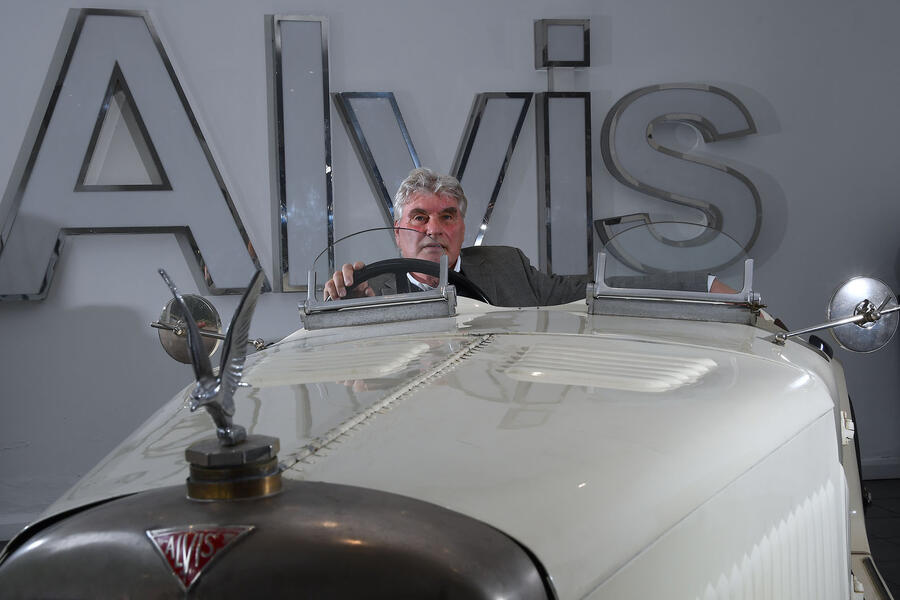 Fortunately for Alvis, Stote is interested in not only the company's past but also its future. To that end, the former Goodyear tyre apprentice, who went on to make a fortune in remould tyres before selling his company in 1988, has launched a series of six Alvis continuation models based on two different chassis – three pre-war cars, each powered by an Alvis 4.3 straight six, and three post-war cars with 3.0-litre Alvis engines under their bonnets.
Prices start at £250,000. So far, four cars have been built (each takes two years) at the company's Kenilworth base and orders for five more have been received from Alvis's distributor in Japan. Depending on the variant, production of each continuation model is limited to five or 25 cars.
Engines in the pre-war 4.3-litre models are newly manufactured copies of the original motor, based on Alvis's detailed technical drawings, albeit with some modern updates including fuel injection, electronic ignition, battery management and an ECU. The blocks and heads are cast in West Bromwich and the cranks and rods in Hinckley by Arrow Precision.