Rear bench was big enough "for a small wife and a child or a larger wife and a shopping basket", apparently

The 4ft-wide KR200 next to the 5ft 9in-wide Standard Vanguard

Tail contained the single-cylinder power unit, chain case, 12V battery and spare wheel

The Messerschmitt Bf 109 fighter aircraft Credit: Mark Schierbecker
Close
The name 'Messerschmitt' is synonymous with the Bf 109 fighter aircraft of the Second World War, the revolutionary German adversary to Britain's Supermarine Spitfire.
This was the Messerschmitt company's magnum opus, which says a lot, seeing as near the end of the war it went on to produce the Me 262 Schwalbe, the first jet-powered plane to enter operational service.
But, with the war lost, German industry still to a large degree in tatters and restrictions upon the country banning the production of aircraft until 1955, Deutschland's best-known Flugzeugwerke needed to find another way to keep going.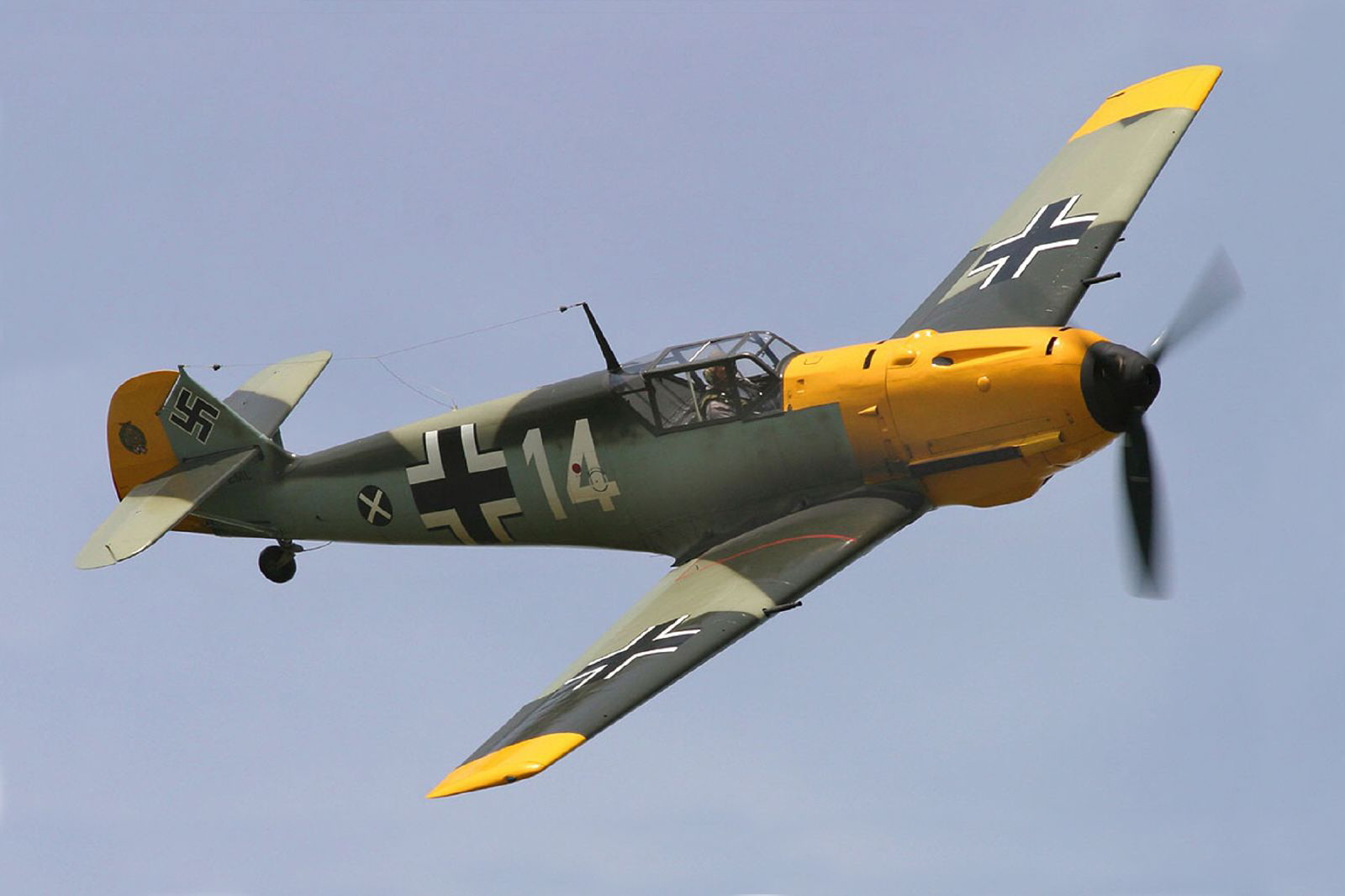 So when it was approached in 1952 by former Luftwaffe engineer Fritz Fend with the idea of developing his Flitzer tricycle invalid carriage into a proper microcar – popular in Germany at the time due to a shortage of petrol – a deal was quickly struck.
The first Messerschmitt 'car', then, was the KR175, christened Kabinenroller, meaning 'scooter with a cabin'. This was then developed into the KR200, which arrived in 1955.
The 385lb three-wheeler, which looked suspiciously akin to a fighter aircraft's canopy, was powered by a 191cc, single-cylinder, two-stroke Fichtel & Sachs motor, giving a maximum of 10bhp at 5250rpm. This sent drive to the rear wheel through a four-speed sequential manual gearbox. The car was steered by a rotating bar control that required small, two-dimensional inputs.
On 11 January 1957, Autocar clambered into the KR200 for a test drive.
"The KR200 falls in its own class between two-wheeled scooters and miniature four-wheelers," we began. "If you have a motorcycle driving licence, you may not use it in reverse; if, on the other hand, you normally drive a car, then you may use all gears in reverse as well as forward.
"We are licensed to drive four-wheeled vehicles and the observations which follow are from the viewpoint of a motorist who is using this enclosed three-wheeler as an extra petrol-saving runabout for himself and members of the family.
"The KR200 has two and a half seats; the driver has a central one to himself and at the back there is a bench which will hold a small wife and child, or a larger wife and a shopping basket. Behind again there is a shelf for small parcels and the like. On a shopping excursion, more parcels can be placed about the floor of both cockpits without getting in the way.
"With the transparent (perspex) enclosure hinged over to starboard, it is easy enough to step into the centre of the floor and sit down. The front seat raises some six inches up and back to facilitate the lowering of one's person onto it. The 'lid' closes quite easily and latches down firmly, but it is rather heavy to lift when one wants to get out again.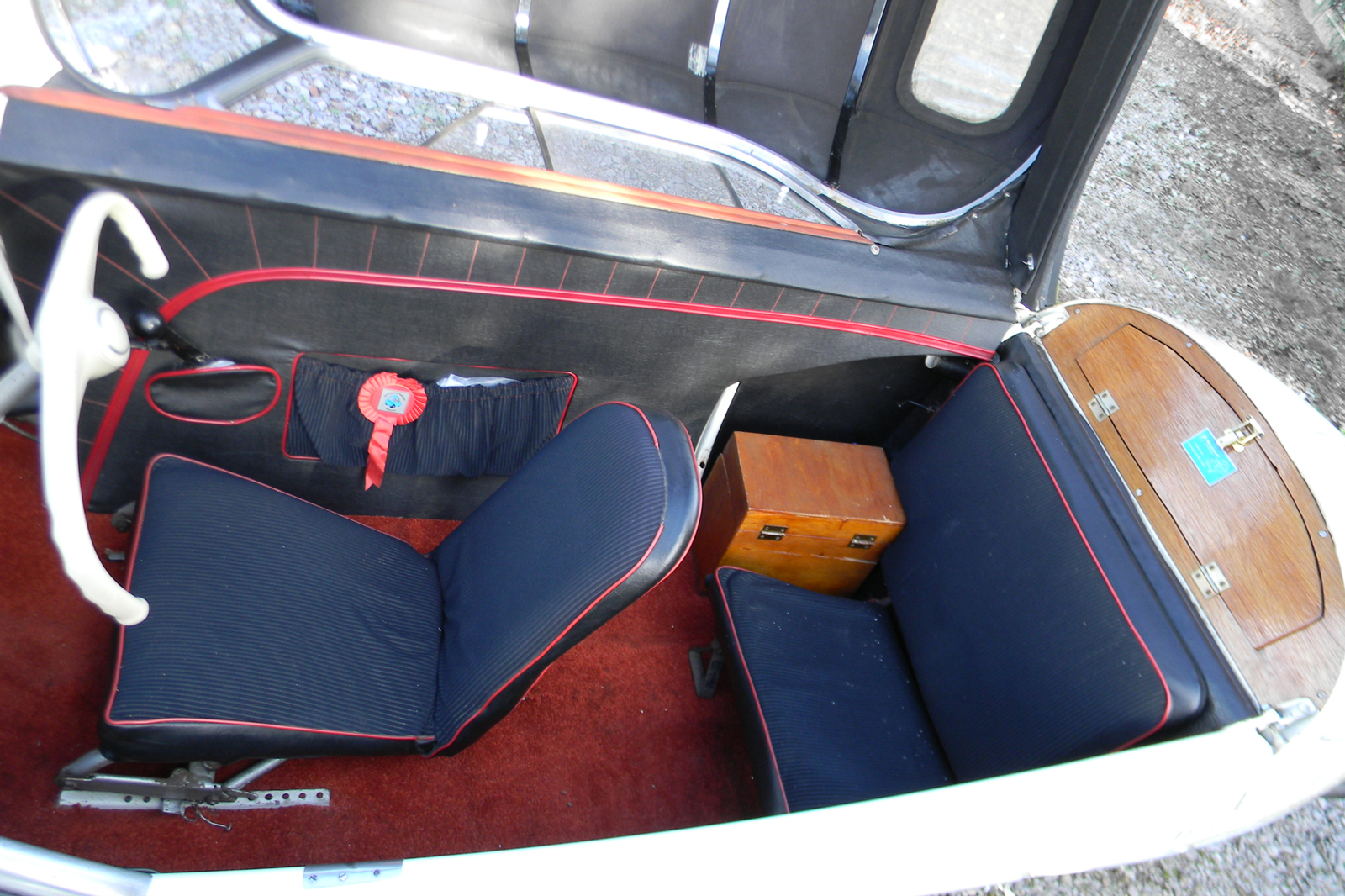 "As for starting, one simply turns the petrol to main; pulls out the choke, if cold; turns the ignition key to switch on, and a little further to engage the electric dynamo-starter. Catch the engine on the accelerator pedal and let the choke slide in almost at once, or over-richness may stall it again.
"Economy with reasonable performance will be the desire of most owners today. The KR200 cruises happily at 40mph with two up, and it is as quick off the mark as most small cars. It covers the standing quarter-mile in 29.7sec." It took 10.7sec to get from 0-30mph and 20.0sec to hit 40mph.
"Driven solo, 45mph could be used all day without pressing the engine. The brakes proved quite adequate for all purposes and speeds during our test.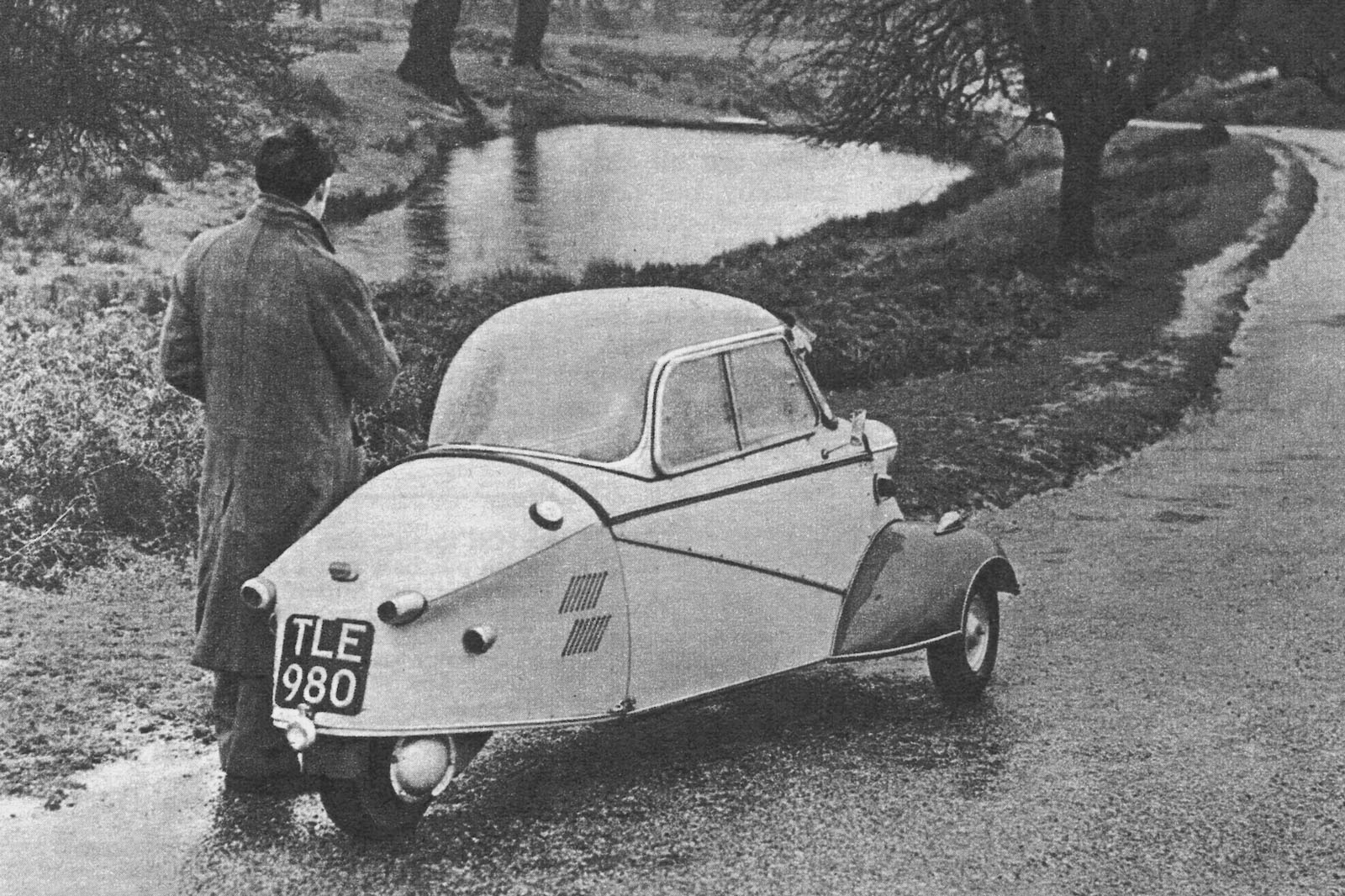 "At no time is the engine noisy or obtrusive; rather, one notes its smooth willingness and flexibility.
"With hard driving, the KR200's fuel economy fell to 62mpg. According to driving methods, 90mpg should be attainable and 75mpg might be normal for everyday use.
"The controls, particularly when steering is included, are unique. The pedals, including foot dip-switch, are like those of a car. On the right is a fore-and-aft gearlever, moved by hand but operating like the foot change of a motorbike – four up, four down. A small trigger on the lever provides neutral at mid-lever position whenever it is pulled. The gear change is simple and convenient and the ratios are very happily chosen.
"The steering, by a wheel-cum-bars control, is a car/bike compromise.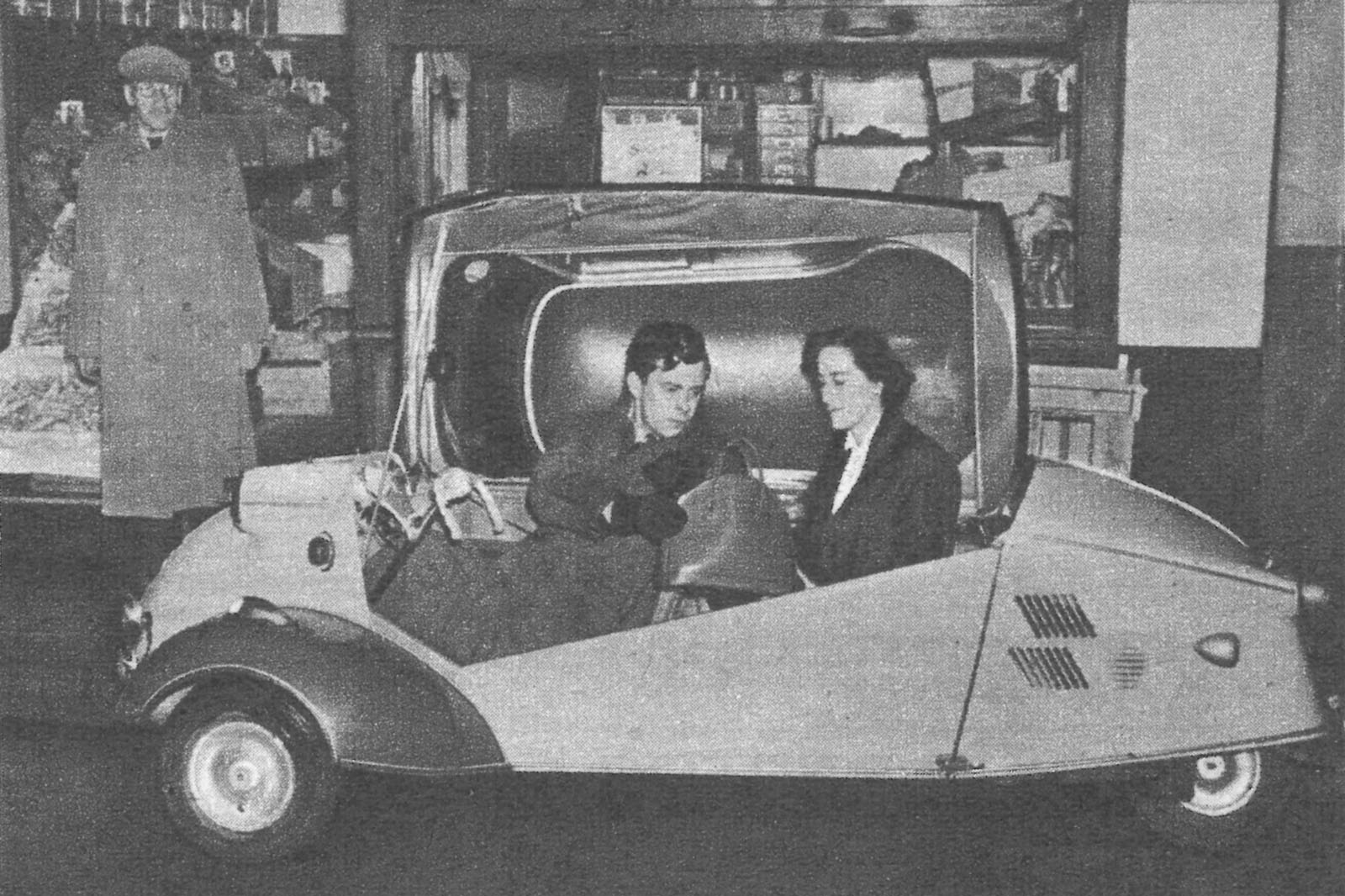 "The suspension," each wheel independently sprung by means of rubber in torsion, "is firm but by no means hard. With little wheels and a short wheelbase, it is only reasonable to take potholes slowly. The degree of bounce and pitch seems roughly proportional to speed. On normally good surfaces, the ride is pleasant at all speeds, and the machine controls well, unless tyre pressures are uneven, which makes directional stability deteriorate.
"Until the driver is familiar with the feel of the ride and the unconventional steering, he may suffer from a lack of confidence and believe the KR200 to be likely to roll over in corners. In fact, it would need very clumsy handling to lift a wheel or lose control when turning. The machine is best driven, rather than trailed, around corners.
"At speed, a quite small deflection of the steering bar can produce an abrupt swerve, but a fairly heavy load is required to move the control when travelling fast or slow." This was because the KR200's steering column was connected to the track rods of the front wheels, whereas most cars at the time had a reduction gearing. "It is fair to say the steering needs some getting used to, but once accepted, it can be used to give precise driving.
"In traffic, one may weave and queue-jump with the motorbikes. Car and lorry drivers generally treat you with an amused tolerance if they see you – but that is a big 'if'. So small and low is the KR200 that the driver must make allowances for not being seen by others in full-sized vehicles on his right. A small mast with pennant might be fitted to mark one's position in traffic."
The Messerschmitt made a fine urban runabout, then, as we concluded: "An average-sized man can wear his hat and arrive at his office on time in the KR200, warm, dry and tidy. For long journeys, rather more seating comfort would be appreciated, but the KR200 is a little vehicle which most drivers would be pleased to own. There always seems to be room to park it and, in spite of its small proportions, it is neither cramped nor fragile."
Around 40,000 KR200s were built, with production ending in 1964. During this time, Messerschmitt had largely let Fend deal with car production and went back to doing what it did best, with the company building the Lockheed F-104 Starfighter under license and its founder designing the supersonic delta-wing Helwan HA-300 fighter jet for the Egyptian Air Force.