The 101st Indy 500 will take place this weekend with Fernando Alonso among the starters. Never before has there been such an international buzz around the event.
McLaren driver Alonso has qualified fifth on the famous Indianapolis Motor Speedway in what is his first oval race.
This is a fantastic feat, there's no doubt about it, but it's one that forms just a tiny portion of the challenge that lies ahead, as Brit IndyCar drivers Jack Harvey and Max Chilton tell me.
"There's less to do in terms of corners in Indy [than conventional racing], but your concentration is so much higher," explains Harvey, who has won at Indy before in the Indy Lights category. "The difference and the level of accuracy are taken to an absolute Nth degree."
Mario Andretti on Fernando Alonso and the Indianapolis 500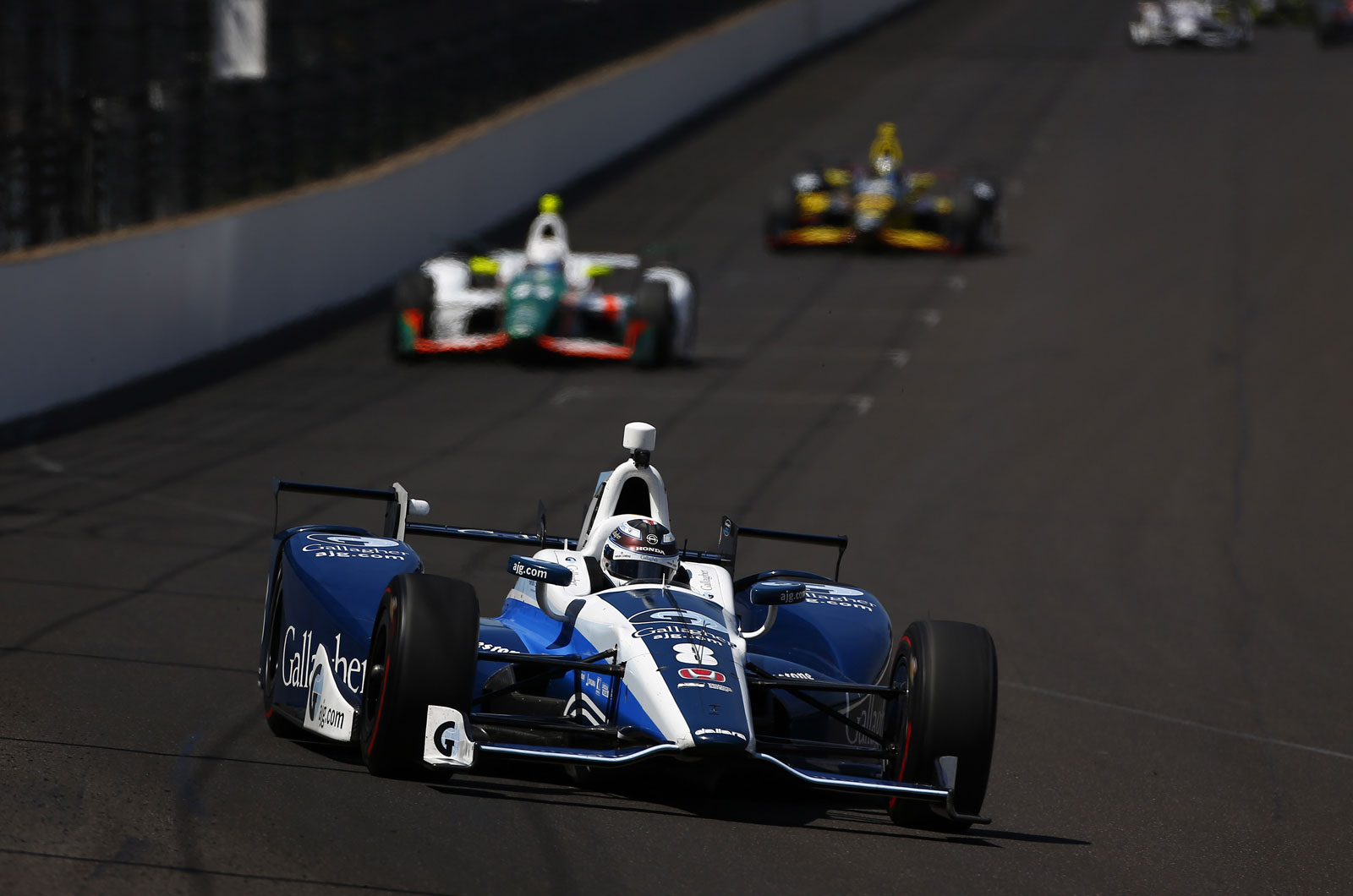 Chilton (pictured above), who has won in Indy Lights and raced in Formula 1 in 2013 and 2014, admits that he still finds the speeds hard to comprehend when returning to the track. "When you first get into an IndyCar, all your mind wants you to do is lift. The speed is insane compared to F1 – they peak at 220-230mph but we're doing that for three hours non stop!"
The speed is high, but it's the wheel-to-wheel racing that really challenges. The field can be so tightly packed that drivers are often forced to run side by side at more than 220mph, in the dirty air of a car ahead and with another inches behind.
"The way you see a driver push on a qualifying lap [in regular racing] and talking about accuracy – that's every lap on an oval," emphasises Harvey (pictured below), who is teammate to Alonso at McLaren Honda Andretti. "When it goes wrong it's usually because somebody chops across you and suddenly takes away the clean air. At that point it's out of your control for how the car reacts."
At such high speeds, you might be inclined to give the car extra grip and composure with higher downforce settings, but Chip Ganassi Racing driver Chilton says the opposite is needed to be competitive.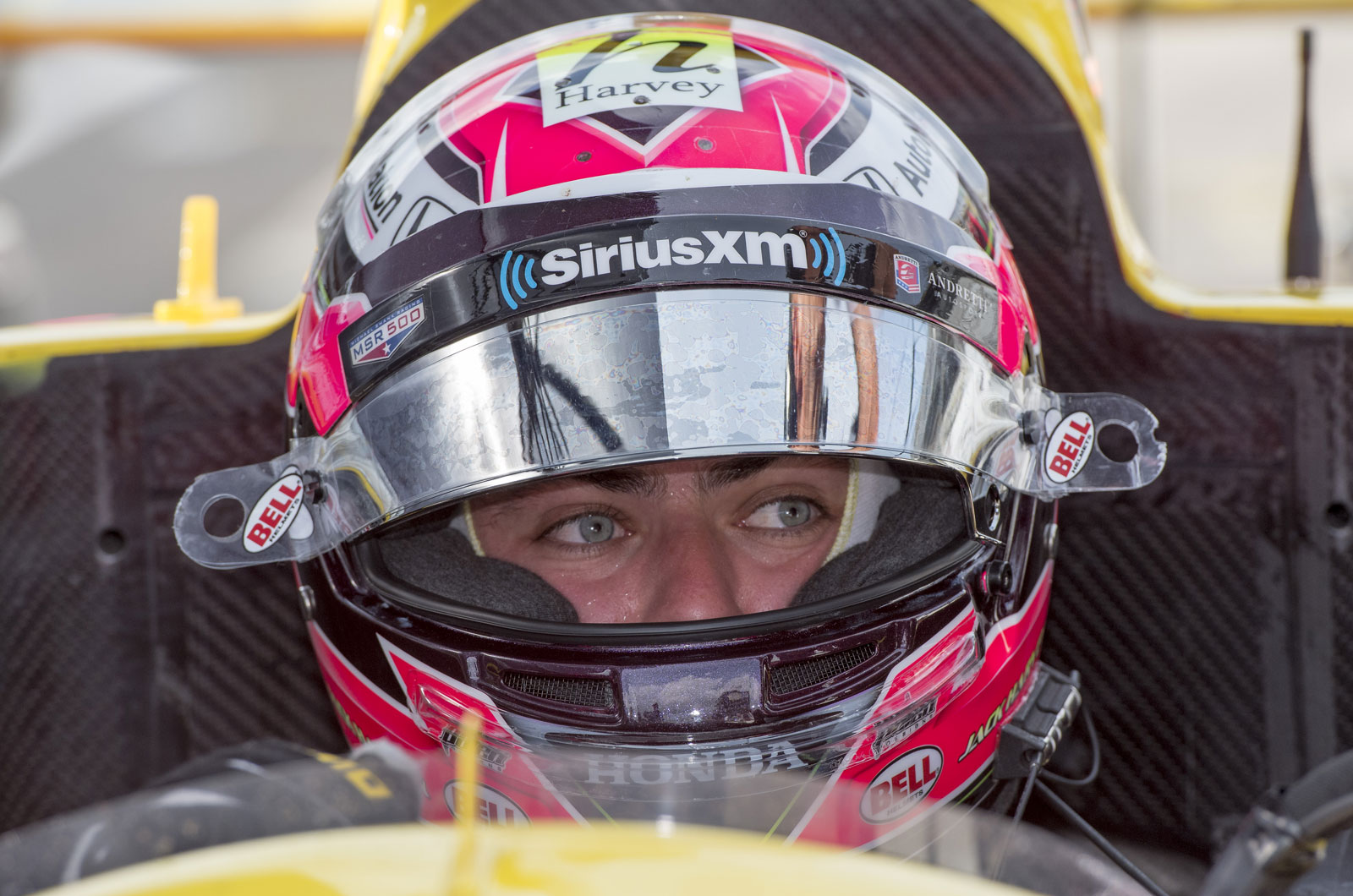 "You're basically trying to set the car up with as low downforce as possible on oval configurations," he explains. "It makes it very hard to run side by side. If you're going to pass someone you've got to commit to the inside; you can only really overtake on the outside if they have much older tyres than you."
As Sébastien Bourdais' horrific crash during qualifying earlier this week showed, IndyCar is one of the world's most dangerous sports. Bourdais, who is an experienced Indy racer and former F1 driver, was lucky to escape his 200mph impact into the wall with just a broken pelvis. Things are much more dangerous when 33 cars are running together.
"I hate to say it but when the F1 boys mention speed an danger, I think you guys need to have a go at IndyCar," sys Chilton. "It's proper speed and you're right on the limit of the car all the time."
Chilton and Harvey line up 15th and 27th respectively for today's race start. While that may seem far down the order, the rate of attrition in 500-mile Indy races combined with their unpredictability, means the race really is anyone's to win.
Engines start today at 5:14pm BST.
The race start positions are as follows:
Row 1
1. 9, Scott Dixon, Honda, Ganassi, 232.164 mph
2. 20, Ed Carpenter, Chevrolet, Carpenter, 231.664
3. 98, Alexander Rossi, Honda, Andretti Herta, 231.487
Row 2
4. 26, Takuma Sato, Honda, Andretti, 231.365
5. 29, Fernando Alonso, Honda, Andretti McLaren, 231.300
6. 21, JR Hildebrand, Chevrolet, Carpenter, 230.889
Row 3
7. 10, Tony Kanaan, Honda, Ganassi, 230.828 
8. 27, Marco Andretti, Honda, Andretti, 230.474
9. 12, Will Power, Chevrolet, Penske, 230.200
Row 4
10. 28, Ryan Hunter-Reay, Honda, Andretti, 231.442
11. 19, Ed Jones, Honda, Coyne, 230.578
12. 16, Orio Servia, Honda, Rahal Letterman Lanigan, 230.309
Row 5 
13. 7, Mikhail Aleshin, Honda, Schmidt Peterson, 230.271
14. 15, Graham Rahal, Honda, Rahal Letterman Lanigan, 230.253
15. 8, Max Chilton, Honda, Ganassi, 230.068
Row 6
16. 83, Charlie Kimball, Honda, Ganassi, 229.956
17. 5, James Hinchcliffe, Honda, Schmidt Peterson, 229.860
18. 22, Juan Pablo Montoya, Chevrolet, Penske, 229.565
Row 7
19. 3, Helio Castroneves, Chevrolet, Penske, 229.515
20. 77,  Jay Howard, Honda, Schmidt Peterson, 229.414
21. 24, Sage Karam, Chevrolet, Dreyer & Reinbold, 229.380
Row 8
22. 2, Josef Newgarden, Chevrolet, Penske, 228.501
23. 1, Simon Pagenaud, Chevrolet, Penske, 228.093
24. 14, Carlos Munoz, Chevrolet, Foyt, 227.921 
Row 9
25. 88, Gabby Chaves, Chevrolet, Harding, 226.921
26. 4, Conor Daly, Chevrolet, Foyt, 226.439
27. 50, Jack Harvey, Honda, Shank Andretti, 225.742 
Row 10
28. 63, Pippa Mann, Honda, Coyne, 225.008
29. 11, Spencer Pigot, Chevrolet, Juncos,  224.052
30. 44, Buddy Lazier, Chevrolet, Lazier,  223.417
Row 11
31. 17, Sebastian Saavedra, Chevrolet, Juncos, 221.142
32. 40, Zach Veach, Chevrolet, Foyt, 221.081
33. 18, James Davison, Honda, Coyne, no speed