Toyota clearly set out of make an impact with this daring-looking fifth-generation RAV4. While it doesn't have the plunging roofline or slimline features of the smaller Toyota C-HR crossover, there are much bolder lines and more chiseled features on display here than previous generations have had. 
You wouldn't call the result beautiful, but it'll certainly get your attention. At the risk of authoring a car that some may consider fussy, Toyota has carved plenty of form and detail into the RAV4's flanks, and – with some success – has chosen big stand-out design features to distinguish the car like its arrowhead radiator grille, kinked C-pillar and squared-off wheel arches.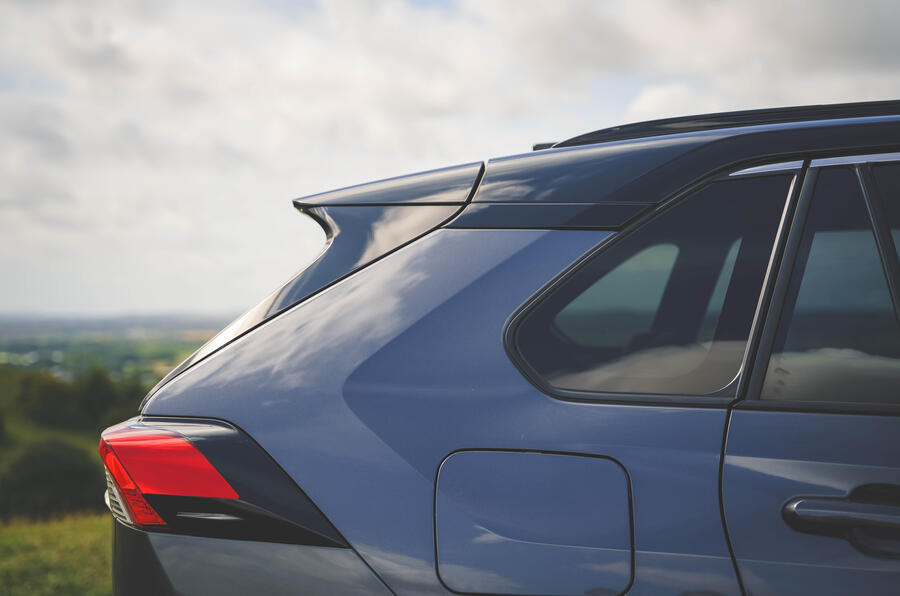 Underneath the body panels, the car's new all-steel model platform and chassis brings greater torsional rigidity, a lower centre of gravity and double-wishbone rear suspension – all of which promise improved handling. Both the bonnet line and driver's seat are 15mm lower than in the fourth-generation RAV4, while the glasshouse is larger than before, boosting visibility all-round. The car's electromechanical power steering system is now rack- rather than column-mounted, while road-biased 'summer' tyres replace the all-weather type fitted to the previous-generation car.
Like so many of Toyota's hybrid-intended motors, the 2487cc four-cylinder petrol engine that primarily powers the RAV4 runs on the thermal-efficiency-boosting Atkinson combustion cycle, and has a more 'undersquare' cylinder design than its predecessor (the engine's smaller-of-bore and longer-of-stroke than its predecessor was, for better natural torque production). Fed by both direct and indirect fuel injection and aspirated by two different forms of intelligent variable valve timing technology, it produces up to 176bhp for the car; it's mounted transversely under the bonnet; and it drives the front wheels in tandem with an electric motor/generator itself rated for up to 118bhp. 
In the case of four-wheel drive cars, a second electric motor drives the rear axle directly with up to 54bhp, although 'total system' power outputs for the front-driven Hybrid and four-wheel drive Hybrid AWD-i are only 215- and 219bhp respectively.
The plug-in hybrid RAV4 uses most of the same mechanical ingredients as the regular Hybrid, although its combustion engine produces slightly greater peak power (182bhp) and its front-mounted electric drive motor is significantly more powerful and torque-rich (180bhp, 199lb ft). Total system output here is 302bhp; as ever, Toyota doesn't quote a total system torque output but, with both electric motors working hard and the combustion engine's torque curve building, there can safely be imagined to be in excess of 400lb ft finding their way to the car's axles.
Featuring so much electrification, the RAV4 might never have been taken for a particularly lightweight member of the SUV set, but entry-level front-driven cars can actually weigh in at less than 1600kg according to Toyota's claims. A plug-in hybrid is nearly 300kg heavier than a like-for-like, all-wheel drive regular Hybrid, however. Our PHEV test car weighed in at 1949kg in running order and with fuel onboard, but that fell well within Toyota's claimed kerbweight range for it. It's plainly not light. Allowing for the car's good-sized 18.1kWh drive battery though, it might actually qualify for quiet praise against a backdrop of PHEV SUVs which almost universally weigh more than two tonnes.