Our Verdict
Grand touring version of McLaren's mightily impressive 570S lives up to its high expectations
First Drive

It's pitched as the 'everyday McLaren', but can the 562bhp, carbon fibre-tubbed, mid-engined 570GT really cut it as a regular car?

First Drive

The entry-level McLaren perfected for the broadest audience. Brilliant to drive, with impressive cruising manners and enhanced usability
Why we ran it: To find out just how beguiling this practical version of McLaren's most usable sports car is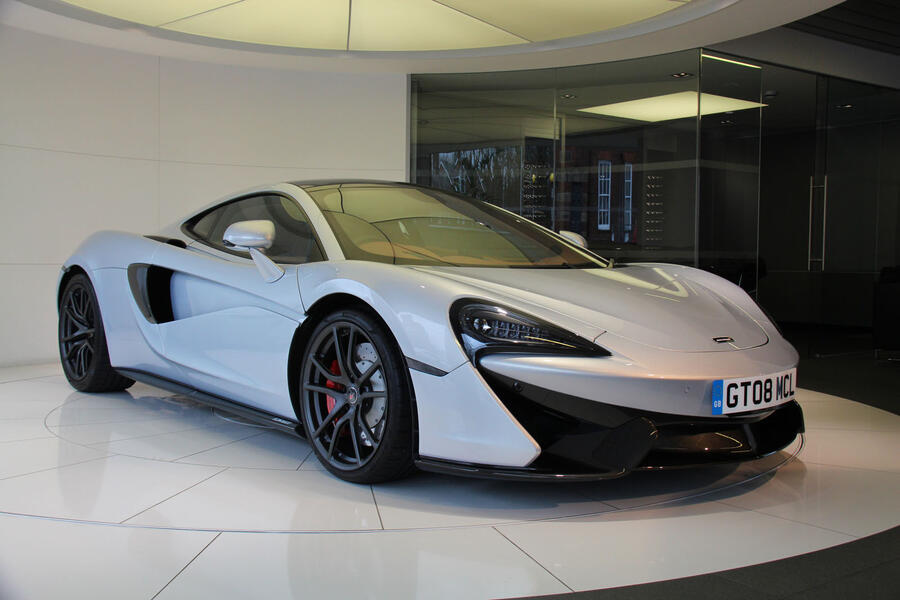 Life with a McLaren 570GT: Month 5
Saying goodbye to the McLaren 570GT – 28 December 2017
Six months and 8000 miles with a 200mph McLaren has to be bliss, doesn't it? Well, yes. Mostly.
Hearts will not bleed for a person forced to give up a £180,000 supercar as their daily drive after only a few weeks (previous incumbent Dan Trent having earlier moved on to pastures new, leaving yours truly with the key). But so captivating is the vicarious supercar ownership experience, and so memorable is McLaren's first attempt at a grand touring sports car, that letting it go was a proper wrench.
With limited mileage remaining in our allowance before the car had to be returned to McLaren, I couldn't do everything I would have liked in my time with it.
If I had, McLaren would have probably had the first 30,000-mile 570GT on its hands, and that might have been tricky to sell just a few months after launch.
The highlight of a few weeks with the car was a drive to Wales, where the 570GT could really show off its breadth of ability.
On the motorway, it was brilliant (bar some very loud thumps over catseyes); around town, it stopped traffic both on the road and on the pavement; and up in the Brecon Beacons, it was every inch the bona fide supercar.
Penultimate drive in the #SuperTrent McLaren. Sob. Any requests for the final short go?N.B. Divas only. pic.twitter.com/ScQTz6xlKD

— Matt Bird (@PHMattB) September 21, 2017
The 570GT may not feel hugely different from the 570S in terms of character, but its slightly softer edge paid dividends on this trip.
The McLaren was a joy on any drive, be it in Wales, the humble commute, mooching around with friends or trundling along a motorway. Traits that are becoming McLaren hallmarks shone through on every journey: beautifully feelsome, hydraulically assisted steering, tremendous visibility, superb wheel and body control (with a sumptuous ride) and, without wishing to put too fine a point on it, incredible speed.
That this is one of McLaren's least powerful models remains a completely barmy concept to me.
The way the 570GT piled on speed – once beyond some initial turbo lag – never failed to amaze, the acceleration relentless, thrilling and addictive. The dual-clutch gearbox – of McLaren's own design, don't forget; not borrowed from elsewhere – was the perfect accompaniment.
The noise never quite thrilled as it should, though, even with the £3240 sports exhaust reinstated from the more focused 570S. It whooshed and gurgled and fizzed like a really exciting turbo, but there wasn't enough from the V8 to really get the blood pumping, beyond an aggressive blare.
Back to the positives. Perhaps the most satisfying part of my whole time with the car was just the sense of occasion. That's terribly intangible, I know, but the way the car made you feel – and the positive way in which passers-by responded to it – was a real joy.
And that latter point is not always guaranteed with an expensive, mid-engined supercar. McLaren Automotive has, in just half a dozen years, courted very favourable public opinion.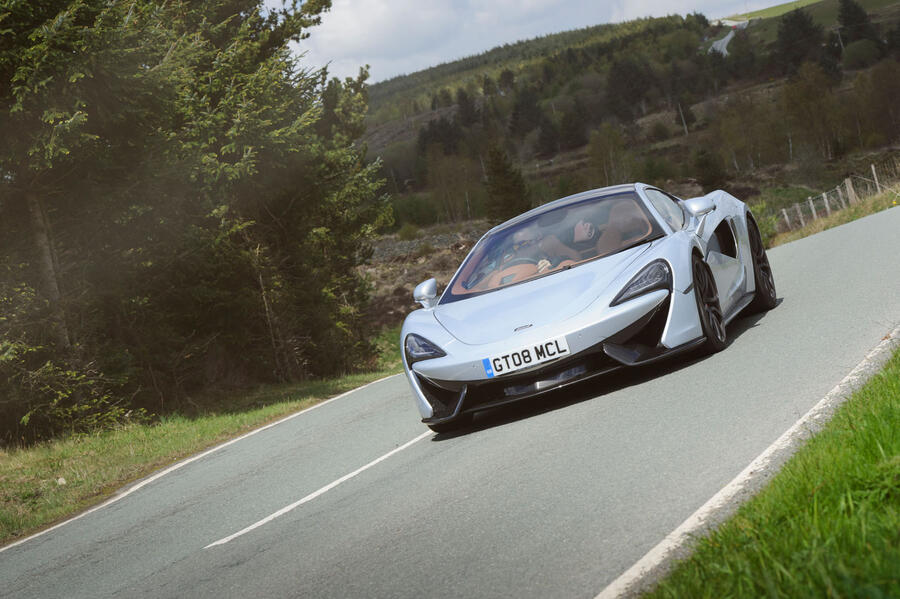 That's not to say our time with GT08 MCL was perfect. We had to return it to the dealer to have a few persistent squeaks and rattles sorted, and the optional nose lift occasionally made an extremely unpleasant graunching noise. We never did get to the bottom of that.
More fundamental, however, was the interior usability. The 570GT is McLaren's attempt to build an everyday supercar in a sector that includes cars such as the Audi R8 and Porsche 911 Turbo S. Those cars make pairing a mobile phone, programming the sat-nav and changing a radio station far simpler. Somehow, the McLaren sometimes struggled even to hold a radio station – one of its more irritating flaws.
The Porsche delivers better fuel economy and the Audi has a more exciting engine but, if there was a choice, I would opt in an instant to continue living with the McLaren.
It should be better resolved as an everyday product, yes (although McLaren is showing significant improvements on that front with the 720S). However, I would accept the compromise for how much more exciting the 570GT is to drive than its opposition.
The Audi only really thrills right at the limit and the Porsche is never quite as good as either. The McLaren can do thrilling, cosseting (relatively speaking), serene and damn near everything in between.
The McLaren was a delight to spend a prolonged amount of time with. The irks and foibles couldn't detract from an inherently fabulous car. It wasn't cheap to run (name a car of this ilk that is) and some of the prices for options are cheeky, but the 570GT leaves a resoundingly positive impression.
Mine would do without the exhaust, the carbonfibre interior bits and the lightest wheels, dropping the price to £169,505. That's still a lot, although during my time with the 570GT, it felt worth damn near every single penny. If you are in the fortunate position of considering a car slightly cheaper – or, indeed, slightly more expensive – than this McLaren, I implore you to take a look.
Second opinion
The joy of McLaren's take on a grand tourer is that although it always feels special, it's also very easy to operate.
True driving fulfilment is far quicker and easier to achieve in the 570GT than in rivals of the same potential. 
Steve Cropley
Mileage: 7947
Love it
Exquisite styling - More beautiful than a 570S, attention grabbing without being ostentatious and full of lovely detail.
Pulsating performance - Addictively, thrillingly, fantastically fast. Turbo lag adds to the excitement. Shame about the noise.
Sublime steering - Gorgeous feel and a lovely wheel; a reminder why those festooned with buttons should be condemned.
Thrilling dynamics - A wonderful mix of ride pliancy, handling sharpness, engagement, amusement and GT maturity.
Loathe it
Flawed interior - Beautiful materials, but some of the ergonomic choices are nothing short of baffling.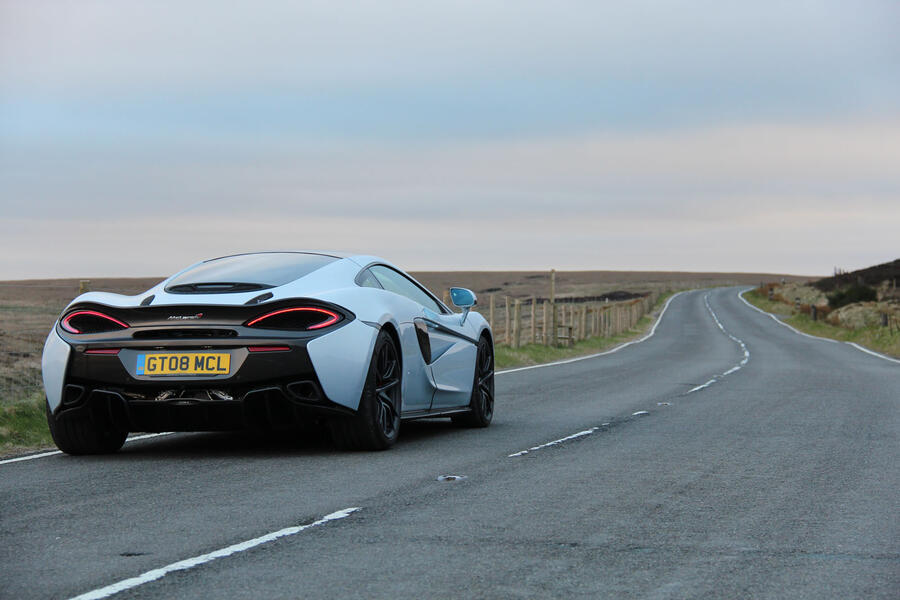 Life with a McLaren 570GT: Month 4
Expensive gripes with the McLaren 570GT – 04 October 2017
The McLaren 570 GT is wonderful to drive, but a few niggles have emerged.
The nose lift occasionally makes a nasty whine, DAB reception is poor — could that be due to the carbonfibre tub? — and the central locking is sometimes convinced a door is open when it isn't.
Frustrating at this money, particularly when this is meant to be McLaren's everyday supercar.
Mileage: 7654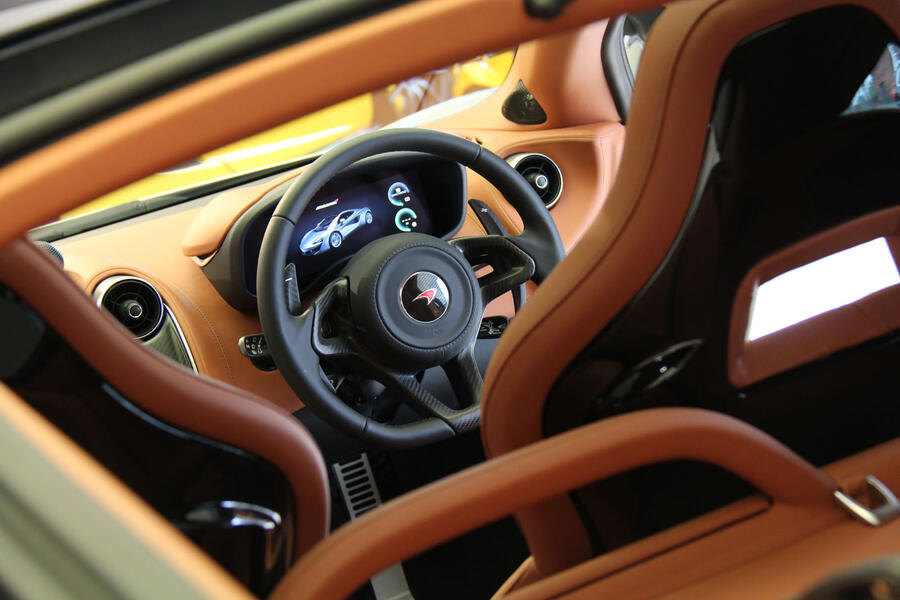 Life with a McLaren 570GT: Month 3
McLaren 570GT versus Honda NSX – 09 August 2017
The partnership between McLaren and Honda has given us some memorable Formula 1 moments, if for the wrong reasons of late.
Perhaps like all too many marriages, the two have found themselves drifting apart and following different paths, the common ground once shared seemingly now a no man's land.
That would seem to be the case when you compare the 570GT with its Honda NSX rival, as I did.
This followed an earlier group test for Autocar's sister brand, Pistonheads.com, against the Audi R8 and Porsche 911 Turbo S. Of that trio, the McLaren was clearly the most exotic and expensive.
Against the NSX, it was a much closer fight: 'my' 562bhp and £179,155 570GT meeting Honda's 573bhp and £180,250 press car (both prices including options) on equal terms, at least on paper.
Both cars are aimed at a similar customer too, delivering the performance and exotic feel of a true supercar with driving manners that also make them viable daily transport.
But from this common ground, the engineering approaches veer off in wildly different directions, perhaps showing how the road car ideologies of the two F1 partners have diverged. It's a stretch to say that is in any way related to the strained relationship on track, but, then again, if the corporate ideologies are so different, perhaps it's not such a far-fetched suggestion.
Because the McLaren is, fundamentally, actually quite a simple car. Rather than obsess over the latest technology, you get the sense that McLaren's approach is to concentrate on perfecting the fundamentals of nuance and feedback.
Meanwhile, Honda has thrown everything at the NSX, offering hybrid assistance and a plethora of modes to play with. It's a dazzlingly complex car and Honda deserves credit for delivering hypercar tech for a supercar price.
Opinion on our test day was split evenly between those who appreciated the greater breadth of ability the NSX offers and those, like me, who prefer McLaren's more single-minded focus. Each to their own, though – a fascinating comparison with no wrong answer.
For all my enthusiasm for the McLaren, the tests against the Honda and the two German rivals revealed that it's still a pretty raw machine, despite being pitched as the GT product in the range.
Although slower geared and less urgent than the 570S, the steering is constantly wriggling away in your hands, be that on a challenging back road or the motorway. I really like that, but it's not a sensation drivers of most modern cars will be familiar with, or necessarily enjoy as much.
At a cruise, it's comfortable – the glass roof makes it feel more spacious than you might credit and the ride quality is, like all McLarens, excellent.
But there is tyre roar and the stiff carbonfibre tub transmits thuds of cats eyes and some bumps through the structure in a way that more refined rivals – the Honda especially – simply don't.
I'd count these as observations more than criticisms, the pay-off being the focus and purity of feedback through the controls and the seat of your pants, none of the other cars can hope to match.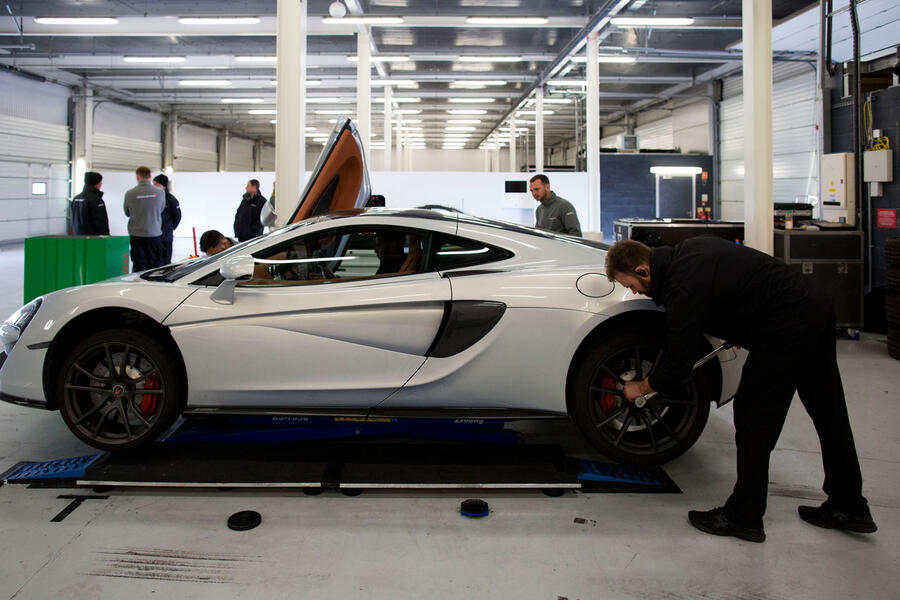 After these tests and a track outing at a Pure McLaren event, the 570GT has earned itself some pampering.
As I write, it's with McLaren Manchester having a couple of niggles sorted, including that mysterious rattle from somewhere in the rear of the car and the curious case of the collapsed Bowers & Wilkins speaker cone in the passenger door.
Our car will also be getting fitted with the optional Pirelli P Zero Corsa tyres. In theory, this should close the gap to the 570S in terms of handling sharpness. Isn't that taking the 570GT another step away from its grand tourer remit? Stay tuned. Dan Trent
Mileage: 5384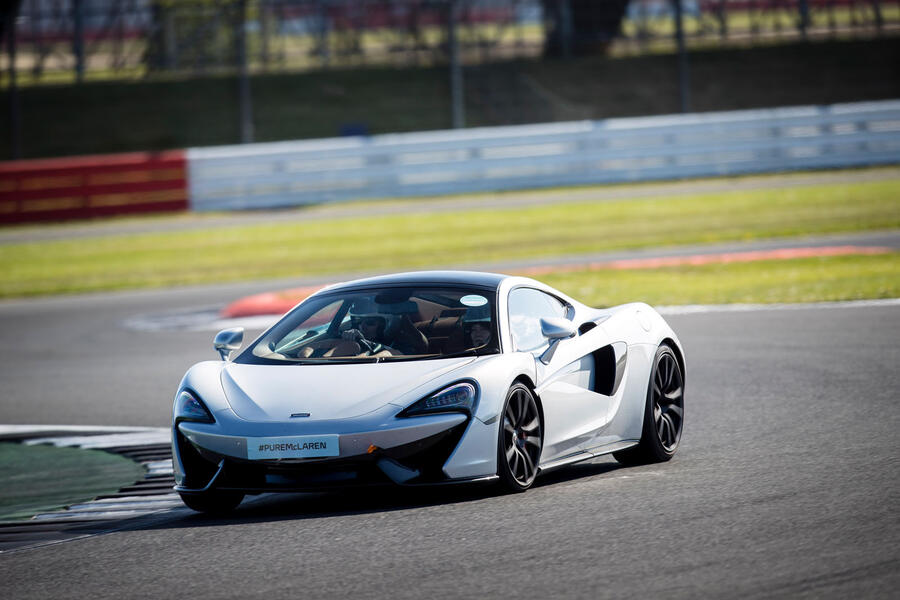 Life with a McLaren 570GT: Month 2
Potential 570GT door troubles? – 12 July 2017
For all its 'everyday McLaren' ambitions, the 570GT's signature dihedral doors did have me worrying about being boxed in.
Heathrow's business parking spaces are tight and the sight of a Volvo XC60 nestled up had me worried. But even in such a tight gap, the door opened fully – just.
Fancy and functional? A recurring theme in this car. Dan Trent
Mileage: 5131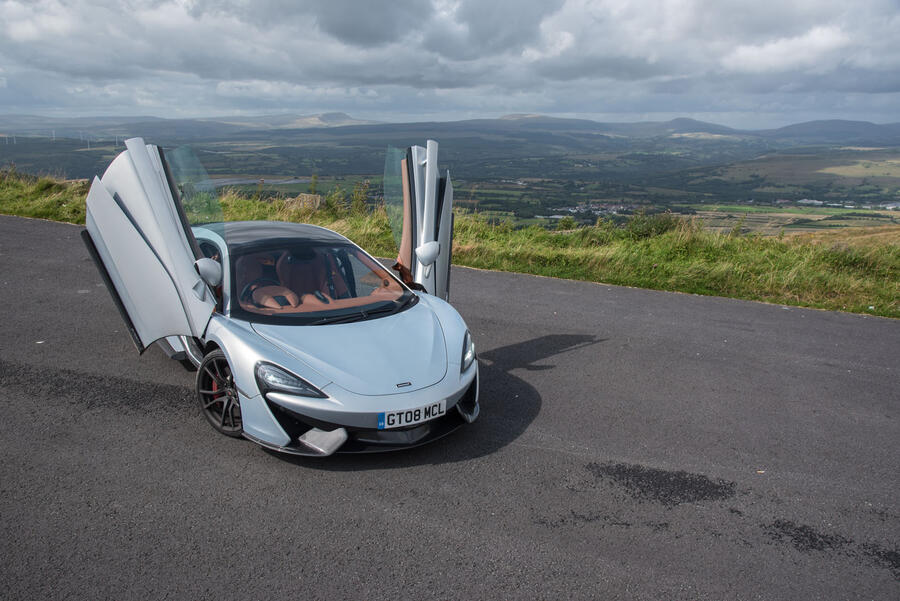 Getting the 570GT used to the daily grind – 21 June 2017
As discussed in our first report, the 570GT's job is to bring a bit of carbonfibre-tubbed, McLaren-branded glamour to the 'everyday supercar' realm dominated by the 911 Turbo and Audi R8. So, how's that working out?
Well there's nothing everyday about the kerbside theatre of getting in and out. It's not for those with bad backs or stiff joints but, with practice, I've just about nailed the entry procedure of 'bum first, legs in and swing the door down' in one motion.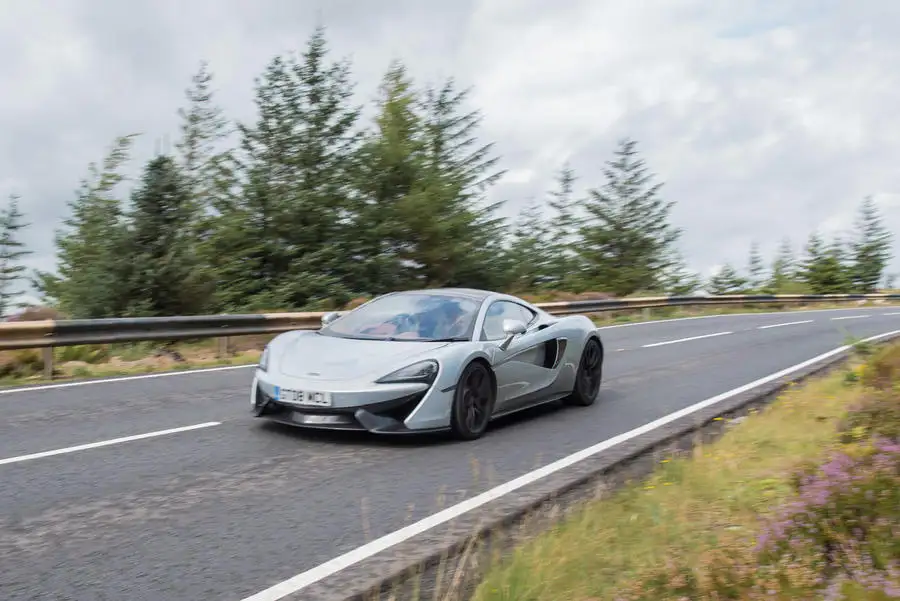 Once you're settled, the 570GT's clarity of purpose is unmistakable. It may be the luxury McLaren, but it's still a McLaren, with the driver-focused minimalism, superb visibility and meaningful weight of the controls all characteristic of the brand.
Even with the sports exhaust the 3.8-litre V8 sounds a bit dull from the inside, but you forget that once you've accelerated through the initial lag and the turbos are spooling.
This is a dramatically fast car. You can barely dip your toes in its performance reservoir on the public road, but even at sensible speeds you can appreciate the superb feedback through the steering, the crisp damping and the response of the dual-clutch transmission.
On the motorway it's surprisingly comfortable. There's a fair degree of tyre roar, and cats' eyes and ridges can send thuds through the body, but the airiness of the glass-roofed cabin is relaxing, the engine's drone can be drowned out by the fabulous stereo and it'll cruise on the motorway at close to 30mpg. So far, so impressive.
The essential lifestyle option for living the 'daily supercar' dream? A child. @McLarenAuto pic.twitter.com/3JBHI1JMYq

— Dan Trent (@trent_dan) April 29, 2017
In town it's more of a liability. The visibility helps but I'm forever panicking about the wheels, the front end is vulnerable to speed bumps if you're not quick enough with the nose lift and you need to consider where you park to make sure there's room to open the doors. They need less space than you think but I live in fear of being boxed in.
My solution? Drafting my four-year-old into joining me for the weekly shop. In his booster seat he gets a view of the road he's never had before and I get to park in parent and child spaces, which removes the stress of finding room to open the doors.
The glass-backed Touring Deck holds plenty of shopping too... Dan Trent
Mileage: 4146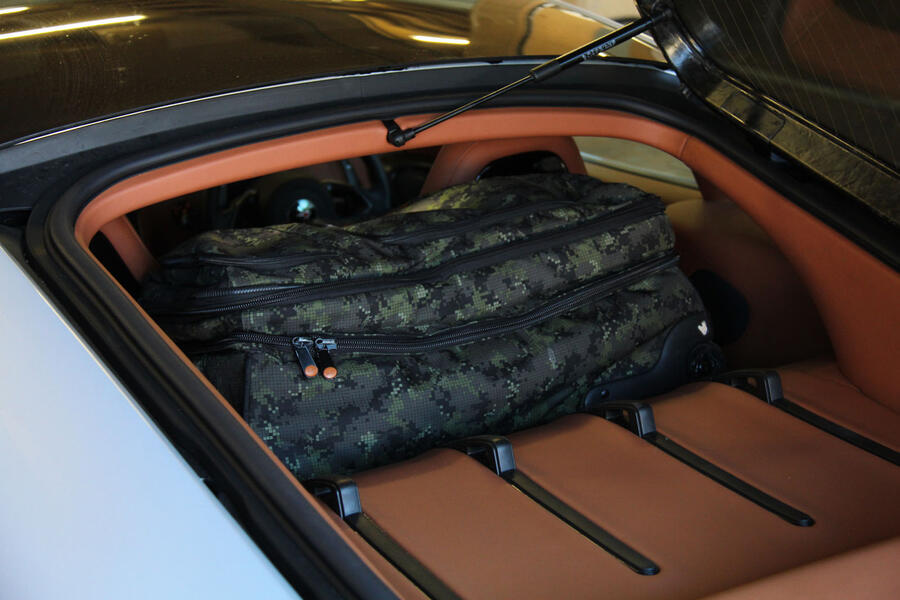 Life with a McLaren 570GT: Month 1
Welcoming the Vanquish S to our fleet – 10 May 2017
With the Sports Series, McLaren has broadened its range to take on mainstream junior supercars like the Porsche 911 Turbo S and Audi R8.
'Junior' is a relative term, of course: the Audi packs a charismatic 602bhp 5.2-litre V10 and Porsche and McLaren offer smaller motors with mighty forced-induction punch.
The Sports Series kicks off with the £126,000, 533bhp 540C and McLaren has said it will never offer a model below this price point.
The 570S and 570GT, meanwhile, make up the core of the range. All Sports Series cars share the same Monocell II carbonfibre tub and 3.8-litre twin-turbo V8 engine. In the 570, it delivers 562bhp. In a car weighing about the same as a Porsche Cayman. This, it goes without saying, is a suitably thrilling proposition.
Exotic is all very well, but owners of R8s and 911 Turbos appreciate the sense of daily usability that you just don't get in Ferraris and Lamborghinis.
With the 570S bridging that gap, the GT is intended as McLaren's all-round alternative and a machine that can deal with the daily commute as well as the traditional supercar stuff. It's new territory for McLaren.
And I'm the lucky person to be putting this to the test. Hand on heart, my natural instincts are probably more geared towards the S. But the GT is an interesting proposition and one I'm curious to explore.
Compared with the S, it has a slightly softer ride (springs are 15 percent softer front, 10 percent rear), extra sound-deadening, more relaxed steering and – the most obvious feature – a distinctive glass-backed shape with a 220-litre 'Touring Deck' luggage compartment to complement the 150-litre one in the nose.
Speccing my car from scratch was a most enjoyable experience, especially given the hospitality of McLaren's team at the London showroom.
Sales controller Simon Snowball talked me through the options with the help of the configurator and coloured blocks to enable comparisons of exterior paint and interior trim combinations.
The S suits brighter colours like McLaren Orange or Mantis Green, but customers opting for the 570GT tend towards more reserved shades.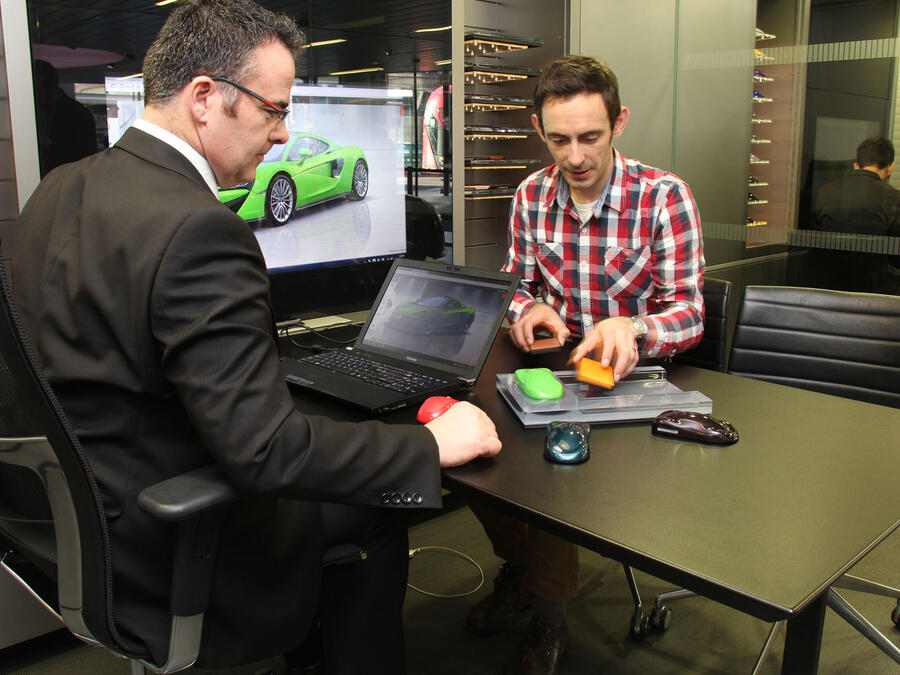 My initial choice of Pacific Blue was steered to the Ice Silver you see here, a shade from the optional Elite range that costs an additional £3490.
I've faced accusations of it looking 'boring' but, to my mind, the way it shifts from a golden tinge to a blue one, depending on the light and time of day, is really rather beguiling. It contrasts nicely with the Dark Palladium trim on the front and rear valances, side skirts and intakes, too. You can have those items in carbonfibre if you'd like, either individually or as a whole. I rather think you'd want to go all or nothing with that approach, and I reckoned I could do without this addition to the price (it costs about £30,000), given I'd be paranoid about general wear and tear. This is supposed to be an everyday car, remember…
I did splash out £3490 on 'super-lightweight' forged wheels, plus an extra £1110 for having them in Stealth Grey. I'd best not kerb them.
This extravagance was offset by sticking with the standard iron brakes, the theory being that these will be less grabby in traffic than the ceramics the 570S gets as standard.
Given that I'll be spending a lot of time in this McLaren, I splashed more cash on the interior. The £5020 GT Upgrade Pack looks like a total no-brainer because it bundles the rather nice Bowers & Wilkins stereo with essentials such as an alarm, parking sensors, a rear-view camera and a nose lift.
Experience of previous McLarens has shown their noses to be very vulnerable to speed bumps and steep ramps, so the last of those options was an essential choice.
Well, I wasn't going to spend the entirety of the first drive in 'my' McLaren festering on the M62 was I! @McLarenAuto @McLaren_Manc pic.twitter.com/dmGjKMYQRn

— Dan Trent (@trent_dan) April 6, 2017
But some extras were more personal preference, such as the £3240 sports exhaust, finished with Stealth Black tips. I just couldn't resist it, even though the GT is meant to be a more refined kind of McLaren.
From the various By McLaren interior design packages, I went for the £2520 Luxury 2 Saddle Tan/Carbon Black option. I chose a black steering wheel to tone things down a bit while the £2500 carbonfibre interior package adds some bling to the doors, centre console and infotainment surround. It also gives me longer, carbonfibre, shift paddles.
By the time I was done, the price was £179,155 on the road – a fair stretch from the £155,755 starting price and a good 10 percent more than a bells and whistles 911 Turbo S or R8 V10 Plus would set you back.
Given the proven track records of both of those cars, this gives the McLaren a significant point to prove: can it possibly be worth the premium?
Emotionally, the answer is an unequivocal yes. This is a breathtakingly beautiful and exciting-looking car that turns heads in a way the Porsche or Audi never could.
From its badge to its dihedral doors, the 570GT is a dramatic thing to be around. But is that what you want from a daily car? That it'll be exciting to drive and be in is a given.
Whether I want to be the centre of attention in my primary transport is going to be the ultimate – and most interesting – test of this car. Dan Trent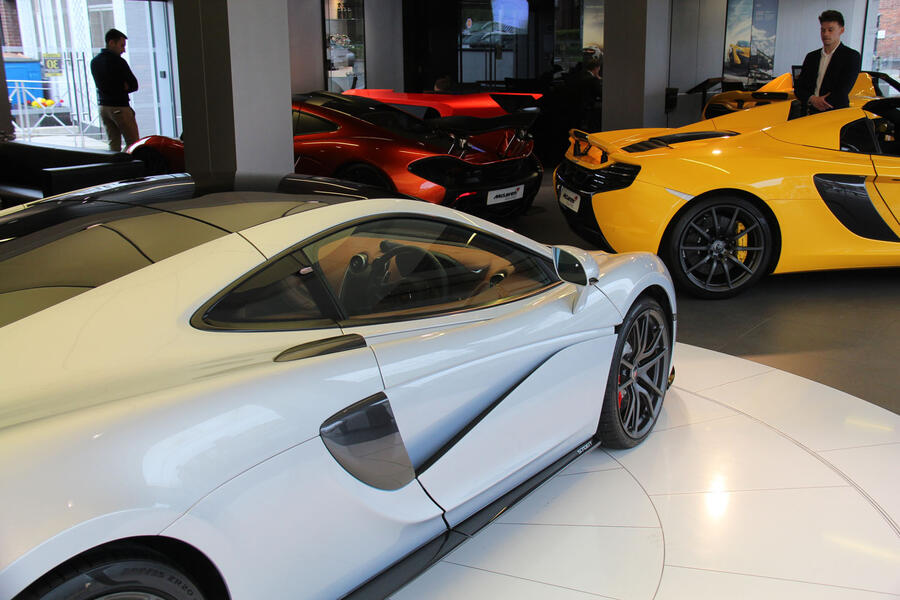 McLaren 570GT specification
Pricing: List price new £155,755; List price now £155,755; Price as tested £178,735; Dealer value now £139,950; Private value now £145,000; Trade value now £132,000; Options GT Upgrade pack – includes nose lift, rear view camera, alarm upgrade, 12-speaker Bowers and Wilkins stereo system, car cover and branded floor mats (£5020), Ice Silver Elite paint (£3490), Super-lightweight Forged alloy wheels (£3490), sports exhaust (£3240), By McLaren Luxury 2 interior package – includes Saddle Tan Nappa leather upholstery, Slate Grey contrast stitching, colour co-ordinated steering wheel and sill finisher (£2520), interior carbon fibre package (£2500), stealth wheels finish (£1110), red brake calipers (£900), vehicle tracking (£630), stealth exhaust finisher (£440), warning triangle and first aid kit (£60)
Specs: Engine 3799cc, V8, twin-turbocharged petrol; Power 562bhp at 7500rpm; Torque 443b ft at 5000-6500rpm; Kerb weight 1495kg; Gearbox 7-spd dual-clutch automatic; Boot space 350 litres; Wheels 19in front, 20in rear, alloy; Tyres 225/35 ZR19 (fronts), 285/35 ZR20 (rears); Top speed 204mph; 0-62mph 3.4sec; Claimed fuel economy 26.6mpg; CO2 249g/km
Costs: Mileage at start 29; Mileage at end 7947; Fuel tank 72 litres; Test average 21.1mpg; Test best/worst 28.7mpg/6.8mpg; Real-world range 330 miles; Contract hire rate £1295pcm (36 months); Expenses None; Fuel costs £2044; Running costs including fuel £2044; Cost per mile 26 pence; Depreciation £23,775; Cost per mile including depreciation £3.25; Faults Squeaks and rattles and nose lift graunch