Value for money is an extraordinarily evasive concept at the moment, but a plug-in hybrid Audi SUV that can be bought for less than £40,000 in 2023 might be surprisingly close to the mark.
The Audi Q3 45 TFSIe, in entry-level Tecknik trim at least, offers exactly that prospect. It's a PHEV, of course, and PHEVs generally aren't so competitively priced. But this one is the sort of car you might just bid a dealer down to a monthly personal finance rate of under £500, after a pretty typical deposit, if you work at it.
This Q3's rivals from Alfa Romeo, Land Rover, Lexus, Mercedes-Benz and Volvo all have starting prices several thousand pounds higher, and even the brand-new BMW X1 xDrive25e can't quite match its value.
It sits at the better-value end of the premium-brand PHEV SUV pricing scale for some obvious reasons. It has been on the UK market since the summer of 2021 and even when brand new wasn't likely to be sought out by company-car drivers looking for ultra-low BIK tax (all trims but the very cheapest now get a 14% rating, when the very latest executive PHEVs are offering 8% or better). It also only offers front-wheel drive; develops 'only' 241bhp when rivals go plenty further. And it isn't the biggest or most practical family car in its class, rising lower off the ground than some of its opponents and with a sense of compactness about its outward size.
For equipment, Technik models come with the 17in wheels that help deliver slightly better running efficiency than at other trim levels, but they aren't meanly equipped otherwise (sliding back seats, a powered tailgate, MMI Navigation Plus infotainment, digital instruments and a wide array of driver-assistance technology are all standard).
Our range-topping Black Edition test car (Vorsprung models no longer being part of the UK range) added 19in wheels, sporty S Line styling and various material cabin upgrades.
This is the sort of car with the confidence to put the 'compact' in 'compact SUV', then. It's easy to make a bigger car than the next guy, after all, and doing that risks discouraging buyers who want that combination of added space, versatility and ease of use in a car that remains easy to park and doesn't loom over hatchbacks and saloons in traffic.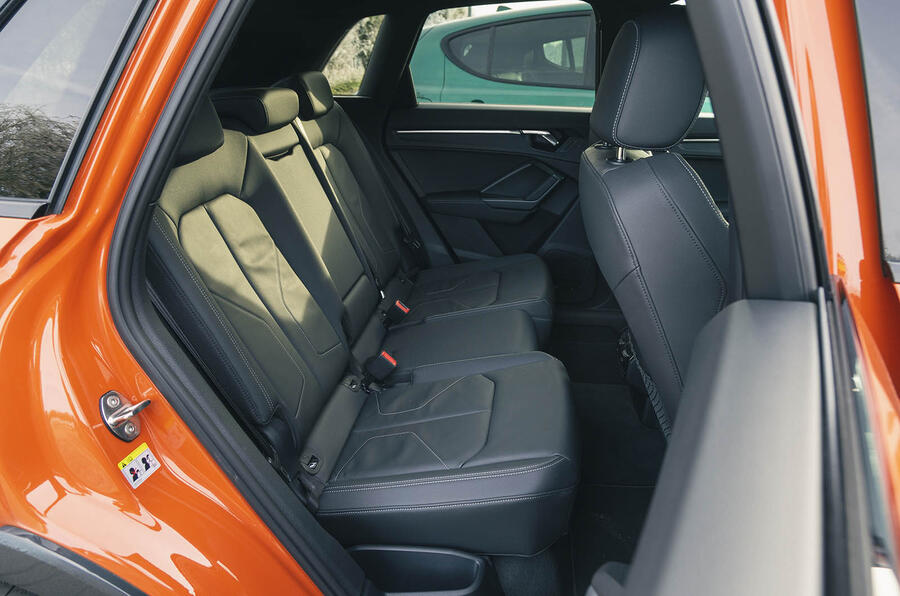 But there's more than a hint of the crossover about the Q3. You can buy more spacious cars for the money, without doubt. Yet it retains a cabin that will swallow adults of average height in both rows comfortably enough and it has a boot that yields a useful amount of extra space over a hatchback or saloon and whose practically isn't curtailed because the car is a PHEV. With the battery carried under the back seats, there's no annoying lump in the boot floor here to slide loads up and over.