The Jaguar XFR didn't shout about what lay under its vented bonnet. It didn't come at you with menace and trinketry like the E60 BMW M5 or Maserati Quattroporte, because it wasn't trying to be a fast saloon - it was trying to be a fast Jaguar.
It may have been derived from a ubiquitous saloon (albeit a handsome one), but the only visual changes made to distinguish it were a more prominent beltline, bonnet nostrils, 'Supercharged' lettering on the wheel nuts and quad rear exhausts. But it was modest about its prowess, like a true British gent.
With a UK-produced 503bhp supercharged 5.0-litre V8, it had the characteristic growl of two lions tussling for a lioness's favour. Its top speed was (leniently) limited to 155mph. It could reach 62mph in 4.7sec. And when we tested it, this 1891kg businessman's express hit 160mph within three-quarters of a mile.
But should any of that come as a surprise? This was Jaguar's answer to the fastest sporting saloons of the day, after all.
What did come as a surprise was the uneventful delivery of said performance, because refinement was its trump card. Among a sea of Nürburgring-slaying performance cars with chassis of granite, the XFR had adaptive suspension for the sort of pliancy that made every British road feel freshly laid – truly something novel.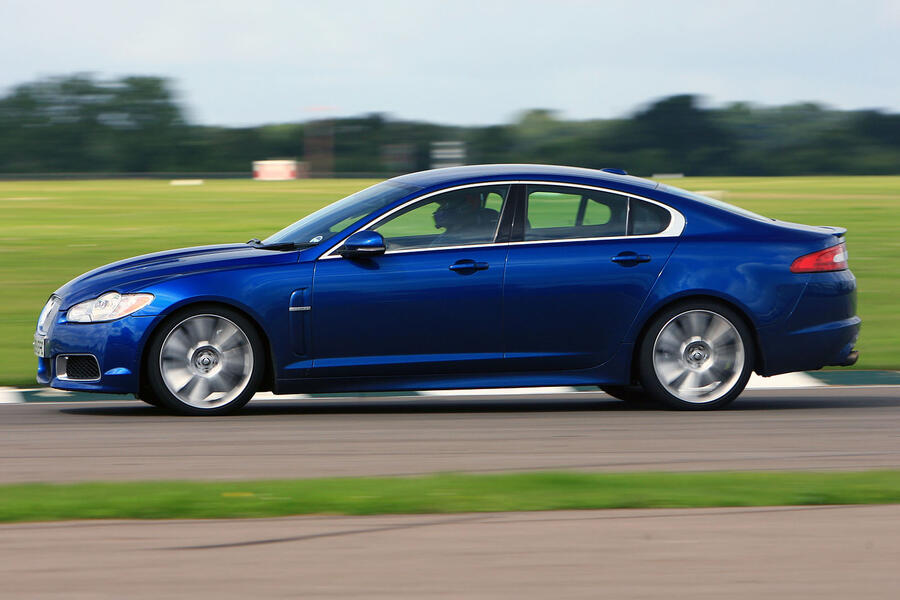 When the time was right, a lower ride height and 30%-stiffer springs came together to make it a manageable and discoverable machine. You could probably knit while powersliding it.
A quick-ratio steering rack, twin-piston 380mm front brakes and single-piston 376mm rear brakes, a mechanical limited-slip differential and standard-fit Pirelli P Zero tyres made it so manipulatable that it kept the M5 in check around our dry handling track when we tested them together in 2009.
Given the laissez-faire way in which the XFR delivered its enormous performance, you might expect the interior to have been similarly understated – and you'd be absolutely right.