Way, way back in the annals of time – otherwise known as 1968, when our man Cropley was still in short trousers – Aston Martin launched the DBS, the successor to the DB6.
Overridingly butch on one hand and eminently graceful on the other, the William Towns-designed bodywork won admirers and hearts in equal measure.
Its sleek shape covered a competent chassis, a lavish 'four-seat' (2+2 in reality) interior and, originally, just the straight-six engine from the DB6 Vantage. In 1969, the DBS V8 appeared and the headline act was engineer Tadek Marek's all-aluminium quad-cam 5.3-litre V8.
The DBS V8 was big, heavy, fast and impressive, and overwhelmingly British. Performance was of the order of 0-60mph in 6.0sec and a top speed of 161mph or thereabouts, and you could choose from a ZF five-speed manual or a three-speed Chrysler Torqueflite automatic gearbox.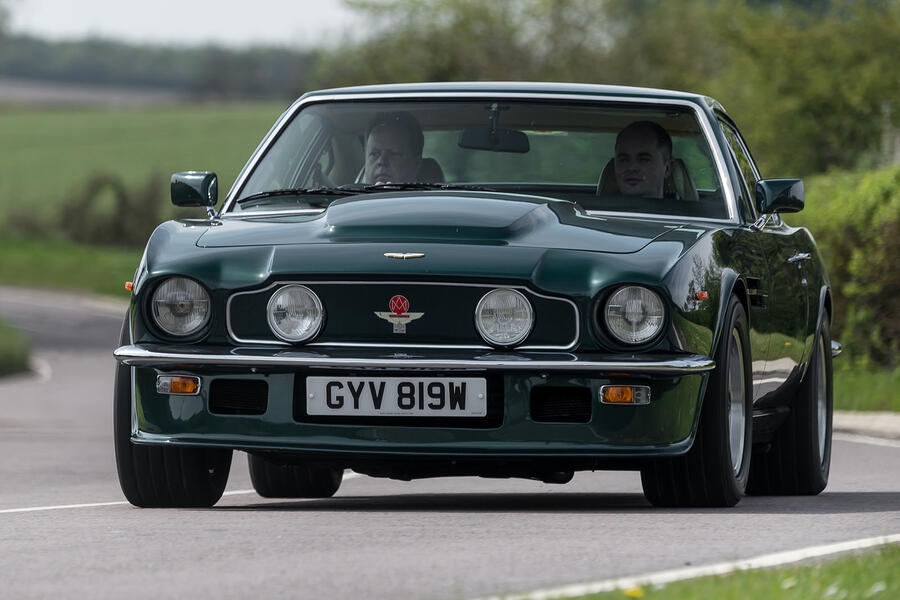 Alas, such were the costs of making the thing that the firm took one of its many financial nosedives not long after it appeared, re-emerging under new ownership with a revised V8 model that dropped the DBS tag and had tweaked styling by Towns.
This was the car that, through many iterations and even more owners, ran until 1989, when it was replaced by the all-new Aston Martin Virage.
Being a thing of muscular beauty with a badge premium enough to die for, many survive today and some are well kept enough to make this a viable proposition for anyone seriously thinking of cult hero ownership. Driving one, or being driven in one, still imparts a strong sense of occasion.
The V8 sounds terrific, all camshafts and chains and a deep bellowing exhaust note. Of course, this is a heavy car and, at 6ft, a wide car, even by today's standards, which adds to the slight intimidation when you take the wheel for the first time.
The manual gearchange is notchy and needs a heavy hand. Per contra, cars with the automatic gearbox shift through their gears effortlessly. The star of the show is the Adwest power steering, which is nicely weighted, has 2.9 turns lock to lock and is surprisingly accurate.