The BMW i8 arrived like a bolt from the blue in 2014 and left us open-mouthed and reeling from shock.
We were unable to work out if this butterfly-doored, low-slung and extravagantly constructed plug-in hybrid sports car was the Great Leap Forward or a slightly underwhelming Porsche 911 rival, with its six-figure price tag and the engine from a Mini Cooper.
Where it unquestionably succeeded, though, is with its Blade Runner-aping design. The i8 remained recognisably a BMW, but it didn't look a lot like any other cooking BMW. It looked (and still looks) terrific, and time and depreciation being what they are, you can now put one on your driveway for not much more than £30,000 – and you're very unlikely to see its price go lower. So it's an exotic investment, then? Could be…
Underneath its extravagant exterior, the i8 mixed a combustion engine, an electric motor and a lithium ion battery pack. It could run, in the earlier cars, for up to 23 miles on electric-only power (post-facelift models upped this to 34 miles) and claimed an official NEDC fuel consumption figure of 135mpg.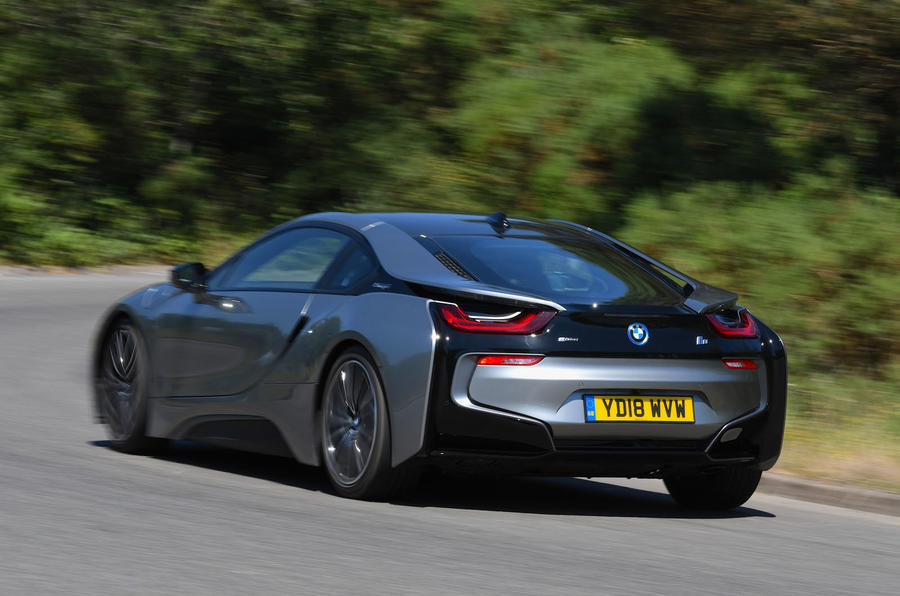 At its heart, that engine is, as mentioned, a reworked version of the 1.5-litre turbocharged petrol triple you will find in a Mini Cooper, but special internals and clever induction technology conjure 228bhp and 236lb ft.
The transversely mounted mid-engined powerplant drives not only the rear wheels via a six-speed automatic transmission but also a high-output starter-generator electric motor, which shuffles power back into the 7.1kWh battery under the floor.
Up front, there's a 129bhp, 184lb ft electric motor driving the front wheels. Peak combined outputs are 357bhp and 420lb ft. The weight of the i8 was initially claimed at 1560kg, which is about the same as a contemporary 911 and noticeably less than a Jaguar F-Type.
Performance was listed at 0-62mph in 4.4sec and with a top speed of 155mph. The powertrain is willing and flexible, too. The low-profile yet relatively narrow tyres and super-stiff structure create a bit of road roar, but you can still cover long distances at effortlessly high speeds in this car.