Bike racks are now one of the best selling motoring accessories, with the rise in popularity of biking and staycations both bring big demand for decent bike transport. But what rack should you choose?Bike racks can generally fix to the roof, the bootlid or a tow bar. Roof-mounted racks are the most in-demand, while those that go on a tow bar are also gaining in popularity, while racks that go on the bootlid are now increasingly shunned - largely as they can't be used where the boot's panels are made of lightweight plastic.
For that reason, we're concentrating on roof-mounted and towbar-mounted racks, which also come with their own pros and cons. Roof mounted is generally more affordable, is easy to store when not in use and can be fitted to most vehicles – although those with multiple or panoramic glass roofs may be difficult. But getting the bikes onto the roof rack can be really difficult, especially on tall SUVs or vans, and car parks with height barriers can also be a huge issue.
Tow bar-mounted bike racks, in contrast, are a universal fit and, with the rack lower down the bikes are much easier to load. Even the age-old issues with boot access, and the racks being bulky and awkward to store, have largely been overcome. Some also double up as luggage racks or cargo box carriers. And whilst most tow bar racks fit on the tow ball itself, some brands provide the option of using a dedicated mount on the tow bar assembly, leaving the tow ball itself free for a caravan or trailer. Clever.
Whatever rack you're considering, start by checking the maximum weight that your vehicle's roof/tow bar can support. Remember to factor in the bikes' weights and also the weight of the rack and – with roof systems – also the roof bars' weights and maximum load limits. Clearly, the lower a rack's own weight, and the higher its potential load capacity, the more flexibility you have.
---
Top 5 Tow Bar-Mounted Racks
1. Maxxraxx 4 Bike Voyager Easyfix – Best Buy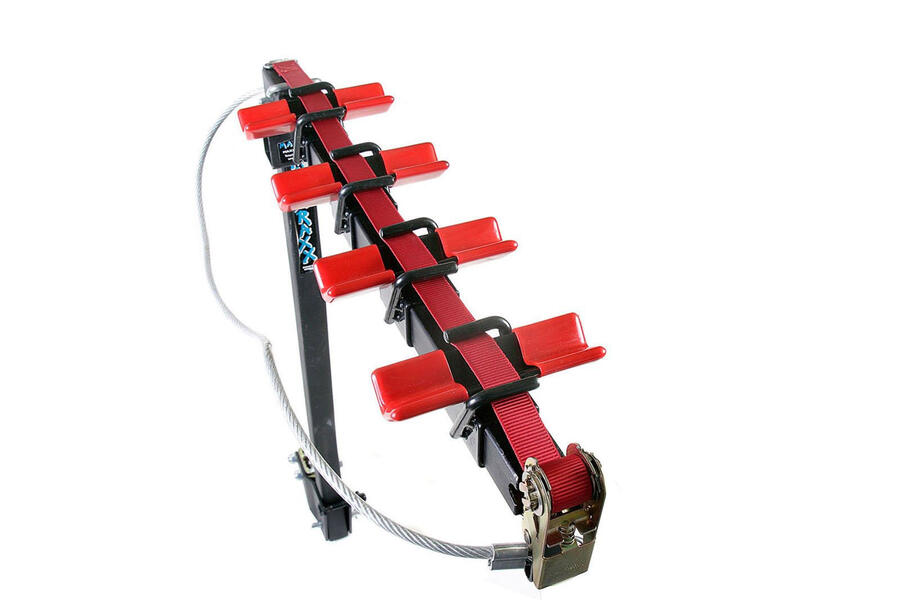 Price: £320.00