The new, third-generation Porsche Panamera is the company's most luxurious, tech-heavy and expensive saloon yet.
Prices will start at £79,500 for V6-engined models and rise to £141,400 for the topend V8 plug-in hybrid, with the line-up going on sale in the UK early in 2024.
The new Panamera's eight-cylinder engine is a heavily updated version of the V8 already in use in outgoing Panameras, with only the cylinder block remaining the same, according to Porsche.
Speaking during an event at Porsche's factory in Leipzig, where the new Panamera will be built, Panamera project leader Thomas Friemuth said it was important to "celebrate the emotions of a V8".
The top-spec Turbo E-Hybrid model (V8 engines are only available as part of a plug-in hybrid system) produces peaks of 671bhp and 686 lb ft. The 0-62mph sprint is taken care of in 3.3sec on the way to a top speed of 196mph.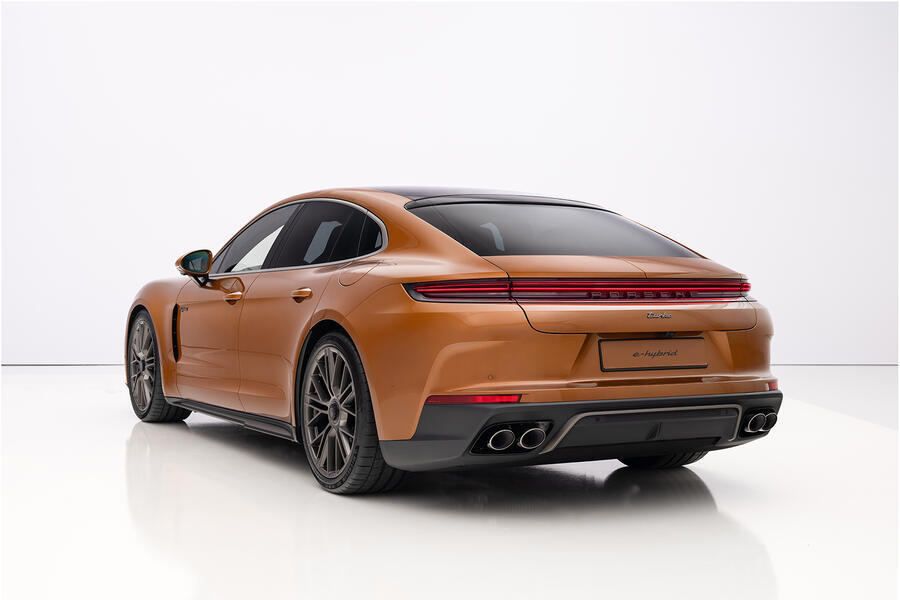 Porsche bosses gave assurances that a Turbo S E-hybrid is also coming, and that it will have a "large" power increase.
The entry-level 2.9-litre V6, which will be available with rear- or four-wheel drive, has also been reworked, with modifications to boost pressure, fuel injection flow rate and ignition timing. That results in a power increase of 23bhp, for a peak of 348bhp.
Plug-in improvements
The hybrid system for this third-generation Panamera benefits from improvements in both range and efficiency.
The plug-in hybrid's new oil-cooled electric motor produces 188bhp and 332lb ft and is now integrated into the new PDK gearbox housing, which should significantly improve brake energy recuperation performance under deceleration.
The motor is powered by a new, larger 25.9kWh battery that gives 56 miles of range, up significantly from 39 miles previously, and it is now equipped with an 11kW on-board AC charger, which is claimed to cut home-charging times by an hour.