The Lexus LF-FC hydrogen fuel cell concept will spawn a production version that will go on sale before 2020, the company has confirmed.
Speaking at the launch of the LC500h hybrid performance coupé, company officials confirmed that Lexus and Toyota boss Akio Toyoda wants the car on sale by the end of the decade.
The concept, first revealed at the Tokyo motor show last year, is said to 'offer a peek into the design and technology direction of the brand's future flagship sedan'.
A hydrogen fuel-cell electric powertrain powers the LF-FC concept, with one motor driving the rear wheels and electricity being sent to two in-wheel electric motors at the front. Lexus says the concept's drive system allows it to precisely distribute torque to all four wheels, resulting in 'exceptional dynamic handling and superior road stability'.
The firm says placing the fuel cell stack at the rear of the car - with the power control unit at the front and hydrogen storage tanks in a 'T' configuration - allow for 'optimal' weight distribution for a sports saloon.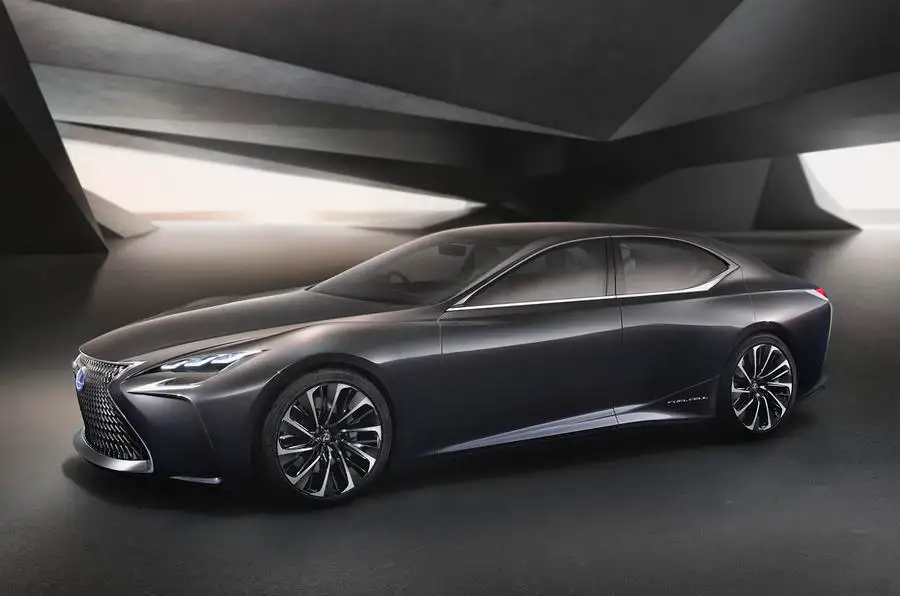 The car's hybrid powertrain operates in one of two driving modes depending on conditions. In 'cruising' mode, the fuel cell stack draws on hydrogen and creates electricity to drive the motor and recharge the battery, while in 'acceleration' mode both the battery and the fuel cell stack are used to power the car's main electric motor and its in-wheel electric motors for maximum power.
The four-door, four-seat concept also features several autonomous driving functions, and is said to provide 'a safe and efficient driving experience for its occupants and supports the vision of a world without traffic accidents'.
The concept's styling is dominated at the front by Lexus's signature grille, as well as a long bonnnet and swooping roofline. At the rear, the concept's futuristic rear light clusters echo those used on Toyota's hydrogen-powered car, the Mirai.