Among the depreciated exotica of the classifieds, Aston Martin's V8 Vantage draws more covetous eyes than most, and those eyes will widen to see Gaydon's perennially suave coupé now listed from less than £30,000.
But that's for the original, 380bhp 4.3-litre version launched in 2005. The 420bhp 4.7 that replaced it in 2008 is the driver's preferred choice, and you'll need around £45,000 to bag a decent example of that thoroughly upgraded model. Tantalising as that is, the same sum buys a brand-new high-performance coupé that has been ringing our bell as loudly as any of late: BMW's tearaway M2, Autocar's current pick of the M breed.
While its diminutive, bulging form evokes a French bulldog, the M2 has the heart of a mastiff in a turbocharged 3.0-litre straight six making 365bhp, all of which – as in the Vantage – is sent rearwards. It's actually a bigger car than the Aston in all but width (it's just 11mm skinnier), despite the Vantage's lowness and sleek proportions giving the illusion of size versus the BMW's upright, Duplo-brick stature. And even though it's underpinned by steel, the M2 is 35kg lighter than the aluminium-hewn Vantage.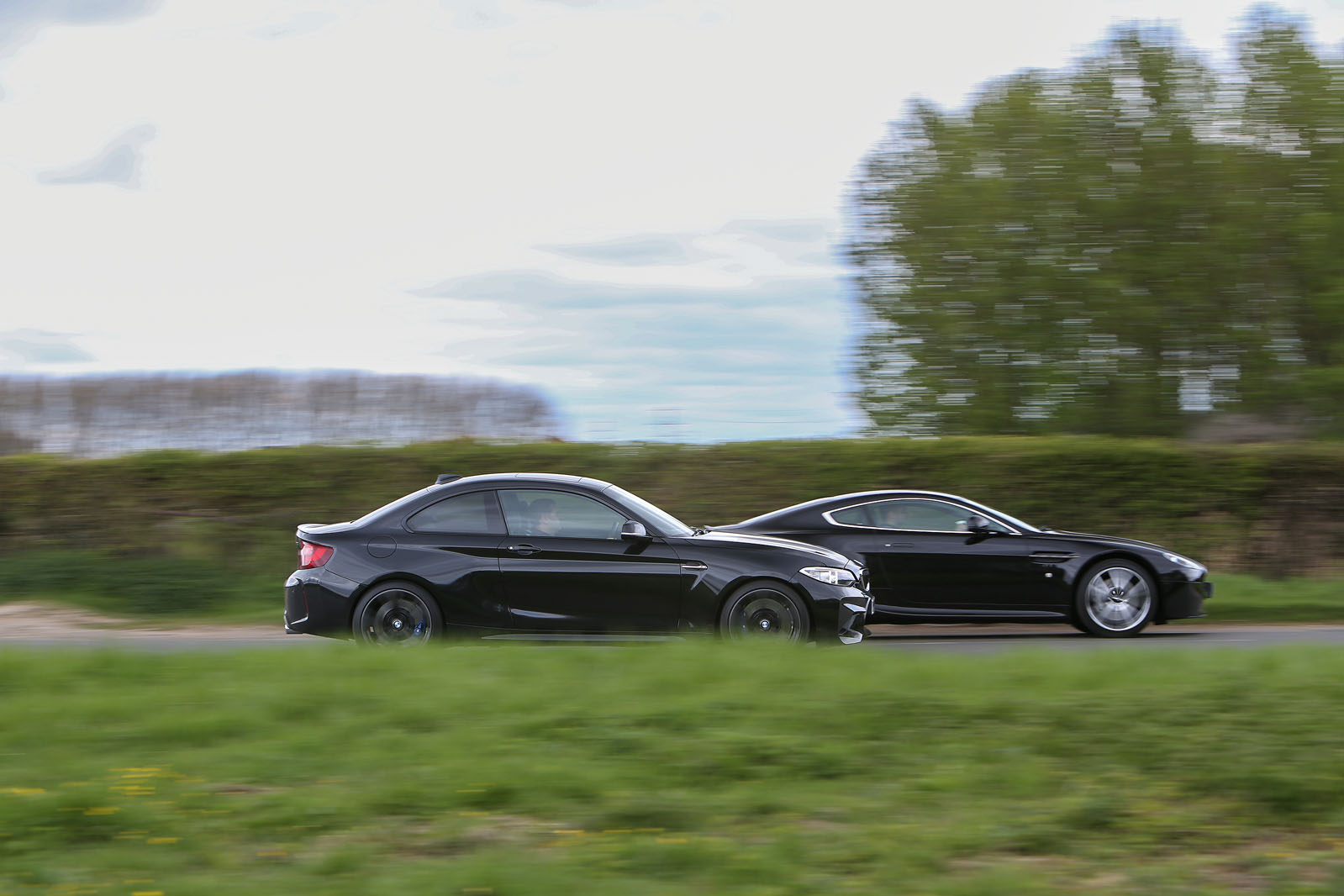 Our brooding, dizygotic twins line up thus. The Vantage is a 2011 car kindly lent to us by Aston Martin Walton-on-Thames (01932 506947), where this particular example is for sale at £55,995 with a 12-month, unlimited-mile warranty. In extremely tidy nick after a scant 16,000 miles, it does without the optional Sports Pack (lightweight alloy wheels, stiffened suspension) and features the six-speed manual gearbox rather than the Sportshift robotised manual, which would have struggled to mix it with our M2's seven-speed dual-clutch automatic. No manual M2 was available to test, but our cars' respective gearboxes arguably show them in their best light regardless.
Wheels aside, the 4.7 V8 Vantage is externally indistinguishable from the 4.3 (and not much different from the current iteration, either) but benefits from the DBS's centre console, an alloy engine that's upgraded from its cylinder heads down to its dry sump and revised, Bilstein-damped passive suspension claimed to improve both ride and handling.
Our M2 is loaded with life-easing niceties that push its price up from a base of £45,750 to £53,070. The £2245 M DCT gearbox is its sole dynamic option, but the electronically controlled, multi-plate Active M Differential, stiffened and reinforced suspension and twinscroll turbocharged aluminium engine that all bear influences from the M4 are standard. Unlike its big brother, though, the M2 is passively damped, leaving the car's Comfort, Sport and Sport+ modes to alter the drivetrain, steering, exhaust and ESP calibration.