Reborn Italian marque Bizzarini has revealed the first images of its striking new Giotto supercar, a mid-engined V12 tribute act to one of its most legendary models.
Serving as the spiritual successor to the 5300 GT of 1964, the Giotto will begin road testing in 2024 as part of its development programme, led by Bizzarrini's chief technological officer, Chris Porritt.
Power comes from a rear-mid-mounted 6.6-litre V12 developed with Cosworth, which is mated to an eight-speed dual-clutch automatic gearbox.
Bizzarrini said that while it has been engineered to meet all worldwide emissions regulations, this won't affect its engagement and drivability.
The engine's capacity, 6626cc, is the same as company founder Giotto Bizzarrini's date of birth, 6 June 1926.
Specific power figures have not yet been released.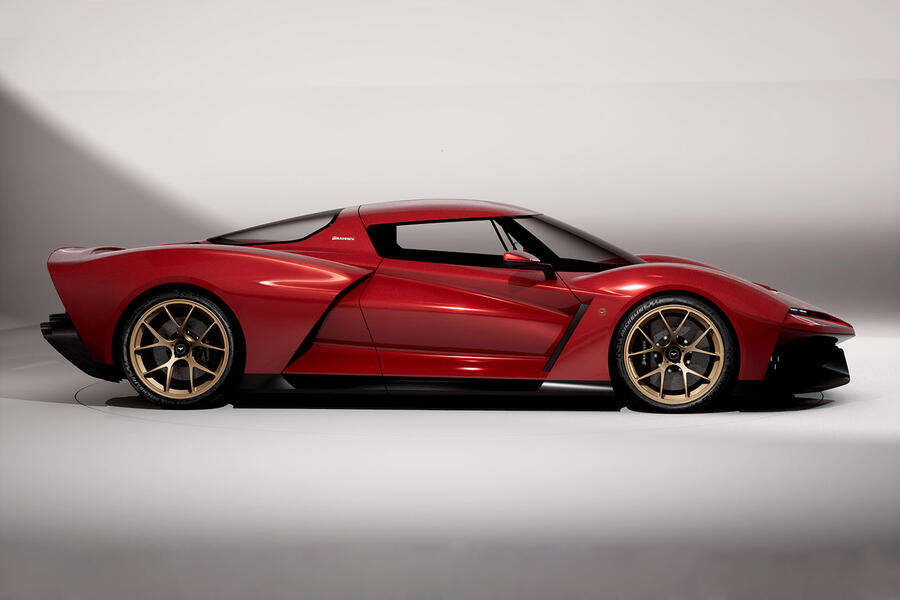 The exterior design, meanwhile, melds several design cues from the 5300 GT and "reinterprets them for the modern era".
The dual vents in its bonnet and front bumper (shaped to make the badge as prominent as possible), wraparound rear window and triangular B-pillar all take influence from the 5300 GT.
There's also a dihedral front splitter, the design of which has been influenced by Formula 1, and a fixed, full-width rear wing for increased downforce on road and track.