Mitsubishi Electric, the specialist technology division of Mitsubishi, is demonstrating advanced human machine interface technology at the Tokyo motor show.
The systems, which will be integrated into road cars in the coming years, allow passengers to interact with an onboard computer and gain information via augmented reality.
Mitsubishi Electric is using a concept called Emirai 4, an electric and autonomous-capable vehicle, to illustrate the tech. The car uses a head-up display to superimpose a computer-generated image onto the view ahead. This can enhance road features such as white lines and road markings to improve visibility for the driver.
Additionally, the concept offers a 360deg view of its surroundings with objects shown in 3D, rather than 2D like current production car systems.
Lighting technology has also been integrated so passing cars are alerted with an illumination projected from the door when a passenger is exiting the vehicle. Mitsubishi Electric is also one of several brands experimenting with driver monitoring technology that can adjust climate control settings to reduce fatigue.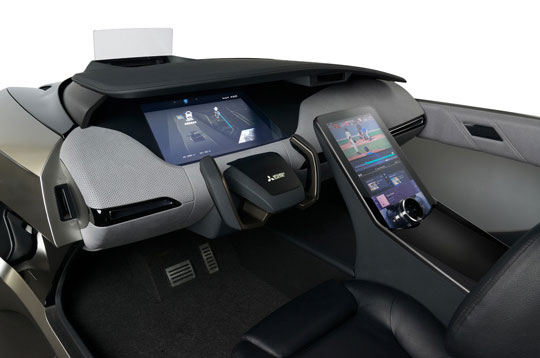 The system featured in the Emirai 4 can boost safety by enhancing autonomous control if a driver is detected to have reduced concentration.
All of these safety-boosting features are being produced by Mitsubishi Electric, which can sell its systems to the wider automotive market. Mitsubishi Motors, the car brand, is now part of the Renault-Nissan-Mitsubishi Alliance, so won't necessarily be first in line (or in line at all) to use the tech.
Mitsubishi Motors is investing in driverless technology and will show its e-Evolution, an SUV concept with artificial intelligence, at the Tokyo motor show to illustrate its progress in the field.