Audi brought along four new plug-in hybrid models to this year's Geneva motor show: the Audi Q5, Audi A6, Audi A7 and Audi A8 TFSI e.
With the e-tron branding now used exclusively for Audi's electric models, the four new cars are the first of the firm's new generation of 'TFSI e' PHEVs. Each is claimed to be capable of more than 25 miles of electric-only range on the stricter WLTP testing cycle.
The range-topping plug-in, the A8 L 60 TFSI e quattro, features a 3.0-litre V6 petrol engine mated to a synchronous electric motor, a 14.1kWh battery pack and an eight-speed Tiptronic autobox. Combined system output is 443bhp and 516 lb ft, but no performance or economy figures have been quoted yet.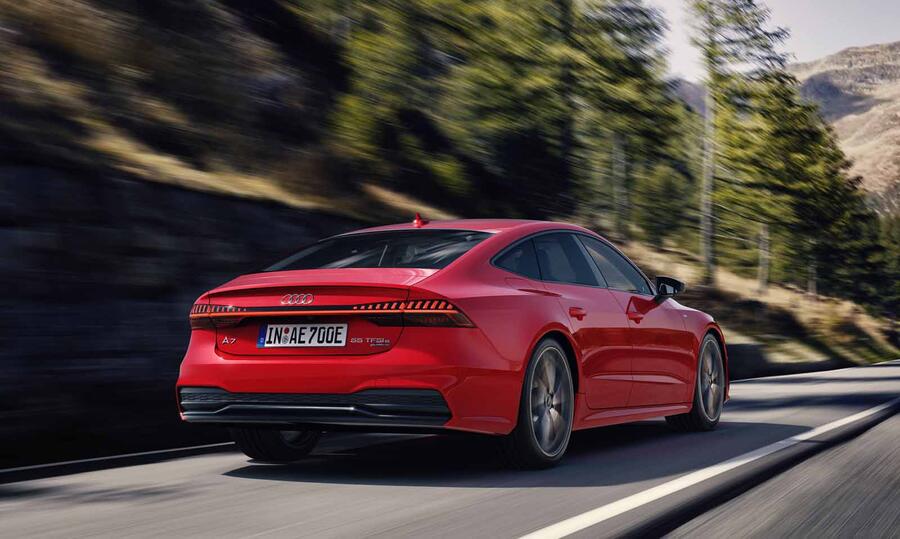 The Q5, A6 and A7 plug-ins all offer identical power outputs of 295bhp and 332 lb ft in entry-level 50 TFSI e 'comfort' form. However, a more performance-orientated 55 TFSI e trim level (comparable to S-Line on the regular models) offers 363bhp and 369lb ft. All 55s also get sportier styling and a suspension set-up with a bias towards handling.
Powertrain tech is taken from the e-tron SUV, and Audi claims the regenerative braking system can recover up to 80kW of energy under maximum load. The cars also feature an active throttle pedal with haptic feedback when driving in electric-only mode for greater efficiency, while the coasting function's effectiveness varies depending on drive mode.
Details of exact UK spec, equipment and pricing are yet to be revealed.
Read more:
Audi e-tron GT concept: first drive of all-electric sports saloon