Earlier this year, we took the all-new Audi Q8 e-tron on a 500-mile journey across the UK from Wales to Kent. Why? Well, we wanted to use an epic UK road-trip to learn as much as we could about Audi's flagship all-electric SUV in the real world.
And what better inspiration could we take than a coast-to-coast route from the sandy dunes of Ynyslas' Beach in Wales to Britain's only 'desert' in Dungeness, evoking Audi's participation in the epic Dakar Rally endurance race with its innovative electrified Audi RS Q e-tron?
Mixing lots of motorway miles with undulating British A-roads, uneven B-roads and narrow city streets – while also tackling some seriously dramatic British spring weather along the way – our epic cross-UK journey was the perfect test for the multi-talented Audi Q8 e-tron.
You can watch the highlights of our trip below. But, as our epic road-trip came to an end, our next challenge began – picking the eight standout details on our personal Audi Q8 e-tron that we enjoyed most on our journey.
Learn more about the all-new Audi Q8 e-tron here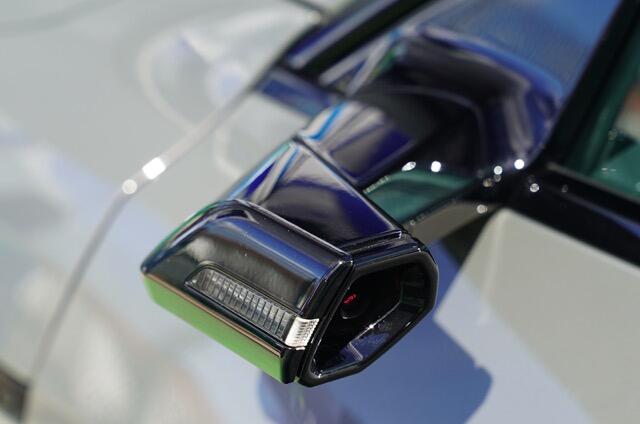 1 Virtual door mirrors
If ever a road-trip was designed to offer the ultimate test of a radical new piece of technology, then our dunes-to-desert journey in the Audi Q8 e-tron was it. Wherever we were on our journey, the wealth of different roads, driving environments and weather that we faced proved the perfect validation of the virtues of Audi's virtual door mirrors.
Whether at first light or after dark the virtual mirrors were in a league of their own when it came to providing pin-sharp images that remained unobscured by rain, condensation and dew on the high-definition in-car OLED displays – giving us a vital extra dimension of confidence-inspiring visibility, even as the conditions changed from sun to rain and back.
The virtual door mirrors then showed a uniquely different side to their character on the urban roads of Bristol and Brighton – broadening and deepening our perspective of the environment around our car and helping us confidently thread our way through the wealth of hazards that are a natural part of city driving.