Wimbledon Stadium holds a special place in my heart. Almost 20 years ago, it was the first place I ever watched short oval racing and I was spellbound, in particular by the National Hot Rods. 
What struck me in 1997 was how the faster drivers, who start from further back on the grid, could deftly work their way through to the front on such a tight, short circuit. It was like high-speed cat and mouse - the drivers starting near the front try to make an escape as the top competitors work through the pack and hunt them down. 
The races in National Hot Rods are in theory non-contact, although knowing exactly how much of your car's bumper and front wing you can use to subtly encourage a stubborn rival out of the way is an art form. At a short oval, you can see all this unfolding in front of you. The cars look and feel quick because you can stand quite close and see all of the action.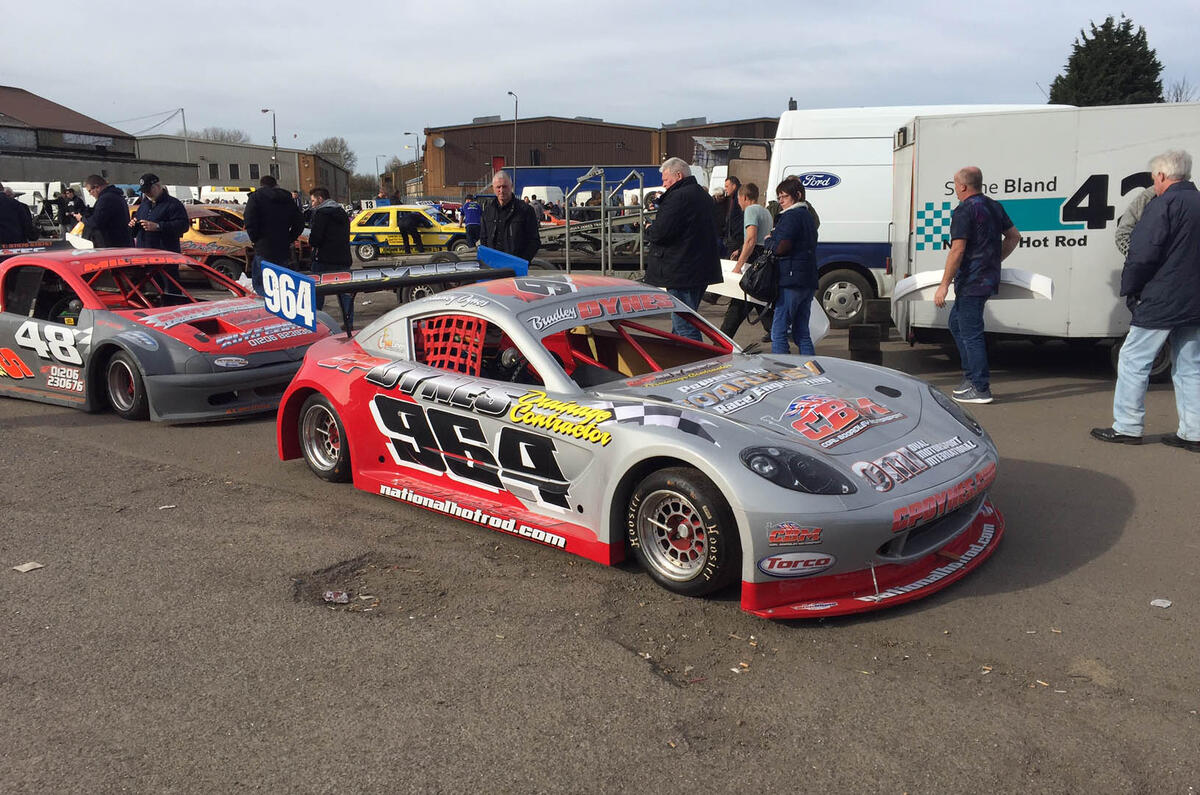 Watching the racing at Wimbledon was always particularly special under floodlights on a cold, clear night, augmented by the heady aromas of racing fuel and frying onions from the burger stand in the paddock. During the 15 years I lived on the fringes of the Big Smoke, I always appreciated having a motor racing venue just up the road. 
I won't be doing that any longer, because last night the chequered flag at Wimbledon Stadium fluttered for the final time. The race engines were switched off and the cars loaded back on to trailers and flatbeds to set off into the London twilight.
The stadium, built in 1928 as a greyhound racing track and a regular venue for short oval racing since 1962, is to be torn down to make way for the new home of the AFC Wimbledon football club, plus more godforsaken posh flats and the kind of ubiquitous shops you can find anywhere across a city.
Until yesterday, Wimbledon Stadium was the last 'proper' motor racing track in London. Once there were plenty of them. Our nation's short oval scene sprung into life in the capital back in the mid-1950s. Seasoned enthusiasts speak wistfully of London's lost venues, names such as Harringay, West Ham, New Cross - even Wembley Stadium on a rare occasion.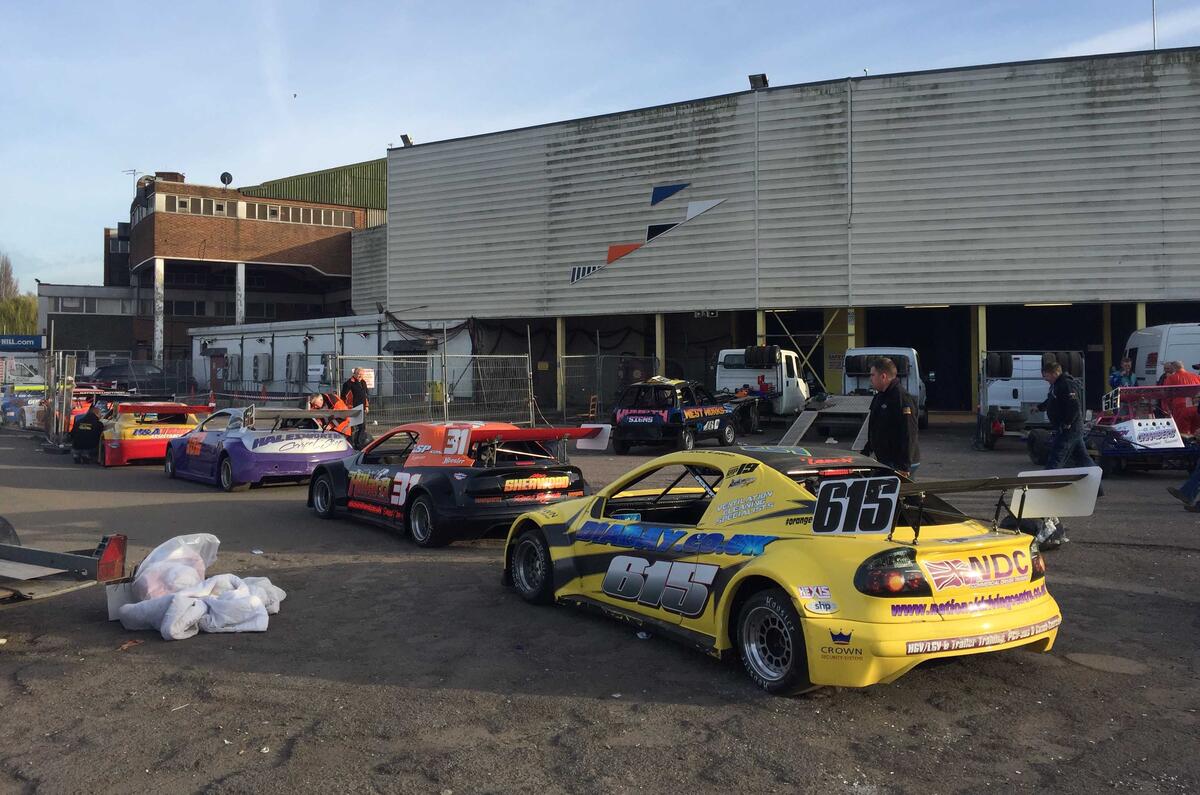 If you had been a first-time visitor to the stadium yesterday, you would have been forgiven for assuming that the demolition job had already begun. The venue, formerly owned by the Greyhound Racing Association until it was passed over to a developer, Galliard, has definitely seen better days.
It doesn't appear to have enjoyed much investment in recent years and is in a dilapidated state. Half of the covered grandstands are closed on safety grounds. The concrete area used as a paddock by the competitors could last night have passed as a backdrop for a post-apocalyptic movie. It was strewn with shattered glass and so heavily potholed that competitors had to carefully pick their way from paddock to enter the race track.
Spedeworth, the company that promoted oval race meetings at Wimbledon, has always put on a good show despite the increasing challenges of the venue.
The paddock is used as a car boot sale site several times a week, and those salesman had left vast piles of unwanted and worthless goods strewn around. Perhaps not worthless for all: one opportunistic stock car fan filched a couple of tapes from a box of videos that had been left behind, although he clearly wasn't impressed with choices including Shrek and Romancing The Stone. Another enterprising driver grabbed an unfashionable and unwanted piece of clothing to mop up fluid that had spewed from his race car.
Perhaps London has fallen out of love with short oval racing. Although yesterday's meeting was a sell-out as fans and families of competitors crammed in to the remaining grandstands to bid farewell to the track, not all Wimbledon meetings have enjoyed the same level of support. And as emissions regulations in the city have tightened, it has become increasingly difficult and expensive for competitors to drive the diesel transporters carrying their race cars into the capital.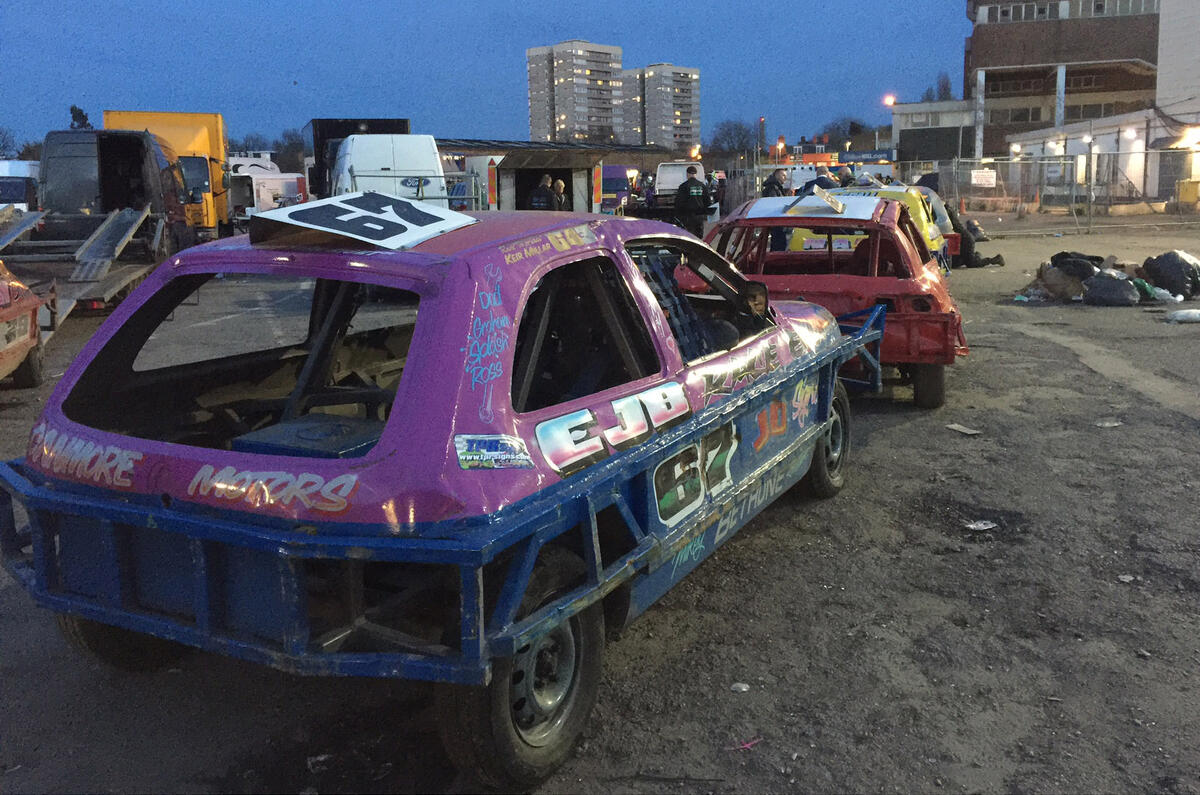 Short oval racing is undoubtedly a niche sport, but those who follow it are intensely passionate. For the past couple of years, a group of enthusiasts led by Peter Gray have mounted a passionate and sustained argument that Wimbledon should be saved. Unfortunately, but perhaps predictably, the commercial attractiveness of the land underneath the stadium meant their pleas went unheard by those in power, despite garnering more than 12,000 signatures on a petition. That's three times AFC Wimbledon's average crowd this season.
The sport remains healthy at venues around the country, and Spedeworth has other successful tracks on its roster, but Wimbledon Stadium's heritage made it special. It was regarded as the last survivor of an era of grand old stadiums and provided London with a valuable link to its past.
It echoed with memories. A parade of champions and replica stock cars from yesteryear was a highlight of Sunday's finale. Those cars were immaculate reminders of how much sweat and toil amateur racers have put into their passion through the decades.
Fittingly, the meeting ended as Wimbledon's first oval race meeting had begun: with a race for Superstox cars. The honour of being the last winner around the track went to Martyn Coles - number '511' in a sport where a racer's car number has almost as much equity as his name.
Most oval racing enthusiasts will retain fond memories of Wimbledon, although for many those recollections will be tinged with a touch of bitterness at what they perceive as a broken promise from London's top-ranking officials to protect endangered venues across the capital.
Prior to being appointed London's Mayor last year, Sadiq Khan pledged that he would "protect and promote London's cultural riches", and "support and protect London's workspaces and venues threatened by encroaching development".
That comes across as rather perplexing given he's supporting the project to flatten Wimbledon Stadium and build the football ground and posh homes on it. I guess he has a different definition of "cultural riches", but a sporting venue that's thrilled tens of thousands for more than five decades certainly strikes me as something worth protecting.
I'm sure if Mayor Khan had made the effort to watch a gaggle of National Hot Rods at flat chat around the Wimbledon oval, he would have been as instantly smitten as I was all those years ago.