Winners 2021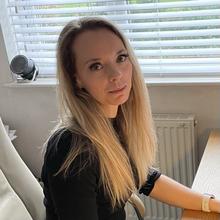 Leonie Cunnington-Barker
Electrical integration manager, Aston Martin
Leonie was rewarded for her hard work managing the electrical content of the DBX, Aston Martin's first SUV, with a promotion in April to the role of electrical integration manager, responsible for coordinating the delivery of software integration – an increasingly important role as the brand adds more digital features to its cars. In her previous role, which she started in 2018, she oversaw the work of more than 20 engineers and managed the full electrical bill of materials for the DBX, some 1700 parts. The result was the successful global delivery of the SUV. Michael Wanzeck, head of electrical engineering, described Leonie as a "linchpin" of the department thanks to her strong technical grounding and excellent interpersonal skills setting her up as a key member of the team. "As Aston Martin progresses into expanding future technologies, Leonie will be fundamental in the set-up of the process and content," he wrote in her nomination. She entered the automotive industry in 2012 as a graduate engineer at Nissan towards the end of her PhD research into neuro electrode fabrication and electrophysiology. She progressed to new model vehicle quality electrical engineer, before moving to Aston Martin in 2017.
Vehicle development nominees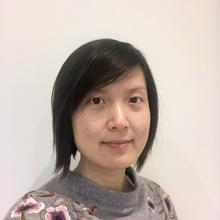 Yichen Gao
Senior integration engineer, Ford
Yichen, 33, is responsible for the integration of the high-voltage system in the next generation of electric Transits, a key position she was handed in 2020 after impressing Ford with her work leading the engineering and integration of the high-voltage electric drive system in the Transit Custom plug-in hybrid van. This she managed to achieve in half the normal development time. "Yichen's contribution allowed the team to get to market ahead of time," her line manager wrote in her nomination. She joined Ford in 2014 where her first role was to lead the noise, vibration and harshness development of the first three-cylinder variable displacement engine, landing her a number of contribution awards including from the Ford of Britain managing director.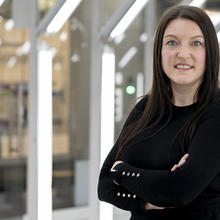 Renee Howells
Head of front engine platform, Aston Martin
Renee has responsibility for the programme delivery of all future models of the front-engine sports car platform, including DB11, Vantage, DBS and special variants of those cars. Her senior role gives her oversight of the cars from product creation to operations and sales. She was promoted to the position in 2020 after an impressive rise through development that started in 2003 as a timing analyst for the DB9 and Vantage. "Renee has enabled the successful launch of seven major product introductions plus more than 20 variants over 18 years," her line manager wrote in her nomination. She won praise for her work helping the DBX SUV project over the line, which meant working long days and into weekends, as well as responding to a request to advance the start of production of the DBS Volante six months earlier than planned, which was successfully achieved.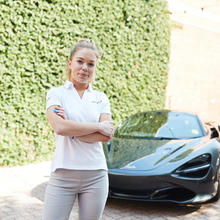 Ella Podmore
Materials engineer, McLaren Automotive
Ella, 25, joined McLaren's road car division in 2016 as a quality process engineer after graduating with a first class master's degree in materials engineering from the University of Manchester. After finishing her internship, she was appointed materials engineer in 2018, responsible for all investigations into any materials used in the company's supercars, and last year was promoted to her current role, where she uses her materials science expertise to analyse used and broken components from prototype cars to aid product development. She was named the 2020 Woman Engineer of the Year by the Institute of Engineering and Technology and is one of McLaren Automotive's lead STEM ambassadors. She cites the acquisition of her analysis equipment as among her biggest achievements at McLaren, one of which is a specialist microscope to better analyse components and improve weight savings that she fought and won funding for.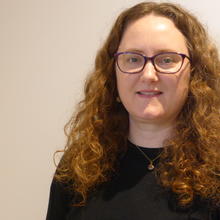 Louise Whitbread
Engine design manager, McLaren Automotive
Louise is responsible for overseeing the design and delivery of the McLaren engines and associated components, and she's at the heart of the development of McLaren's new V6 hybrid unit making its debut in the Artura supercar. Her manager, McLaren Automotive head of powertrain Richard Jackson, praised the engine's extreme light weight, which he said at 160kg was "significantly lighter" than any competitor's high-performance V6 engine. "This has been a result of not just Louise's own strong technical capability but also how she has worked with her team, McLaren's component suppliers and McLaren's analysis and development teams to optimise the engine's weight," he wrote in her nomination. Louise joined McLaren in 2013 from Cosworth, where she rose to project engineer for Formula 1 engines. Her engines have won races in both F1 and the US Indy Racing League, giving her skills that have been applied to the McLaren V6.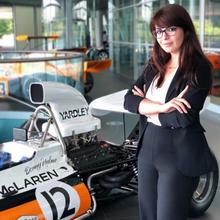 Madalina Marcu
Perceived quality manager, McLaren Automotive
Madalina, 35, is McLaren Automotive's key person in an increasingly important expertise in automotive – perceived quality. This can be defined as the attribute that imbues a product with a sense of value and worth in the eyes of the customer, and encompasses design, engineering and marketing. Because it brings together so many departments, it requires leadership – which Madalina excels at. Her work has resulted "in our best-executed vehicles to date", said head of design execution Charles Wildig. "Her reach extends across the company and she is an influential female voice." One of her successes was to pull together teams across the company to work out how to tighten panel gaps, resulting in an improvement in the build of the new Artura supercar. Madalina joined McLaren in 2019 from Jaguar Land Rover, where she was perceived quality attribute leader. She honed her skills in the subject at Groupe Renault in Romania, where she rose to perceived quality project manager.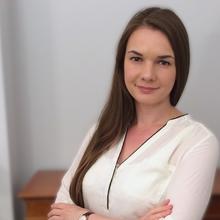 Dr Simone Gemkow
Passive safety manager, McLaren Automotive
Simone has averaged a promotion every two years as she steadily climbs the ladder in automotive engineering, most recently to switch to McLaren's road car division from Jaguar Land Rover in 2019 to focus on crash engineering of the company's supercars. Here she and her team look after the worldwide safety requirements of the whole car, its components and systems, such as structures, restraints and even some aspects of software functionality, requiring an exceptional understanding of engineering and people skills. Simone is highly praised by her senior colleagues. "She has delivered real innovation for McLaren," head of design execution Charles Wildig wrote in her nomination. She holds a BSc, MSc and PhD in engineering, the last two gained in the UK after she moved from Germany for further education in 2009. Simone holds multiple safety-related patents that have resulted in improvements on current production vehicles, and has published work that has been referenced in established journals. As one of only two women in a department of 76 people, she has worked to use her unique position to set an example for others and to encourage other women into the industry.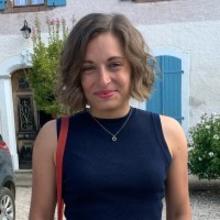 Loren Wright
Programme leader, Valkyrie, Aston Martin
Loren was promoted in February to oversee the timing for the launch of Aston Martin's flagship Valkyrie hypercar as it approaches production. She has already made a mark on the team by assessing requirements and focusing on those parts suffering delays. Loren was promoted after impressing in her previous role as leader of body structures for the DBX SUV, where she helped bring about a new approach to the bonded aluminium structure design and reducing part count similar to that of a two-door sports car. She joined Aston Martin on its graduate scheme in 2014 after gaining a 2:1 master's in mechanical engineering from Lancaster University, rising to lead engineer for body structures in 2016. Valkyrie programme senior manager Kate Jones describes Loren as a "great asset to the team" in her nomination.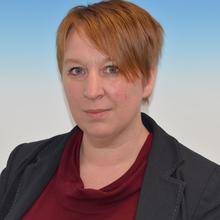 Gudrun Waskett
Head of product legislation, Bentley Motors
Gudrun's job at Bentley is to enable the company to meet and prepare for all incoming legislation globally, including emissions, material compliance, active and passive safety, and new technologies such as cybersecurity or autonomous driving. She was promoted to this senior role in April 2020 after impressing in her previous position as functional manager for complete vehicle legislation, when she stepped in at short notice to lead the product legislation team after the departure of the previous incumbent, improving processes as she did. She has won praise for better engaging with Volkswagen Group partners on legislation, meaning the team is now fully integrated into the VW Group communication process regarding regulatory requirements. Gudrun started in the industry as an apprentice in 1997, before becoming bill of materials coordinator for Bentley in 2000. She left the company in 2015 to work for Porsche in Stuttgart before returning three years later.

Ciara McNamara
Lead programme planner – Range Rover, Jaguar Land Rover
Ciara's job is to ensure the successful completion of pre-production builds of the new Range Rover, including managing parts supply, overseeing the budget and generally ensuring the smooth assembly of the first prototype cars. Since starting the role in 2019, Ciara has helped better plan finances by budgeting reworks in the prototype builds earlier in the process. She impressed her managers in the process. "The impact she has had so far is significant and widely recognised, and this includes outstanding feedback from the Range Rover chief engineer," Range Rover project manager Dan Simonetti wrote in her nomination. Ciara joined JLR in 2015 as a graduate after gaining a degree in automotive engineering from  Manchester Metropolitan University, landing her first position as programmer planner for the Range Rover Evoque and Land Rover Discovery Sport in 2019.

Burcu Erbeyler
Programme lead engineer, Jaguar Land Rover
Burcu manages the body and chassis teams that work in the early stages of development to set technical and budget boundaries, liaising with engineering and design teams. She is often the first to apply a new system or rule set and so has to lead the team to understand and deliver the desired outcomes. She also has to work with her manager to put data together that will enable decisions about future vehicles. "She has had to pick up the responsibility of being the body lead for the many major new processes. In doing so, she has shown a very proactive approach," senior manufacturing engineer Julian Halls wrote in her 2020 review. She moved to Jaguar Land Rover in 2018 from Ford in Turkey, where she rose to body interior integration supervisor after an 11-year stint. At JLR, she has been nominated as a candidate for the company's Young Leader Development Programme.

Hollie Patten
Lead battery cell engineer, Jaguar Land Rover
Hollie's job within the Advanced Battery Engineering function is to lead JLR's development of the next-generation batteries. She's also the technical lead in meetings with battery cell suppliers, validating claims, giving recommendations and monitoring cell performance. She joined JLR as a battery cell engineer in 2017 after gaining a BSc, an MSc and PhD in chemistry, the latter two from Warwick University, before becoming a postdoctoral research associate. Her last piece of research before joining JLR was an investigation of the optimum composition of graphene for supercapacitor applications. She has also published 14 peer reviewed articles. "Hollie's niche technical expertise and willingness to support outside her area has improved not only the performance of the team, but the entire company," Valentina Gentili, a JLR advanced battery technical specialist, wrote in her nomination.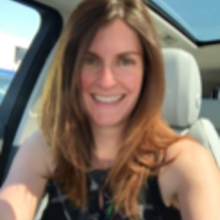 Kathryn Fairless
Senior manager, propulsion software integration, Jaguar Land Rover
Kathryn leads the team that plans, integrates and validates the propulsion system software for all Jaguar Land Rover products. It is an area that has grown in complexity with the latest PHEV, MHEV and BEV applications. This is a key role that oversees JLR's increasing ability to update powertrain control software and download data over the air. Kathryn led a cross-functional team to analyse the data coming in from engineering and customer cars to identify any powertrain software issues. "The engineers now have access to a huge amount of data that transforms the effectiveness of the whole team," JLR powertrain director Ian Hoban wrote in her nomination. Kathryn worked at engineering consultancy Ricardo on engine performance and emissions for seven years after graduating with a degree in mechanical engineering from Leeds University in 2000. She joined JLR in 2008 to work on emissions and drivability calibration for diesel engines, before moving to a management role leading a team of specialists in engine calibration. She was promoted to her current role as senior manager in 2020.