Winners 2020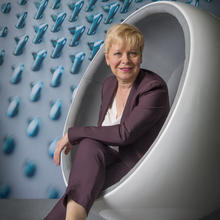 Linda Jackson, PSA Group
Linda Jackson, Executive vice-president, brands portfolio development
As the inaugural and now two-time winner of Autocar's Great Women in the British Car Industry award, Jackson epitomises all that the initiative was conceived to stand for: celebrating the achievements of both British women and women in general working in what for now remains largely a man's world.
As a result, she is the first inductee to the Great Women Hall of Fame.
Following her five-year stint as CEO of Citroën, Jackson is now PSA's executive vice-president of brands portfolio development. In this senior group role she oversees how best to differentiate the brands across the PSA Group's growing portfolio. Jackson was promoted to the role of Citroën CEO in 2014 following a stint as head of Citroën in the UK and Ireland, a position she had held since 2010. 
Jackson started in the automotive industry at Jaguar in 1977, initially working as an accounting clerk before climbing through the ranks of MG Rover Europe, where she served as CEO of the company's French operation for three years. In 2005 she moved to Citroën UK, joining as chief financial officer for the brand. She went on to perform the same role for Citroën France.