Winners 2019
New mobility and digital solutions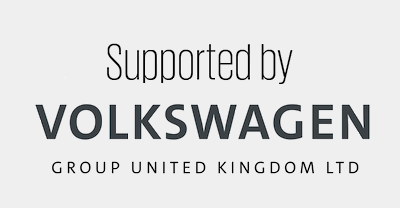 New mobility and digital solutions nominees

Alex Elliott, Jaguar Land Rover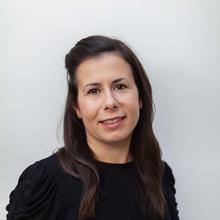 Alex Elliott, Jaguar Land Rover
Senior strategy manager
Alex came from outside the motor industry where she'd built up a formidable CV in digital marketing. Since joining Jaguar Land Rover she has worked in conjunction with engineering to design the company's over-the-air (OTA) customer experience, informed the board on how new consumer technologies will change Jaguar Land Rover's current commercial operating model and led associated commercial change management activities globally. She was rewarded with promotion to senior global strategy manager in December last year, and she now leads a team responsible for Jaguar Land Rover's new commercial strategy of definition, communication, strategic programme identification and global change management.

Nicola Hawkes, McLaren Automotive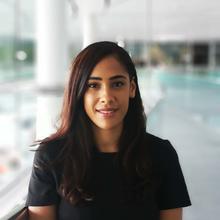 Nicola Hawkes, McLaren Automotive
Digital project manager
Nicola's brief at McLaren is to bring the brand and its cars closer to its customers, not only at the point of sale but also afterwards via smartphone apps. This way she hopes customers will be more engaged and more enthusiastic about the brand. At a dealer level she helped roll out McLaren's so-called Real-Time Configurator across its Chinese dealerships – the system uses gaming technology to process engineering data and provide customers a photo-realistic visualisation of McLaren's supercars. Prior to joining McLaren she worked at marketing agencies on automotive accounts that gave her knowledge of customer retention management systems.

Catherine Hutt, Addison Lee Group and EQ+iQ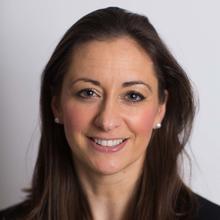 Catherine Hutt, Addison Lee Group and EQ+iQ
Mobility innovation lead, mVentures
Catherine's start in the motor industry came in 2006 when she landed a job as marketing manager for electric commercial vehicle maker Modec. She stayed in the field of automotive innovation and set up EQ+iQ in 2016 to become an independent mobility strategy consultant. Her major focus is leading the mobility innovation arm of private hire firm Addison Lee Group, a division it calls mVentures. There she focuses on five areas expected to grow hugely: electrification, autonomous vehicles, new business models, connected cars and big data. She recently co-authored two successful bids for CAV4 – connected and autonomous vehicles, round 4 – government-funded projects worth £35 million and which will see Addison Lee trialling autonomous vehicles. To win those projects Hutt drew on her experience leading the MERGE Greenwich consortium, which simulated how autonomous vehicle ride-sharing could integrate with public transport systems.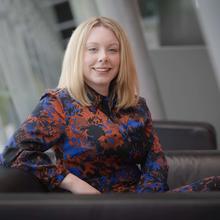 Emma Johnson, Toyota GB
Manager, ConsumerOne, customer connection and experience innovation
Emma's value to Toyota was demonstrated in 2016 when she was promoted to its ConsumerOne division, which has a mission to transform the way Toyota connects with customers. Projects include new ways of selling cars, mobility services and using digital means to gain crucial feedback from buyers. She joined the company in 2005 on a student placement and quickly progressed to senior roles including manager of aftersales in 2012 and manager of value chain innovation in 2014. Her manager, ConsumerOne Director Paula Cooper, is full of praise for the quality of her work, which is recognised across the UK retailer network and at Toyota at a European level. "People value her opinion," she said, adding that Emma has "clear potential to progress to Director level".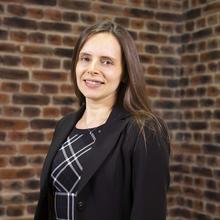 Helen Lees, PSA Group
Head of electric vehicles and connected services
Developing a competent electric or plug-in hybrid car or van matters little if the customer or the dealer selling to them isn't sold on the benefits. That's where Helen comes in. She was the first to hold the post when it was created in 2016 and has shaped it since then in preparation for Groupe PSA's new range of electrified cars, due this year. It encompasses all aspects of preparing the UK operation for change – sales, aftersales, dealer training, suppliers and infrastructure – and is key to PSA as its Peugeot, Citroën, Vauxhall and DS brands transition to electric. Helen joined Peugeot as a graduate and has worked through the business in a number of sales and aftersales roles. She's also responsible for rolling out connected and mobility services on a UK level as Groupe PSA develops it's offering beyond conventional vehicle sales. Recently this has included the launch of fleet telematics for businesses, connected aftersales services for retail customers and the implementation of an e-commerce platform to offer connected services directly to customers.

Verity Mercer, Groupe Renault UK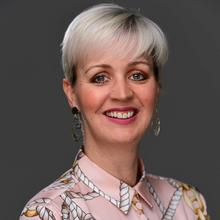 Verity Mercer, Groupe Renault UK
Head of CRM and digital experience
Verity has recently returned  to the UK from France to lead Renault and Dacia's CRM and digital experience team, improve the online customer experience and deliver Groupe Renault UK's vision of people-based marketing. In her previous role she was tasked with defining and deploying brand strategy for Groupe Renault brands globally, moving to the role in 2014 after working for many years for Renault in the UK. She joined the company as a graduate trainee in 2001 after completing her degree in French, German and management from the University of East Anglia. She has held a variety of roles, including that of international key accounts manager.

Paula Palade, Jaguar Land Rover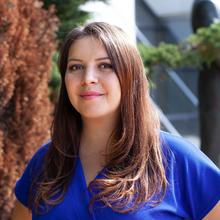 Paula Palade, Jaguar Land Rover
HR digital manager
Paula's significant academic achievements include a PhD in electrical engineering, patents, publications, and her forward-looking research roles. In her current role as HR digital manager she looks at ways to enhance the life of Jaguar Land Rover workers by, for example, moving to automation to free staff from the strain of high-volume, repetitive tasks. She's also working on a report commissioned by the European Commission for autonomous and connected driving looking at the ethical, societal, data security and privacy aspects that she hopes will influence EU legislation by June 2020. She's also an ambassador for STEM subjects (science, technology, engineering and mathematics) and an EU expert evaluator for research.

Abigail Shepherd, McLaren Automotive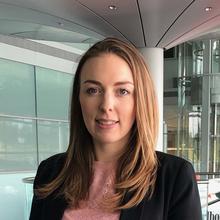 Abigail Shepherd, McLaren Automotive
Global digital marketing manager
Abigail – Abi – is responsible for the media buying and project management at McLaren across all digital activities, including pay-per-click advertising, YouTube, paid social media and boosting McLaren on Google searches. She was hired last year after impressing at Mazda, where she had been digital marketing manager for three years. Mazda future product manager Joseph Hodgkiss described her as a "key influencer" who won support above and below her role. He also praised her ability to speak at digital conferences. Abi has a BA degree in business administration from the University of Portsmouth.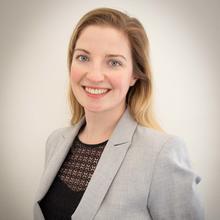 Laura Smith, Bentley
Luxury services project manager
Laura's job at Bentley is to look into the future, both near and far, in order to work out how new technology can unlock opportunities for the company. Her motivation is research that says up to a quarter of automotive industry profits will come from new mobility and digital in less than 15 years. To make sure Bentley is poised to tap into that, Laura is looking to develop a portfolio of global services catering to needs beyond vehicle ownership. Beyond that she's looking to encourage talent to envisage what future luxury mobility will look like and how Bentley can be at the forefront of that.
Victoria Taylor, Volkswagen Group UK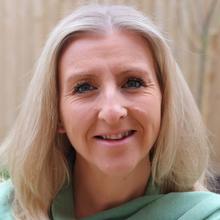 Victoria Taylor, Volkswagen Group UK
Business lead, EV
The Volkswagen Group has the most ambitious electric vehicle targets of any of the mainstream automakers and it's Victoria's responsibility to ensure that VW's entire UK structure, from management to dealers to customers, is ready. She was appointed to the role earlier this year on an 18-month contract that sees her working with teams from the product, standards, aftersales, technical, marketing and government affairs departments. Victoria joined VW in 2013 from Waitrose, where she joined its accelerated graduate trainee programme and rose to operations manager, responsible for setting up Waitrose stores within motorway service stations. VW's flexible working arrangements means she works part time in her current role, enabling her to spend time with her three-year old daughter while also delivering at a senior management level.