Winners 2016
Rising stars Nominees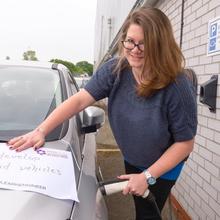 Nicole Barrett
Ford of Britain, mHEV sub-system program module team leader
Barrett joined the company two-and-a-half years ago on a graduate scheme and currently works in electrified powertrain engineering, helping Ford to develop hybrid vehicles. She also plays an active role in helping to find and encourage Ford's next generation of engineers, and has helped organise events to tie in with National Women in Engineering Day, including an invitation to female students aged 14-16 to visit Ford. On top of all this, Nicole is also leading a project to develop a new website that will become an information hub for all powertrain engineers within Ford of Britain.

Alice Belcher
Jaguar Land Rover, Apprentice engineer
Belcher turned down her university offers for a degree apprenticeship at JLR – she preferred the prospect of getting hands-on experience while studying for a degree on the side. She is currently working in vehicle configuration and testing systems (VCATS) at JLR's Solihull factory, where she makes sure that all cars that exit the production line are electrically sound. Outside the plant, she has taken a foundation degree at Warwickshire College and is now half way through a four-year degree course in applied engineering at the University of Warwick. As if that wasn't enough, at the weekend Belcher plays football in the Women's Premier League for Nuneaton Town.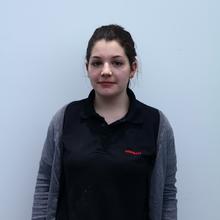 Joanna Bond
Nissan UK, Junior clay modeller
Nissan was so impressed with Bond's work as an apprentice that it has now taken her on as a junior clay modeller at its design centre in Paddington, London. Bond joined Nissan's relatively new, three-year training scheme after finishing her A-levels, and was introduced to a wide range of automotive and engineering skills to help hone her skills in translating her drawings into three-dimensional models. Having proved her abilities, she has become one of the first apprentices to complete the course and move into full-time employment with the manufacturer.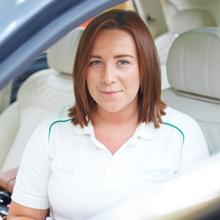 Jessika Camm
Bentley Motors, Bentayga team leader, electrical stations
Camm's interest in engineering started at the age of 14, when she took part in a programme at her school, which was organised by the engineering industry initiative Engineering the Future. Her father has worked at Bentley's Crewe plant in Cheshire for more than 40 years as a maintenance manager and Jessika joined him at the factory in 2010, aged 18, when she was accepted as a technical craft apprentice. During the four-year apprenticeship she decided to focus on becoming an automotive electrician and moved to the Bentayga SUV project, where she has been involved at every stage, from vehicle prototype through to production.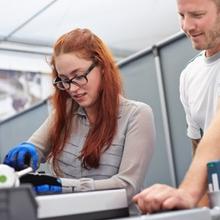 Ellen James
Bentley Motors, Safety electronics engineer
James joined Bentley as a junior engineering apprentice in 2009. During her training she not only completed a degree in electrical and electronic engineering at Manchester Metropolitan University, she also impressed the firm so much she was given a full-time job as an electronics engineer. James's apprenticeship also gave her the opportunity to spend time with other Volkswagen Group brands, including a three-month placement with Porsche in Germany. A confirmed petrolhead, James currently works on electrical elements of vehicle safety, such as sensors to indicate which seats are being used. She also provides electronic support at crash tests.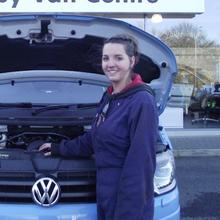 Hannah Mills
Imperial Commercials, Motor technician
Mills received one of the Volkswagen Group's Best Apprentice awards last year, after her "consistently high grades" impressed the company, which sponsors her apprenticeship at specialist van garage Imperial Commercials in Derby. With Hannah's three-year training soon coming to an end, Volkswagen Group learning advisor Mark Brown has praised the progress she demonstrated in the regular written and practical exams: "Hannah's hunger to learn has made her stand out in the group."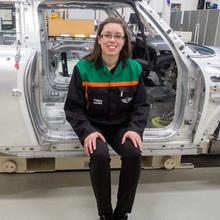 Philippa Napier
Mini UK, Engineering technician apprentice
Napier is a final-year engineering technician apprentice at Mini's Oxford plant. A self-confessed petrolhead, she achieved her ambition to enter the automotive profession following a stint of work experience at the factory. This won her a place on the apprenticeship scheme, which has included taking a foundation degree in electrical and electronic engineering. Following her graduation she will start her manufacturing career as a quality parts manager, supporting all quality functions throughout the product lifecycle.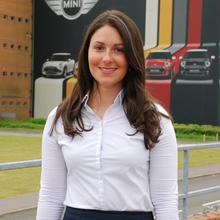 Rachel Neary
Mini UK, Member of production steering team
A passionate petrolhead with a first-class master's degree in physics from the University of Liverpool, Neary has shown star potential since joining Mini's Oxford plant in 2013. She has already held roles at the Research and Innovation Centre in Munich and at Werk Leipzig, one of the BMW Group's most progressive plants and home of electric BMW i car production. In Oxford, Neary is part of Mini's production steering team, which manages the transformation of sheet metal to painted body.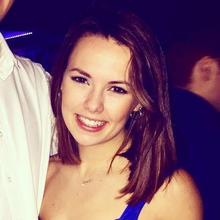 Imogen Pierce
Jaguar Land Rover, Graduate engineer, aerodynamics
Pierce joined JLR's aerodynamics department in 2014 as a graduate engineer, following her degree at Oxford University. Her education over the whole period has included in an impressive list of work placements, some at JLR and others at BMW and the Milford Haven oil refinery. At JLR she currently converts the results of physical aerodynamic testing to computer simulation, and identifies problems early on in the development process. Outside the company, Pierce helps to run the Leamington Spa conference for TED, an organization that encourages discussion between people working in technology, entertainment, design and other disciplines; she has also set up something similar at JLR to invite employees to share their enthusiasm about their jobs.

Kerri Sayers
Ford of Britain, Underbody electronics leader and restraints electronics engineer
Sayers joined Ford in 2008, aged 16, as an apprentice to become a prototype mechanic. She says that during that four-year period she learnt all the skills to enable her to strip, re-build, diagnose and test engines and to run vehicles in the environmental test laboratory. She then became a powertrain test operator before being promoted in 2014 to designing and testing the airbag control modules for seven commercial vehicle ranges in various global regions. Sayers coupled her work with a degree in mechanical engineering at the Centre of Engineering and Manufacturing Excellence (CEME) in Essex. This year she became a team leader within active safety technologies.