Winners 2016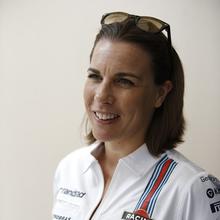 Claire Williams
Williams F1, Deputy team principal
Only 8% of jobs in the Williams F1 team are held by women – but to Claire Williams that figure is still something to be proud of. "Five years ago it was zero percent," she says, "so we're getting there." Williams, daughter of the team's founder Sir Frank Williams, is one of just two female F1 team leaders (the other is Sauber's Monisha Kaltenborn), and she admits the sport still lacks the pull of other jobs when it comes to attracting the brightest women, partly because it is seen as male-dominated. The Williams team is trying to change that by going to schools to actively inspire girls and challenge their prejudices about F1 and engineering in general. "Not a lot of girls chose to take STEM [science, technology, engineering and mathematics] subjects, for whatever reason. It seems deeply entrenched in our gender psyche," Williams says. The entire Formula 1 industry used to be resistant to taking on women in anything but the traditional hospitality and PR roles, as Williams can remember from her childhood. She says her father was as bad as anyone else. "My dad is 74 and he's grown up where men hold every job, so he probably has had that opinion," she says. "But his opinion has definitely changed now, in line with society's." Williams graduated with a degree in politics from Newcastle University in 1999 and started working in motorsport a year later as a press officer for the Silverstone circuit. She joined the Williams F1 team in 2002 doing the same job, rising to head of communications. She says she was then fast-tracked through a number of senior roles before becoming deputy team principal in 2013. Williams soon wants to start a family, and acknowledges this could pose difficulties. "F1 moves so quickly that [taking time out] is a concern. That's why it is tough for women, whatever people say about 'having it all'." But she says the Williams team is accommodating to new mothers and she wouldn't let her high-pressure job stop her from having children. "I'd have a baby sling designed in Martini Racing colours, take my baby to strategy meetings, and everybody would have to deal with it."
Motorsport Nominees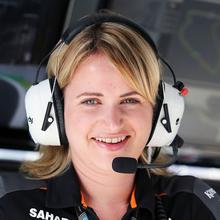 Bernadette Collins
Sahara Force India F1, Senior strategy engineer
Collins attends all F1 races and makes strategic calls from Force India's pit wall. Her love of racing stems from her participation in the Formula Student series, while studying mechanical engineering at the University of Belfast. After completing her degree she joined the McLaren F1 team as an engineer in 2009 under the team's graduate programme. She was steadily promoted, taking on various projects, such as designing elements of the car's gearbox. Having volunteered as an assistant at Friday practices, in 2014 she spent the season as a performance engineer on Jenson Button's car. She joined Sahara Force India in 2015 and was promoted to her current role in January 2016.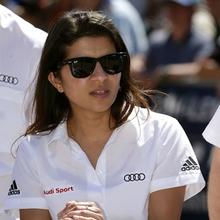 Leena Gade
Audi Sport, Race engineer
With responsibility for one of Audi's two Le Mans cars, Gade is one of the most senior engineers working in motorsport today. She started in the automotive sector in 1998 as the senior engineer for noise, vibration and harshness at Jaguar Land Rover, which she joined soon after graduating with a degree in aerospace engineering. She then worked for MG Rover and the transport research organisation MIRA before her love of motorsport took her into racing. In 2011 Gade became the first female race engineer to work on a Le Mans 24-hour race winning car, a feat she has since achieved twice more, all three times with Audi. As this Top 100 was being published, it was announced that Leena was leaving Audi Sport for a new role with Bentley.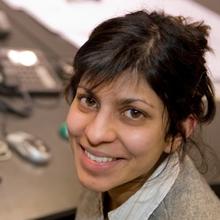 Teena Gade
Sahara Force India F1, Vehicle science engineer
As an engineer for the Sahara Force India F1 team, for which she has worked since 2013, Gade analyses data from the driver simulator to find the optimum set-up for the team's cars for each race. After graduating from Coventry University she became a data engineer, working first for touring car race team Triple Eight, then joining the JCB Dieselmax speed record car project in 2006. In 2007 she became an aerodynamicist for Williams F1 before moving to Prodrive to work on Mini's Dakar rally car, among other projects. Gade says she was inspired to get into F1 after watching the sport on television at the age of 10. She is the sister of Le Mans-winning race engineer Leena Gade.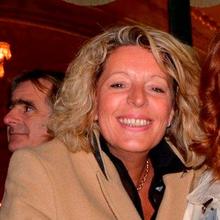 Hayley Gallagher
Federation Internationale de l'Automobile, FIA World Rally Championships media delegate
Gallagher heads up communications for the FIA on all matters to do with the World Rally Championships, having risen to the position from joining the FIA as a press officer in 2006. She is also communications manager for the FIA's Women and Motor Sport Commission, which was set up in 2009 to encourage more women into the sport. She is married to Fred Gallagher, a former WRC-winning co-driver.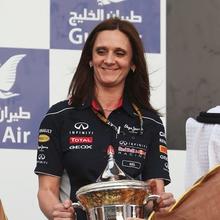 Gill Hall
Red Bull Racing, Electronic design group leader
Hall works at Red Bull's Milton Keynes factory, heading up the team responsible for all electronic components for the F1 car and its supporting technology. She graduated with a degree in electrical and electronic engineering, and started her career working in aviation. She switched to F1 in 2000 when she got a job testing electronics for Jaguar Racing. She then went to Toyota F1 in Germany as a trackside electronics support engineer. A year later she moved to BAR, before switching to Red Bull Racing in 2005. She changed from trackside work to her current position in 2013. Hall made history back in 2013 in Bahrain when she became the first female member of an F1 technical team to accept the trophy on the podium after a win.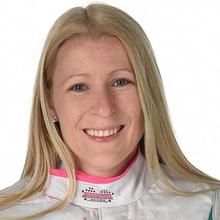 Pippa Mann
IndyCar racing driver
Mann, who races in the US-based IndyCar Series for F1-style single-seaters, finished with a career best of 13th place at last year's ABC Supply 500 at Pocono, and came 18th in this years Indianapolis 500. She started her race career in karts, before becoming the first female driver to score points in the World Series by Renault single-seater championship in 2007. In 2009 Mann switched to Indy Lights, the feeder series to IndyCar, and won her first race in 2010, one of only two women to have done so. Having moved to IndyCar in 2011, she became the first British woman to start the Indy 500 race.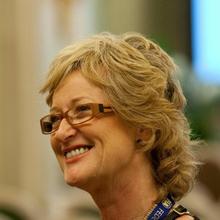 Sue Sanders
Motor Sports Association, International training manager
In her role at the Motor Sports Association, which works on behalf of world motorsport body the Federation Internationale de l'Automobile (FIA), Sanders co-ordinates safety training for government motorsport bodies around world. The position, which she has now held for six years, is the culmination of a career spent in organisational roles within motorsport, including event safety co-ordinator for Wales Rally GB and head of health, safety and security for the Race of Champions. Sanders is also a director of a business training company and a member of the FIA's Women and Motor Sport Commission, set up in 2009.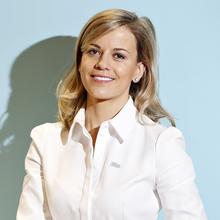 Susie Wolff
Former Williams F1 test driver and DTM racing driver
Wolff (née Stoddart) made a name for herself in motorsport driving a Mercedes C-Class in the highly competitive German DTM touring car series. She married Mercedes F1 director Toto Wolff in 2011, and in 2012 became a development driver for Williams F1 before going on to be the team's official test driver until retiring last year. Wolff now helps present Channel 4's F1 coverage and has collaborated with the UK's Motor Sport Association (MSA) to launch an initiative, called Dare to be Different, which aims to encourage more women into motorsport.