Hot on the heels of the Goldfinger DB5, Aston Martin has released a more modern James Bond special called the 'On Her Majesty's Secret Service' DBS Superleggera.
Marking the 50th anniversary of the film of the same name, the special edition gets an olive green paint scheme inspired by the 1969 DBS that features in it. Owners also receive a bespoke car cover in the same hue
As well as the unique paint, the Superleggera is adorned with a carbonfibre splitter, aero blade and unique diamond-turned and forged wheels. The front-end design is unique to the special DBS, with a new six horizontal vane front grille aiming to provide a visual link to the original Bond DBS.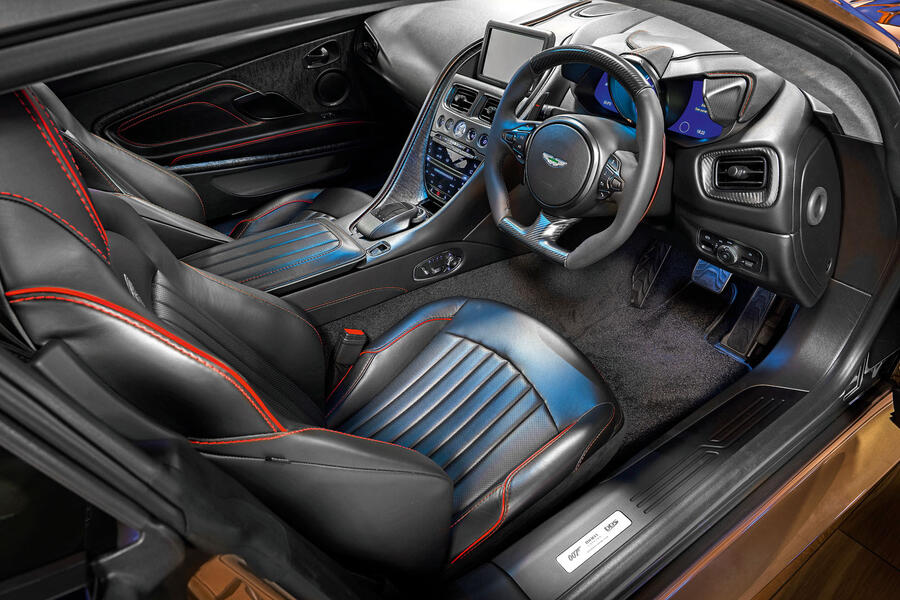 Its interior is trimmed in black leather and grey Alcantara, with red accents including red felt lining in the glovebox - a nod to the film car's glovebox which holds a telescopic-sight rifle. A felt-lined drinks case for the boot, with space for two bottles of champagne, is an option.
The performance of the regular DBS Superleggera is unchanged. The 5.2-litre V12 makes 715bhp, translating to a 0-62mph time of 3.4sec and a top speed of 211mph. The car is detailed in an official Aston Youtube video, below:
Aston Martin Vice President & Chief Creative Officer Marek Reichman said: "Creating a James Bond special edition is always an exciting challenge as we work to create a car that embodies the legend of James Bond, and the original movie car. The DBS Superleggera is a muscular car that commands attention, but the Olive Green gives it a subtlety that belies the beast beneath."
A total of 50 examples of the On Her Majesty's Secret Service DBS will be built, retailing at £300,007 – just over £75,000 more than the standard car. First customer deliveries will start at the end of the year.
READ MORE