Kia has pulled the covers off the new K900 luxury saloon, which will be its flagship saloon model in the US market.
Although it won't be sold in Britain, the car's high-tech cabin and look are expected to influence future vehicles sold on this side of the Atlantic.
On show in New York, the K900 demonstrates a new design language with a wider, less pinched front grille and overall softer look.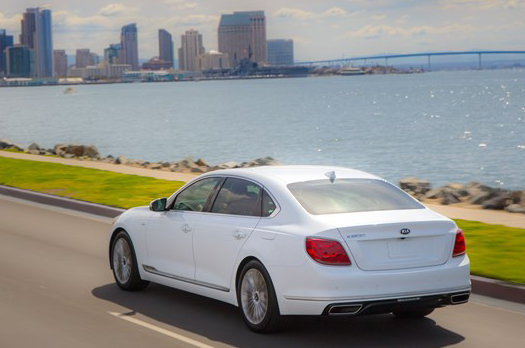 Inside, it features a 12.3in TFT instrument cluster and 9.7in head-up display. The former can display a new 360deg surround monitor to aid parking and navigation through tight spaces.
Additionally, there's a new blind spot monitoring system that can provide the driver with a live feed of the adjacent lane when the indicator is turned on. The K900 also gets more conventional driver assist features such as lane keep assist, forward avoidance assist and rear traffic alert.
Passengers are provided with a warning signal if it detects hazards such as a passing car when they start to get out.