I feel like a different person
16th October 2019
Read time: 4 mins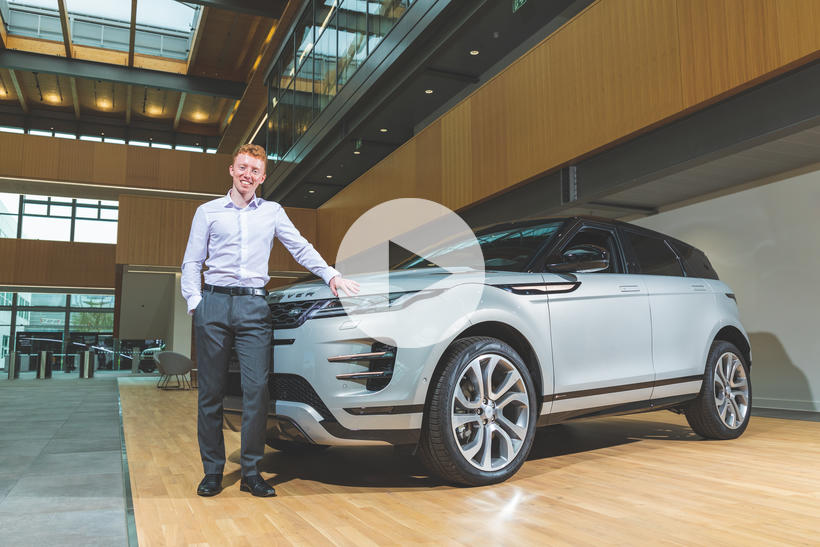 It doesn't feel like long since we first sat down with Lewis Campbell in the lobby of McLaren's Technology Centre to ask him about his first placement after winning the Autocar-Courland Next Generation Award. Now, five months and five companies later, Campbell finds himself in the lobby of Jaguar Land Rover's newly opened Design and Engineering Centre, preparing for his fifth and final interview.
With the bustle of 13,000 engineers going about their daily business all around us at the Gaydon-based facility, Campbell sits calm and composed, safe in the knowledge that he has already worked at more of the big automotive giants than many professionals will in their lifetime. And he's not yet even 25 years old.Having won the Next Generation competition for his innovative anti-cloning car identification device (to stop motorists unwittingly buying stolen vehicles), Campbell has taken part in myriad activities over the past five months, from dabbling with electronics at Nissan and McLaren to touring Toyota's super-factory in Derby and, most recently, learning about vehicle autonomy at Horiba MIRA. So, for the final time, we ask him what he's been doing over the past month.
"Here at JLR I've worked on a huge variety of projects," says Campbell. "They've mainly been based around vehicle autonomy and electrification – two areas I have huge interest in. One such project is called Cortex, a programme dedicated to research about autonomous driving both on and off the highway."Campbell also took a trip to Castle Bromwich, JLR's Birmingham-based assembly facility: "It was awe-inspiring to take a real peak behind the automotive curtain to see how JLR assembles vehicles and to compare it to the manufacturing plants I've experienced at my previous placements."It was also great to take in some of the cultural significance that Castle Bromwich has; Spitfires were produced there during the war and since then it's been crucial in the UK automotive industry, and JLR are continuing that legacy."
But it's at the National Automotive Innovation Centre (NAIC) at the University of Warwick – the largest automotive research and development facility in Europe – where Campbell has spent most of his time with JLR: "The NAIC is an amazing place," he says. "It's an incubator for fantastic new ideas and it stands as a testament to JLR's commitment to solidifying the UK as a real industry leader in the electric revolution."Speaking of the electric revolution, Campbell is animated when asked to reveal his fondest memory of the past month: spending time with the Panasonic Jaguar Racing Formula E team. "It was incredible," says Campbell.
"Not only was it interesting to experience the fast-paced energy of the team but also to witness first-hand some of the technology in Formula E that is making a direct impact on electric road cars. I was also lucky enough to attend a filming day with the team at Mallory Park." But it wasn't just sideline observing for Campbell at the Leicestershire track: "I was taken for a few hot laps in a Jaguar I-Pace eTrophy racing car (above) – the driver put it in attack mode, and it felt like it was over before it even began! To feel the power of those vehicles first-hand is something I definitely won't forget."
As well as the futuristic tech and fast cars, the company's dedication to taking on and nurturing young talent also struck a chord with our award winner. "JLR's commitment to not only solidifying the UK as a global hub of the automotive industry but also to helping aspiring engineers at all levels is something I really admire," Campbell says.So, with just days left of his final placement, what are the main things Campbell will take away from the past five months? "I feel like a completely different person – I've learned so much technical and industry knowledge, but I've also gained a lot of personal insight about myself and my own interests," he says. "It's hard to narrow down which element of the last five months has been my favourite, but what I have learned is to grab every opportunity and that the industry is in such a flux right now in moving towards electrification and autonomy that it's definitely the most exciting place to be."I've also had the chance to work with some of the best and brightest minds in the UK automotive industry – how many people get the chance to say they've done that?"
What now for Campbell? "I'm heading back to university to continue with my studies and I'm going to use the knowledge and experiences I've gained so I can hopefully find myself at the same level as all the people I've had the pleasure of working with over the last five months – they've been so motivating."
Getting a sense of perspective
2nd October 2019
Read time: 4 mins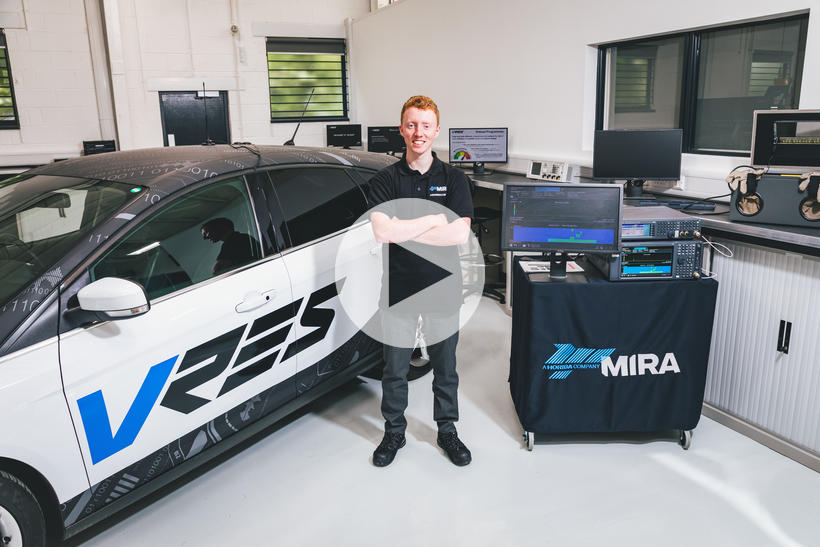 Having already spent time at McLaren, Toyota and Nissan, Lewis Campbell's four-month career in motoring is already shaping up to be more colourful than some of even the longest-standing industry kingpins.However, it's this latest placement that offers the best overview of not just British manufacturing but the global automotive sector as a whole. Horiba MIRA, unlike Campbell's previous hosts, is not a car maker but is one of the most influential and advanced motoring institutions in the UK.
Once little more than an abandoned airfield where manufacturers came to put new models through their paces, the site has evolved into a revered hub for automotive development since it was purchased by Japanese technology giant Horiba in 2015.Campbell told us he has "been very, very lucky to be able to jump around a couple of different departments" and, when we caught up with him, he was rounding off a week at the company's new Vehicle Resilience (VRES) facility.
He said the 100-strong team there is working to make "connected and autonomous cars more secure going into the future" and can reveal little about what goes on behind closed doors. However, that doesn't mean Campbell has been stuck on the other side of the curtain. "I've been seeing everything that goes on around the department," he said, stopping short of revealing vital trade secrets.
This department was always destined to be a good fit for Campbell, who won the Autocar-Courland Next Generation Award with a plan to tackle vehicle cloning using innovative blockchain technology. "A large part of my idea was based around cybersecurity and vehicle identification," he said, "and at VRES they're looking at lots of different ways of securing vehicles.
So the same underlying principles of cybersecurity across my design also can be found here."It's not all comfortingly familiar, though. Campbell's first two weeks at MIRA were spent getting up to speed at the Energy Efficiency and Vehicle Dynamics research facilities, where he saw first-hand the stringent processes that help to ensure each new car is better than its predecessor.
He said: "Getting to see some of the vehicle simulations and some of the different projects they're working on was amazing." Watching the 'world-famous' Kinematics and Compliance test rig in action was also listed as an early highlight.The benefits of such an all-encompassing panorama of the motoring industry's journey into the future are not lost on Campbell, who said the placement "has really helped contextualise everything. You can drive a couple of hundred metres down the road at the facility and see a completely different aspect of the business. As you drive through the gate here, you really are driving into the heart of the automotive industry."With a clear passion for preserving drivers' privacy and autonomy, Campbell was quickly given a chance to prove his abilities with a specially tailored individual project. He said: "I've been creating a cybersecurity demo platform to show some of the vulnerabilities that can arise from connected cars."Spending some time working individually, he said, "has been great to consolidate the things that I've learned while here", because although the collaborative ethos of MIRA is a crucial factor in its propensity to carry out influential research, "jumping around so many different departments, it can be hard to get a grasp of any one thing over a short period of time".
So how does the work at this top-secret research facility compare with the manufacturer roles Campbell previously sampled? "The difference between an OEM and a place like MIRA is quite stark," Campbell said. "MIRA isn't beholden to any one OEM, which allows them to do innovative things that an OEM couldn't justify investing the money into," which brings together "a very concentrated group of talented individuals in their field."And the highlight of Campbell's time in Nuneaton?
Taking a BMW M3 out on the track was exciting, he said, but the biggest takeaway is "how much MIRA wants to invest in the future of the automotive industry". Campbell is a member of the University of Glasgow's successful Formula Student team, which has been granted access to MIRA's proving grounds to fine-tune this season's racer, an opportunity that, Campbell thinks, speaks volumes about the company's commitment to young talent.
"That's going to help us learn new things and those skills will then permeate through our team, and we'll take those skills through the industry with us," he said. "It's the ripple effect of what MIRA's doing in supporting the next generation that I think is really quite admirable."Campbell will now travel up the road from Nuneaton to Coventry, where he will build on everything he has learned so far with a month at Jaguar Land Rover.
Read more at https://www.autocar.co.uk/nextgenerationaward/2019-winners-story#84aA0P2...
Positive vibes at Toyota
19th August 2019
Read time: 5 mins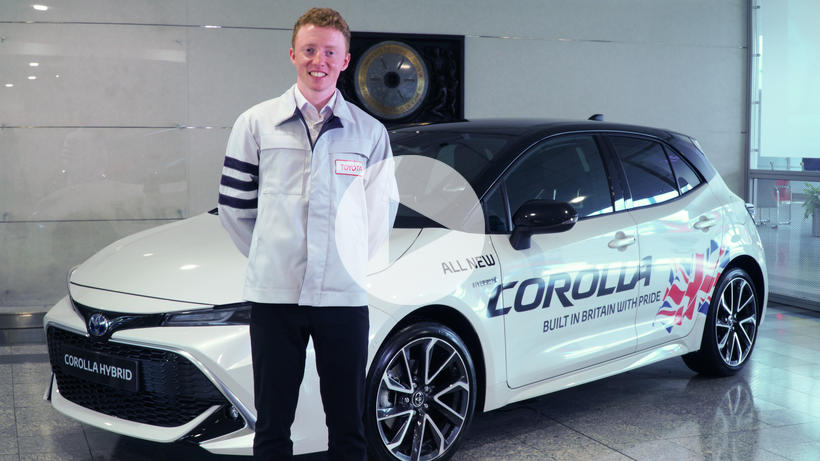 Autocar-Courland Next Generation Award winner Lewis Campbell is spending time at Toyota's UK head office and its buzzing Burnaston factory. Harry Roberts finds out more... Our Autocar-Courland Next Generation Award winner Lewis Campbell has moved on to his third car manufacturer placement following an unforgettable time spent with McLaren and Nissan. At Toyota, the value of this award and the depth of the experience he is gaining have once again been striking for a young man who is determined to make his way in the automotive industry. We paid a visit to meet up with Campbell at Toyota's Burnaston factory in Derby, which is where the new Corolla and Corolla Touring Sport models are created. "It's been incredible," he says, grinning as we sit down for our monthly catch-up. "I've only been here at the factory for a few days, but I'm already starting to get an appreciation for the scope of what goes on and the positivity shared between everyone that works here." Standing on 580 acres, the plant houses more than 2500 employees, has its own test track and deals with everything from the pressing of body panels to vehicle assembly. Campbell began his placement by getting a full tour of the facility and, just a few hours after our chat, is due a few laps around the track. "It never gets old," says Campbell, beaming when he reflects on his first impressions of the plant. "Although a lot of the things are the same between Toyota, Nissan and McLaren, every factory is slightly different and it's really interesting to see how the production engineers come up with new solutions to the same problems. As an engineer, this factory is like a playground." Nerys Fowler, learning and development section manager at Burnaston, says during his time at the factory, Campbell has already made a positive impression. "He has an extremely positive attitude and asks really good questions," she says. "Lewis was keen to learn and gave us some good feedback about his observations and learning." However, it has actually been Toyota's UK head office in Epsom where the mechanical engineering student has spent most of his time as part of winning the Next Generation Award."While I've been at Toyota, in a similar vein to that of Nissan and McLaren, I've been working on some fairly independent projects. I've been looking at some very interesting areas related to efficiency in supply chains and consumer experience."As a self-confessed petrolhead, Campbell admits he likes to get his hands dirty, so spending time in the office has provided different challenges from those he's used to. "It's been nice to do more of a research and office-based role for a change and really get a sense of a larger scope of the industry as a whole," he says. "I like to get my hands on things but, at the end of the day, you've got to put in the hours at the desk to reap the rewards on the road and in the market." Sworn to secrecy, Campbell tentatively tells us as much as he can about the specifics of his tasks without giving too much away. He reveals that it is the security concept that won him the Next Generation competition that he has been looking into. "We've been trying to take some of the underlying concepts from that and implement them across the business in the UK," he says. Toyota has been a pioneer of hybrid technology since the launch of its Prius in 1997, so Campbell is in a brilliant place to get a broader understanding of the direction in which the industry is moving. When probed about whether hybrid and electric technology excites him as much as petrol fumes and greasy valves, he says: "Although we are moving away from the internal combustion engine and towards full EV and hybrid technologies, I think it is incredibly important to embrace the new and all of the engineering possibilities that will arise from these industry-wide changes." So given Campbell's growing experience, an eye on the future and his eagerness to get stuck in, we ask him what he'd say to any young aspiring engineers hoping to follow in his footsteps. "I would say just throw yourself into it and take every opportunity you can get," he replies. "When I got to McLaren, I knew nothing about electronics, but I went in there and then I walked away confident and excited about all the opportunities in that area. There's so much changing within the industry that in five years there are going to be so many opportunities for young engineers, especially in the UK, so I would urge anybody to just go for it."Next month, Campbell will be spending time with engineering firm Horiba MIRA, featured in last week's issue, where he'll once again get the opportunity to get his hands dirty. We'll see him there.
Pages