Where are they now...
10th August 2018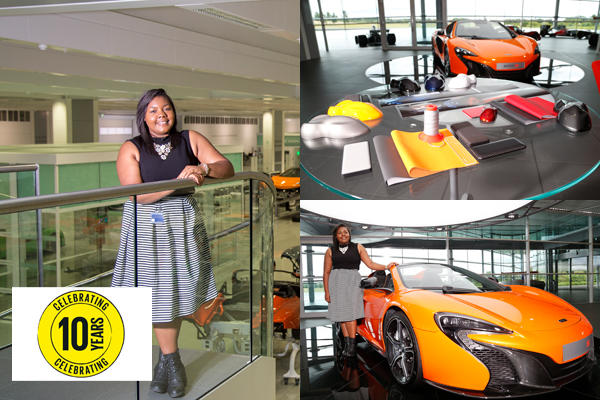 Carrying on with our 'Where are they now series, this week we have an update on a previous interview with 2014 winner Nicole Agba, who is now a colour and materials designer at McLaren, to find out how she is getting on at the supercar manufacturer and how her experience of entering and winning the award helped get her there.
What did you do when you finished your Autocar Courland Next Generation Award placements?
My final placement was with Skoda in August 2015. When I finished that, I explored other creative opportunities as a freelancer and started a trend-forecasting blog called The Trend Tome. This experience eventually helped me get a role at the Advanced Propulsion Centre [which researches low carbon propulsion development and production] as a visitor experience designer, redesigning its exhibition space.
How did you end up back at McLaren?
I knew I wanted to get back into automotive and I was still so inspired by my Autocar Courland Next Generation Award placements. I started freelancing again and got back in contact with the team at McLaren, where I did one of my award placements in 2015.
Back then, I worked as an intern, supporting the senior colour and materials designer on the design of the McLaren 720S, as well as working within the advanced design team to develop future concept proposals.
All my manufacturer placements were amazing, but McLaren was my favourite. I stayed in contact and heard about an opportunity in the design department there.
What do you do at McLaren?
I work in the design studio as a colour and materials designer. I've been working on colour and trim on a range of future products that will be launched as part of our Track25 business plan. My main responsibility has been developing exterior body, caliper and alloy colours, as well as interior brightwork and leather.
I have to fulfil a brief, and what I've learned is how important it is for marketing, engineering and design to all work together to produce a world-class product. The cool thing about working here is that we don't accept 'no' as an answer and we strive to be innovative and figure out how to make a great idea happen, no matter what the challenges.
You have been in your role for over a year now, how have things developed for you since we last caught up?
The last year and a half at McLaren Automotive has been incredible. I've been fortunate enough to work on the McLaren Senna, the most track-focused road car we have ever built.
The McLaren Senna is the ultimate distillation of the company's 'form follows function' design mantra. Defining and developing the colour and materials for a car like this has been an exciting challenge; working with engineers and suppliers like AkzoNobel to deliver innovative solutions in keeping with the design brief; not only being lightweight, but continuing to push the colour and material boundaries at McLaren.
So far, the McLaren Senna is the most dynamic and exciting project that I've worked on; not only because it's my first production car, but I feel so proud of what the team has achieved in record time and it's been wonderful to read the fantastic reviews and to know that I have contributed to that in some way.
We never standstill, however, and our next project is right around the corner and this will once again demonstrate what we can do as a team when faced with no compromises and no boundaries. It's a really exciting department and company to be involved in.
What's the best thing about your job?
It's just an amazing environment to be able to work in; there's such a buzz around the place. I'm grateful for the opportunity to work with such a supportive group; I'm constantly growing and learning and I'm excited to see what the future holds.
This year we are looking for our 10th winner, looking back on your awards entry experience from idea to the winner's announcement what do you think you gained from that time?
The awards process teaches you how to be multifaceted, you need to be a researcher, a creator and a presenter, it allows you the opportunity to have a taste for networking and the importance of networking and making an impression, not just with your skill set, but who you are as a person.
For me the best part of the awards experience (apart from winning!) was the one to one mentoring session that the six finalists received. My mentor Andrew Didlick gave me some valuable tips on ways to present my idea and sell the story, as a designer that's a very important skill to have.
Where are they now.....
3rd August 2018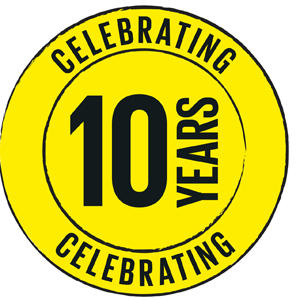 As part of our 10 year celebrations we have been catching up with finalists from the last decade.
Adam Hyett was one of our 2014 finalists, with an idea for a Rear collision warning system. He now works at Aston Martin Lagonda. Here are his thoughts on his Next Generation experience:
What do you feel you benefited from your Next Gen experience?
Having Next Gen finalist on my CV gave it a massive boost, it interested all my interviewers and gives you something different to talk about other than university/work experience which will give you an edge over other applicants. The Next Gen competition also increased my confidence. The idea of presenting to a panel of very senior people within the industry was daunting but it was an enjoyable experience, and now I feel much less nervous about doing any presentations at work   
Where are you working now and what do you do there?
I work at Aston Martin Lagonda as a Senior Manufacturing Engineer within the AME department (Advanced Manufacturing Engineering)
What's the best thing about your job?
Working on some of the most beautiful cars in the world (and getting to drive them!)
What's your advice to people thinking about entering the award this year?
I would definitely recommend entering. I only knew about the competition the day before the deadline to enter, so didn't have much time to think about my idea and never imagined I would get as far as I did. If you are unsure about your idea, speak to your friends/family/teachers about it as they may be able to offer a different perspective and add value to it. The competition can open a lot of doors - you have nothing to lose
Not ready to enter yet? Leave your email address for reminders of deadlines and important dates:
Autocar-Courland Next Generation Award 2017 - Winner Announced
28th November 2017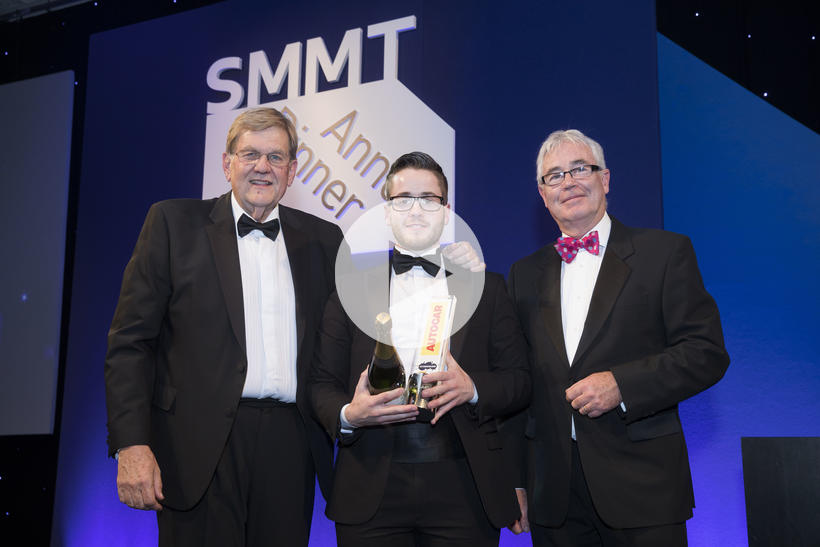 An innovative generator system that could significantly boost the efficiency of an electrified car's powertrain has topped this year's Autocar-Courland Next Generation Award 2017.
The proposal, thought up by 25-year-old Teeside University mechanical engineering graduate Tom Lingard, uses a power generator that's driven by the car's exhaust gases to input energy into the electric system.
The generator can top up the charge of a hybrid car's battery or even drive its ancillaries, such as coolant and fuel pumps, reducing the load on the combustion engine and therefore increasing its fuel efficiency.
Lingard also said that his system could improve efficiency in electric vehicles with combustion engines to charge their batteries, such as the BMW i3 range-extender, which uses a 650cc petrol motor. Reducing the work of the twin-cylinder engine would allow it to drink even less fuel.
The Next Generation Award offers each year's winner a platform on which to build or develop a career within the automotive industry. Lingard, who was announced as winner at tonight's Society of Motor Manufacturers and Traders dinner, will now start a six-month work experience journey with award sponsors including Jaguar Land Rover, McLaren Automotive, Nissan, Toyota, Honda and Horiba MIRA.
"It is an honour to be announced as the winner of the Autocar-Courland Next Generation Award 2017. It has been a fantastic experience – from the intense judging process to the mentoring programme," said Lingard, who is from Stockton on Tees.
"It's extremely exciting to have won the internship rotation and to be able to experience everything over six months right at the beginning rather than over the space of 20 years, it's an incredible opportunity."
Judges commended Lingard's proposal for its topical focus, which comes at a time when the automotive industry is investing heavily to improve efficiency and performance in hybrid power units.
Two other finalists for the award were also recognised for their ideas. Jack Levy, a mechanical engineering student at Cardiff University, submitted a plan to introduce a network of contactless charging roads to UK motorways, to reduce current range anxiety with electric vehicles.
Stephen Crossley, an automotive engineering student at Oxford Brookes University, set out to improve handling, traction, cornering ability and tyre wear rate by altering the camber based on a driver's requirements.
"The Next Generation Award enters its ninth year of success, during which time we have seen a host of talent flourish under its banner and go on to notable success in the global automotive industry," said Martin Bohling, global managing partner at Courland Automotive. "All of the judges on our panel look forward to this time of year and the opportunity to celebrate once again the undoubted talent the UK automotive industry has to offer."
Autocar editor-in-chief Steve Cropley added: "The initiative has delivered, once again, a phenomenal level of talent with some highly innovative ideas that could seriously improve the automotive industry. Tom's idea evaluated industry demands combined with a changing vehicle landscape.
"With the volume of high-quality entries, it has been a challenging task narrowing it down to the finalists and an overall winner. It has been an honour to work with each and every finalist and I would personally like to congratulate them all. There are definitely exciting times ahead for the industry."
Applications for the 2018 Autocar-Courland Next Generation Award will open early next year.
Pages