Autocar-Courland Next Generation Award 2017 - Winner Announced
28th November 2017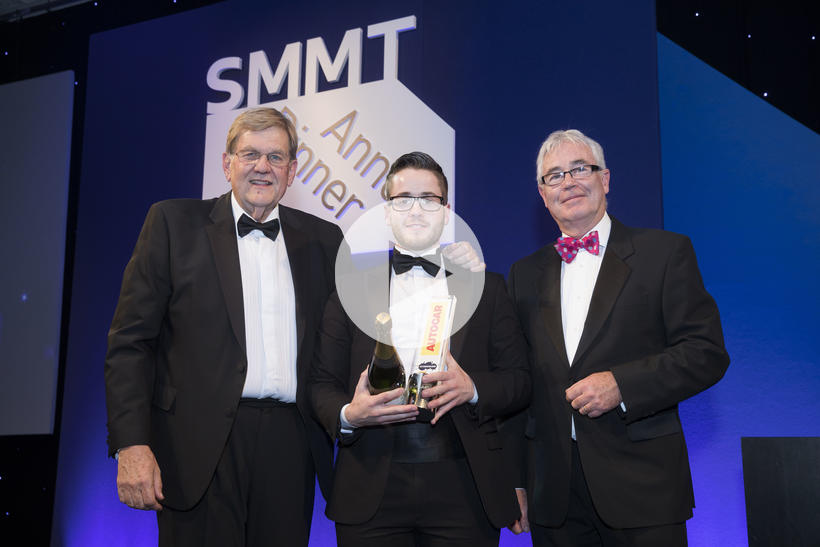 An innovative generator system that could significantly boost the efficiency of an electrified car's powertrain has topped this year's Autocar-Courland Next Generation Award 2017.
The proposal, thought up by 25-year-old Teeside University mechanical engineering graduate Tom Lingard, uses a power generator that's driven by the car's exhaust gases to input energy into the electric system.
The generator can top up the charge of a hybrid car's battery or even drive its ancillaries, such as coolant and fuel pumps, reducing the load on the combustion engine and therefore increasing its fuel efficiency.
Lingard also said that his system could improve efficiency in electric vehicles with combustion engines to charge their batteries, such as the BMW i3 range-extender, which uses a 650cc petrol motor. Reducing the work of the twin-cylinder engine would allow it to drink even less fuel.
The Next Generation Award offers each year's winner a platform on which to build or develop a career within the automotive industry. Lingard, who was announced as winner at tonight's Society of Motor Manufacturers and Traders dinner, will now start a six-month work experience journey with award sponsors including Jaguar Land Rover, McLaren Automotive, Nissan, Toyota, Honda and Horiba MIRA.
"It is an honour to be announced as the winner of the Autocar-Courland Next Generation Award 2017. It has been a fantastic experience – from the intense judging process to the mentoring programme," said Lingard, who is from Stockton on Tees.
"It's extremely exciting to have won the internship rotation and to be able to experience everything over six months right at the beginning rather than over the space of 20 years, it's an incredible opportunity."
Judges commended Lingard's proposal for its topical focus, which comes at a time when the automotive industry is investing heavily to improve efficiency and performance in hybrid power units.
Two other finalists for the award were also recognised for their ideas. Jack Levy, a mechanical engineering student at Cardiff University, submitted a plan to introduce a network of contactless charging roads to UK motorways, to reduce current range anxiety with electric vehicles.
Stephen Crossley, an automotive engineering student at Oxford Brookes University, set out to improve handling, traction, cornering ability and tyre wear rate by altering the camber based on a driver's requirements.
"The Next Generation Award enters its ninth year of success, during which time we have seen a host of talent flourish under its banner and go on to notable success in the global automotive industry," said Martin Bohling, global managing partner at Courland Automotive. "All of the judges on our panel look forward to this time of year and the opportunity to celebrate once again the undoubted talent the UK automotive industry has to offer."
Autocar editor-in-chief Steve Cropley added: "The initiative has delivered, once again, a phenomenal level of talent with some highly innovative ideas that could seriously improve the automotive industry. Tom's idea evaluated industry demands combined with a changing vehicle landscape.
"With the volume of high-quality entries, it has been a challenging task narrowing it down to the finalists and an overall winner. It has been an honour to work with each and every finalist and I would personally like to congratulate them all. There are definitely exciting times ahead for the industry."
Applications for the 2018 Autocar-Courland Next Generation Award will open early next year.
Meet the 2017 finalists
24th November 2017

We will be announcing the 2017 Next Generation winner on Tuesday 28th November, but for now here is an introduction to our three finalists Jack, Stephen and Tom (above left to right) and their ideas.
Jack Levy - Contactless charging roads
Combining his love of cars, fascination for electrification and an entrepreneurial spirit, Jack submitted a plan to introduce a network of contactless charging roads to UK motorways, anticipating installation problems with the aim of markedly reducing range anxiety. He pointed out that the network would enable not only conventional electric vehicles but also autonomous cars. It would provide easy incident tracking and dramatically reduce journey times. Jack is studying mechanical engineering at Cardiff University.
Stephen Crossley - Active Camber Change
Stephen, a lover of sports cars, submitted an idea to improve handling, traction, cornering ability and tyre wear rate by altering the camber based on a driver's requirement, varied by a 'mode' control in the car or autonomously according to driving conditions, using information picked up bysensors already fitted to the car for other purposes. The idea is proposed as an add-on for top-spec models, or as standard equipment for high-performance cars. Stephen is an automotive engineering student at Oxford Brookes University.
Tom Lingard - Turbine driven generator
The idea Tom put forward is to use a turbine, driven by exhaust gas, to generate power for use either to top up the charge of a hybrid car's battery, or to drive ancillaries like coolant and fuel pumps and even a car's valve-train. He argues that when applied to a range extender like the BMW i3, whose charge engine operates in a restricted speed range, the system could improve efficiency by as much as 25%. Tom is a mechanical engineering graduate from Teesside University, and is currently working as a validation engineer.
Not ready to enter yet? Leave your email address for reminders of deadlines and important dates:
Booming car industry signals prime opportunity for young people
2nd August 2017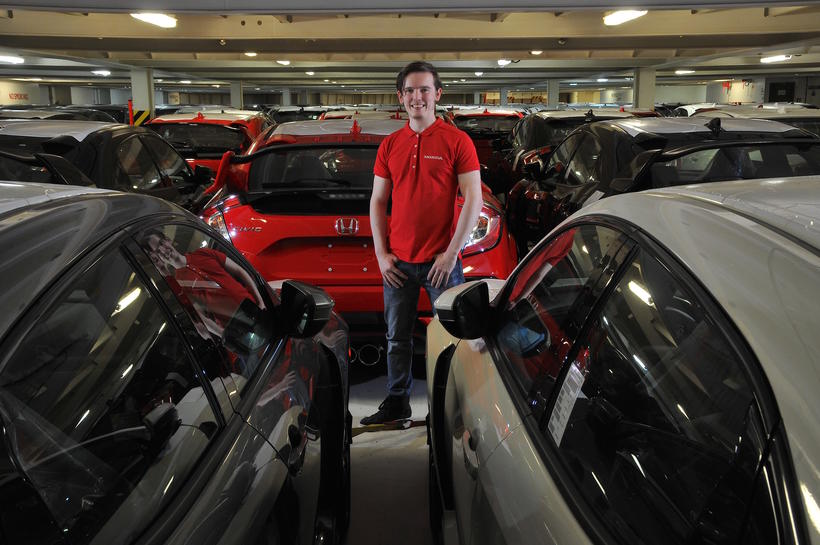 Britain's next generation of automotive talent has just four weeks left to enter the Autocar Courland Next Generation Award and jump start a career in the UK's booming automotive industry.
While average wages across the UK have remained largely static over the last 10 years, workers in the automotive industry have seen an average increase in pay of 33% over the same period.
Soaring car sales and exports, as well as a 250% increase in investment in R&D in the last decade, have led to a rise in the number of lucrative job opportunities in the car industry.
Meanwhile, the UK is also producing more expensive cars than before – the average value of every car exported from the UK has gone up from £11,000 to £20,900.
The UK supply chain has also benefited, further expanding the raft of opportunities available to young people aspiring to work in the automotive field. The percentage of car parts sourced in the UK has risen from 36% to 44% since 2011, representing an additional £3 billion worth of parts made in Britain.
Despite the buoyant state of the industry, there is still a shortfall of new graduates to drive it further forwards – in engineering alone, there are an additional 20,000 new graduates a year required to maximise the growth of the automotive sector.
The Autocar Courland Next Generation Award has a proven track record of not only identifying the best emerging young talent but providing a springboard into the industry. Three quarters (74%) of all finalists are now working in the sector.
The initiative is open to entrepreneurial young adults aged 17-25, who submit an original idea or innovation that they believe would improve UK automotive business in one of five areas: mobility, connectivity, sustainability, customer experience or marketing and communications. The deadline for entries is 5pm on August 29.
Autocar's editor-in-chief and head judge on the Next Generation Awards panel, Steve Cropley, said: "Britain is renowned the world over for its talented automotive workforce and its rich pedigree means that the industry has long demanded more employees than the country can supply.
"While Brexit provides a challenge for the car industry, the opportunities and good wage packets are undeniably there for aspiring young workers thanks to investment in R&D and the fact that we are making higher value cars here now.
"In 2006, Jaguar's highest-volume car was the X-Type and Nissan's was the Micra. Today, they have been replaced by the F-Pace and the Qashqai, cars that are worth about twice as much."
The Autocar Courland Next Generation Award was started in 2009 to be a springboard into the automotive industry for young people.
The winner of the 2017 competition will receive a £9000 cash prize, industry acclaim and a money-can't-buy six-month work experience programme, shared between award sponsors Honda, Jaguar Land Rover, McLaren Automotive, Nissan, Toyota and Horiba Mira, which has joined as a new award patron this year.
In total, 74% of the finalists of the award since its inception have found industry positions. Jonathan Maynard, a finalist in 2012, is Lead Engineer for Interior and Exterior Components at Aston Martin and 2015 winner, Nicole Agba, is a Colour and Materials designer at McLaren.
Case study
Katie Jones was a finalist of the Autocar Courland Next Generation Award in 2011. She is now a key part of Jaguar Land Rover's colour and materials team. Last year, she was lead designer for colour and materials on Jaguar's crucial new SUV, the F-Pace.
After graduating from Leeds University in 2012 with a BA (Hons) degree in design and colour technology, she went straight into a job as an interior designer. But her passion was always with automotive design and, having reached the final stages of the Next Generation Award, she was soon offered her "dream job".
She said: "Working on the F-Pace was a challenging but very rewarding role, especially seeing the final product come to life. My primary objectives were the development and delivery of both interior and exterior materials and finishes for the car, liaising with design, marketing and engineering along with external suppliers to ensure the design intent and vision was maintained throughout the development process.
"If you can identify a gap in the market, the opportunity to present your ideas to a well-connected and experienced panel is incredibly rewarding but can be extremely challenging. It's very important to be clear and confident when you communicate your idea to the panel. The Next Generation Award can open doors and offer crucial experiences for the next generation of designers wanting to enter the world of the automotive industry."
Pages