Anti-cloning system wins Autocar-Courland Next Generation Award 2018
30th November 2018
Read time: 2 mins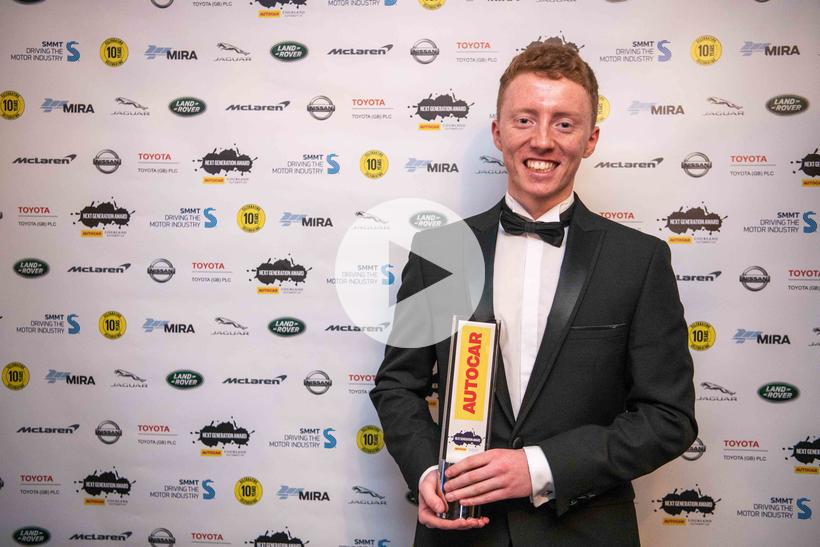 Glasgow University student Lewis Campbell has won the 2018 Autocar-Courland Next Generation Award for his idea to tackle vehicle cloning using blockchain technology.
Campbell, who is studying mechanical engineering, was named the 10th winner of the award, which is designed to support young talent in the automotive industry, at the Society of Motor Manufacturers and Traders annual dinner. As part of his prize, Campbell will receive a five-month work experience stint with firms, Horiba MIRA, Jaguar Land Rover, McLaren Automotive, Nissan and Toyota.
"I'm overwhelmed to have been chosen as the winner," said Campbell. "The Next Generation Award has rewarded a string of inspiring innovations over the past 10 years, and it is a great honour to have been selected to join that list."
Campbell's winning idea was the installation of near-field communication chips in cars, which then used a frequency-changing algorithm to deter hackers and communicate with a nearby smartphone.
That phone would take the vehicle information from the chip and, via blockchain, store it in a server hosted by the manufacturer, creating an electronic record that would make it tougher for fraudsters to clone vehicles.
Campbell won the prize after three finalists presented their ideas to a panel of judges. His fellow finalists, Daniel Wilcox from the University of Wales Trinity Saint David and recent graduate Robert Camerson, were both commended for their ideas.
The judging panel included Autocar editor-in-chief Steve Cropley, who said: "Coming up with a list of three finalists was hard, and it was an even harder to narrow it down to a single winner.
"Lewis's idea was not only innovative and unique, but it also aptly reflects the change we have seen in the last 10 years, with the industry rapidly embracing new and innovative technologies
Where are they now...
31st August 2018
Read time: 2 mins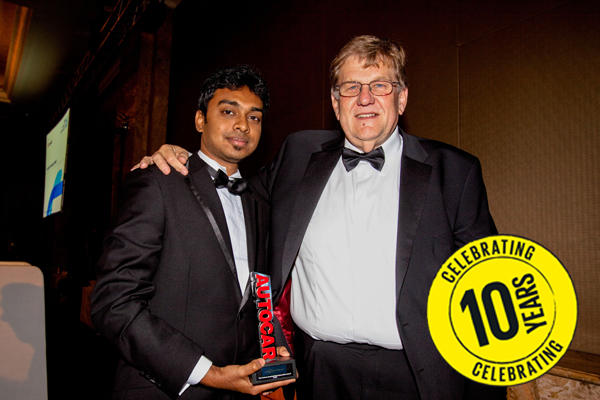 Continuing our Where are they now... series, here is our catch up with Hari Meyyappan, one of our previous winners (pictured above in 2010 with Autocar Editor-in-Chief , Steve Cropley)
What do you feel you benefited from your Next Gen experience?
It was a very big eye opener to how the automotive industry works. I got to work in different departments of major automakers (Honda, Toyota, Mercedes Benz, JLR and Peugeot) and shadowed some brilliant managers.
Got a taste of the type of work each department does and the work culture in different companies and teams.
Learnt effective Business and Leadership skills from high performing teams and individuals; understood different teams' key performance metrics.
In a nutshell, the 6 month work experience got me well prepared for a career in the automotive industry and helped me identify my specific interests in this huge industry. Recently, I have also been able to help aspiring university students by giving presentations on "A career in the Automotive industry".
Where are you working now and what do you do there?
I work on Advanced Quality planning for Airbags, Seatbelts and Steering Wheels at ZF, USA (one of the top 5 Global automotive suppliers).
Before this I worked at Ford, USA in Supplier quality management and at Cummins Engines UK in Engine Design.
What's the best thing about your job?
Working on cars has always been my passion. In the current job I am able to test the parts on cars and also have an impact on providing the best passenger safety.
Have you carried on working on the idea you submitted to the Next Generation competition?
Yes. A Patent application is being processed.
What's your advice to people thinking about entering the award this year?
Don't think. Go for it! It will be one of the best experiences in life.
Make sure your idea delivers business value. Show some financials and other supporting statistics.
Wish you all the Best!
Thanks Hari, it was great to catch up - Hari has kindly offered to chat to any finalists for advice or feedback on their presentations.
Where are they now...
10th August 2018
Read time: 4 mins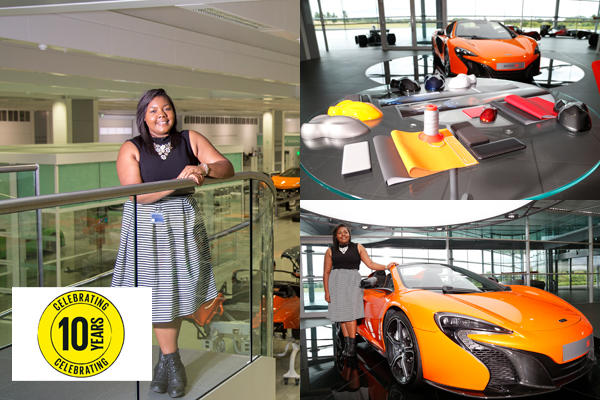 Carrying on with our 'Where are they now series, this week we have an update on a previous interview with 2014 winner Nicole Agba, who is now a colour and materials designer at McLaren, to find out how she is getting on at the supercar manufacturer and how her experience of entering and winning the award helped get her there.
What did you do when you finished your Autocar Courland Next Generation Award placements?
My final placement was with Skoda in August 2015. When I finished that, I explored other creative opportunities as a freelancer and started a trend-forecasting blog called The Trend Tome. This experience eventually helped me get a role at the Advanced Propulsion Centre [which researches low carbon propulsion development and production] as a visitor experience designer, redesigning its exhibition space.
How did you end up back at McLaren?
I knew I wanted to get back into automotive and I was still so inspired by my Autocar Courland Next Generation Award placements. I started freelancing again and got back in contact with the team at McLaren, where I did one of my award placements in 2015.
Back then, I worked as an intern, supporting the senior colour and materials designer on the design of the McLaren 720S, as well as working within the advanced design team to develop future concept proposals.
All my manufacturer placements were amazing, but McLaren was my favourite. I stayed in contact and heard about an opportunity in the design department there.
What do you do at McLaren?
I work in the design studio as a colour and materials designer. I've been working on colour and trim on a range of future products that will be launched as part of our Track25 business plan. My main responsibility has been developing exterior body, caliper and alloy colours, as well as interior brightwork and leather.
I have to fulfil a brief, and what I've learned is how important it is for marketing, engineering and design to all work together to produce a world-class product. The cool thing about working here is that we don't accept 'no' as an answer and we strive to be innovative and figure out how to make a great idea happen, no matter what the challenges.
You have been in your role for over a year now, how have things developed for you since we last caught up?
The last year and a half at McLaren Automotive has been incredible. I've been fortunate enough to work on the McLaren Senna, the most track-focused road car we have ever built.
The McLaren Senna is the ultimate distillation of the company's 'form follows function' design mantra. Defining and developing the colour and materials for a car like this has been an exciting challenge; working with engineers and suppliers like AkzoNobel to deliver innovative solutions in keeping with the design brief; not only being lightweight, but continuing to push the colour and material boundaries at McLaren.
So far, the McLaren Senna is the most dynamic and exciting project that I've worked on; not only because it's my first production car, but I feel so proud of what the team has achieved in record time and it's been wonderful to read the fantastic reviews and to know that I have contributed to that in some way.
We never standstill, however, and our next project is right around the corner and this will once again demonstrate what we can do as a team when faced with no compromises and no boundaries. It's a really exciting department and company to be involved in.
What's the best thing about your job?
It's just an amazing environment to be able to work in; there's such a buzz around the place. I'm grateful for the opportunity to work with such a supportive group; I'm constantly growing and learning and I'm excited to see what the future holds.
This year we are looking for our 10th winner, looking back on your awards entry experience from idea to the winner's announcement what do you think you gained from that time?
The awards process teaches you how to be multifaceted, you need to be a researcher, a creator and a presenter, it allows you the opportunity to have a taste for networking and the importance of networking and making an impression, not just with your skill set, but who you are as a person.
For me the best part of the awards experience (apart from winning!) was the one to one mentoring session that the six finalists received. My mentor Andrew Didlick gave me some valuable tips on ways to present my idea and sell the story, as a designer that's a very important skill to have.
Pages