Six months of dream jobs
5th March 2019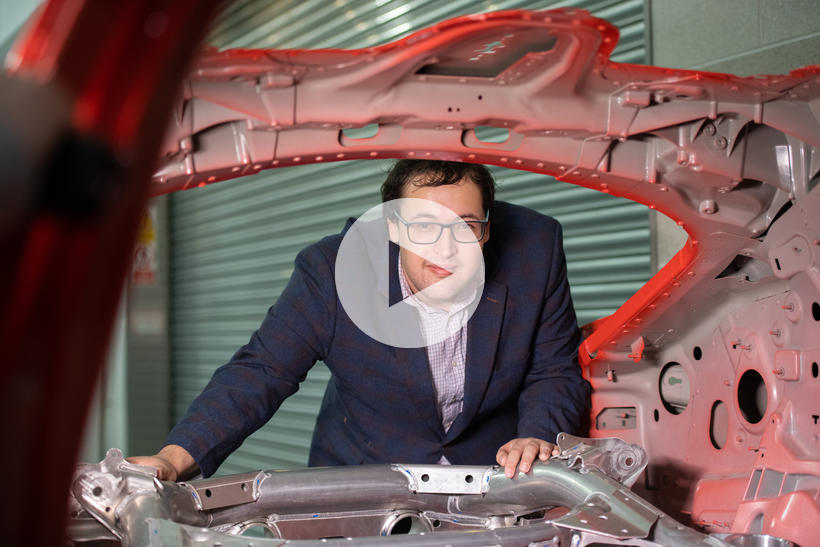 Winner Stephen Crossley has spent six months working with industry leaders, finishing at Jaguar Land Rover. He tells Kris Culmer what he has learned After six placements at major automotive companies, experiencing every important facet of the industry, 2017 Autocar-Courland Next Generation Award winner Stephen Crossley has emerged a wiser man. His final period has been at Britain's biggest car manufacturer, Jaguar Land Rover (JLR). Here, he has worked in the research and development team, based at Warwick University. "Coming up with new ideas, working on them and then justifying them, selecting which would be best," is how Stephen neatly sums it up. In fact, he is incredibly impressed at just how many development projects are ongoing at the company."The centre has facilities for developing technologies such as artificial intelligence, augmented reality and human-machine interface," he explains, "as well as research on connected and autonomous vehicles, and on smart mobility."  JLR's use of virtual reality (VR)particularly surprised him. He showed Autocar around JLR's 'VR Cave' in Gaydon, wherein you can walk around and view cars in 3D form, enabling the mind-bending experience of standing inside a Range Rover Evoque and putting your head straight through the dashboard to see the workings of the steering column – very useful if you're trying to improve packaging efficiency or see how a car's design looks from multiple angles. Human-machine interface proved particularly interesting: how cars should be as easy as possible to interact with, and know a little about you, so as to improve convenience and safety. "This is something that's only going to go further and further as we move to autonomous vehicles," Stephen says. "The biggest improvements would be if you were able to operate functions with minimal distraction and if the car could predict your actions." Further excitement came from JLR's development of printable, flexible electronics. "This allows you to place electronics to optimise tighter packaging and weight distribution," Stephen explains. "It's also lighter and cheaper to produce, so there are huge benefits." All of Stephen's work was theoretical, but it could very well be used in a practical application. "It would be amazing to see a feature on a JLR model in the future and know that I had been there while the concept was in the early research stage," he says. Indeed, he believes the most valuable skill he learned is how to turn an idea into an innovation. And that's pretty useful, he says, grinning, because "this all started with me having an idea". The project he contributed most to concerned the thermal management of components. It involved exploring mechanical and thermodynamic solutions, which, Stephen felt, was perfectly suited to his skillset as an automotive engineering student. It meant evaluating materials and finding mechanical solutions and methods of protecting from environmental factors. Software he used went from the very basic level of evaluative Excel spreadsheets through to computer-aided design (CAD) and modelling platforms, to look at how the project could be taken forward and compare various ideas.  Stephen enjoyed what he calls a "collaborative environment" at JLR. "It's a team effort," he says. "Tasks are assigned. Then there's a meeting to find the best solution and how it can work with everything else. Cars are incredibly complex things. You can fix a problem, but the solution may well impede on something else." "From day one, Stephen got stuck into the project and didn't look back from then," says Alex Mouzakitis, JLR's head of electrical, electronics and software engineering. "For us, bringing in young talent is perhaps of the most important benefit. People like Stephen will come in with fresh ideas and challenge what we do, how we do it and why we do it. So although he has been here for only a short time, the experience that we get from having him is invaluable. "I've been in the privileged position of handling the Next Generation Award for three years now, and every year it has been a great year for us." Reflecting on his time in the Next Generation scheme, Stephen says: "It has been a very informative, interesting and enjoyable experience. I've learned a lot and I'm going to go back to university and do things differently and really work toward some end goals that I've developed. "I've had a look around all these companies and found all these fields I really like, specific areas I want to work in and places I want to go. It has also been really valuable to see what tools are actually used in the industry. But the best thing has been that I've found that I really enjoy working in the field, which is brilliant for any student, because there's always that little bit of doubt.  "I'd therefore thoroughly recommend it to anyone."  
Breaking new ground - Stephen's time at Horiba MIRA
1st February 2019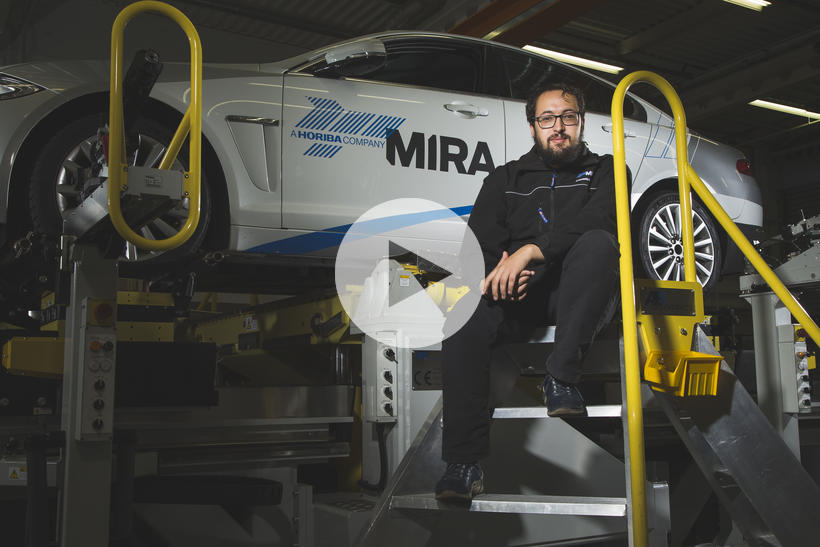 For the first time in the history of the Autocar-Courland Next Generation Award, one of the winner's placement weeks has been spent at Horiba MIRA, a centre of excellence for vehicle engineering, design, testing and development. Or, in simple terms, an automotive engineer's paradise.
The MIRA proving ground in Nuneaton, Warwickshire, was opened on the former RAF Lindley base in 1949. Today it encompasses 24 testing circuits, including those for evaluating high-speed, wet and dry handling, durability, noise, off-road and urban driving performance. 
Around all this is what amounts to an engineering city – indeed, the largest such facility in Europe – containing 39 testing units, with everything from a wind tunnel to a facility developing tech for connected and autonomous cars. It has been growing since MIRA was purchased by Japanese automotive test systems maker Horiba three years ago.
"For an engineer, it's special," says 2017 Award winner Stephen Crossley, after four weeks with the company. "The breadth of what goes on is incredible, as are the facilities."
Stephen was based with the Dynamics team, given that this is his main field of interest, but he got to experience several of Horiba MIRA's main departments. His award-winning concept was for an active camber system, so Horiba MIRA set him the task of developing this through computer modelling. He was using ADAMS, a multi-body dynamics simulation software programme that is used across the industry and which Stephen had already experienced during his placement at McLaren.
There was also a chance to see the more practical side of things, working with the Kinematics and Compliance team, which has two suspension parameter measuring rigs – used by the majority of F1 teams – that apply heave, roll, pitch and steering motions, as well as cornering, braking and traction forces. It can measure wheel rates, steer and camber change and suspension swing arm vectors –  all incredibly enlightening for vehicle dynamics-loving Stephen.
The modelling and testing was all brought to life when Stephen was taken out on Horiba MIRA's wet handling track with a driver trainer, in a BMW M2. "That was a very interesting experience, with 365bhp under my right foot," laughs Stephen. "At first, I was no good but I quickly learnt how to keep it pointing the right way, controlling oversteer."
Then it was off to focus on Energy Efficiency, a department that has a new Advanced Battery Development Suite for developing and testing EV batteries. Here Stephen learnt about control systems, both for driving and charging. "It was really interesting to learn about EVs," he says. "It seems they are currently engineered to build in an incredibly high level of electrical and functional safety."
"Today's EVs are designed to absorb crash energy through their chassis, avoiding the battery pack, rather than through the chassis and drivetrain, as in conventionally powered cars. But I've learnt that Horiba MIRA is looking at how to build that safety into the pack, so we can reduce the weight of EV platforms and therefore boost range."
Stephen also learnt about the complication of temperatures and the sensitivity of battery performance and life to precise thermal management; having a well-engineered battery management system is essential. There's also the challenge of designing a pack that can cope with lithium ion cells expanding and contracting with use.
Stephen then spent time with Connected and Autonomous Vehicles engineers, largely witnessing preparation for NCAP tests, making sure that cars comply with myriad safety protocols. This specific focus is the evaluation of advanced driver assistance systems (ADAS), where safety aspects of the systems determine whether there's a pending collision and can warn the driver in time to react. And if they don't, the car can automatically brake or steer to avoid or mitigate a collision.
Stephen also used computer aided design (CAD) software while at Horiba MIRA to model some mechanical systems, in particular elements of his Award-winning concept, and even a robot platform. "It was a really good chance to practice CAD," he says. "The robot in effect acts as a software testing vehicle. One use has been searching for people in burning houses."
Last but not least came the Advanced Emissions Test Centre, for which manufacturers are queuing up to certify their vehicles under the new WLTP regulations. Horiba MIRA, then, can provide a broader view of the industry than perhaps anywhere else. "My time here made me realise that I'd like to work with autonomous vehicles, developing the hardware and control software," Stephen says. "I found it amazing that the latter is currently compromising for the former. "If you're an engineer who wants to find something to specialise in, you'll certainly find it here. "It would also be very interesting for someone from a non-engineering background, similar to how I discovered aspects of the automotive industry at Honda and Toyota that I'd never really thought about before."
How they do it at Toyota
3rd December 2018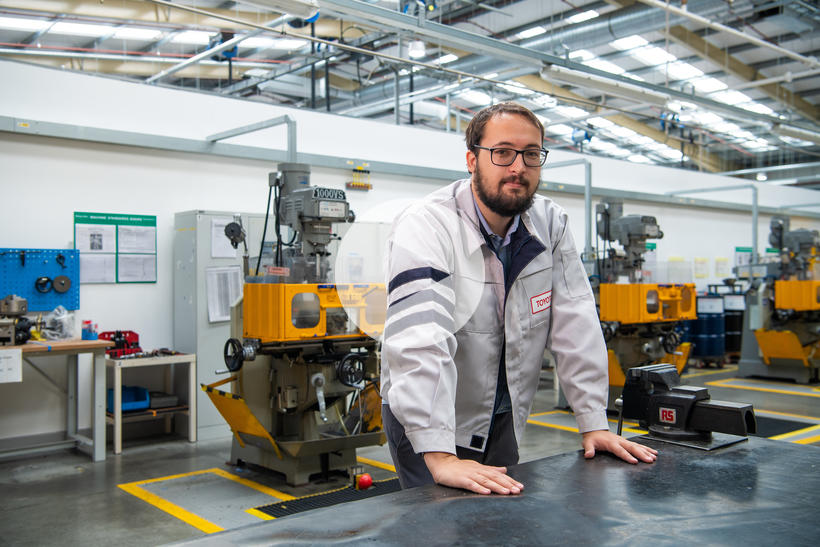 Stephen Crossley tells Ed Browne about month four of his car industry work experience
There are still 10 minutes to go before the cameras and lighting are set up for our interview, but Stephen Crossley is already engrossed in telling us all about his love of engineering. It's immediately clear why he was a frontrunner in last year's contest and how, despite being in his fourth month of an extensive automotive industry tour, he's still as excited as if it was day one.
Following his placements at McLaren, Honda and Nissan, Stephen has nearly completed his month at Toyota GB's headquarters in Epsom, Surrey, with some of his time also spent at the vast Toyota Motor Manufacturing UK plant in Burnaston, Derbyshire. So it's a good time to reflect on what he's learned.Stephen's experience at Toyota has been exceptional in that he hasn't been working solely in design and engineering. Because the production line at Burnaston currently churns out the hybrid Auris model, among other cars, Stephen has also been working on how best to market a hybrid vehicle and what dealerships can do to evolve in this direction.
"At McLaren, I was very much design focused. At Nissan, I was on the engineering side. With Toyota, I've spent the majority of my time in Epsom, doing benchmarking on what other competitors do with their electric cars and research into what Toyota does with hybrid cars in dealerships and marketing," he says. "I've been doing something that's not necessarily in my field, but it's been very interesting learning something else about the industry. Obviously, there's no point in making a very high-tech car if you can't sell it."
Indeed, Toyota has been making moves to market its hydrogen fuel cell technology more in Europe. The more keen-eyed readers may have noticed the Toyota Mirai being used increasingly in police fleets and as some of the more luxurious minicabs snaking through London's streets. But all of this marketing work hasn't prevented Stephen from spending time around vehicle production. In fact, he has seen enough of Toyota's manufacturing lines to talk us through the main differences he has noted between Toyota and the rest. Encouraging employee feedback is a particular feature. "Toyota wants groups of individuals to try to suggest ideas for ways that they can make the company more efficient, whether that means speed of the lines or ease of work," says Stephen.
In addition, a slightly tougher stance on automation stands out. "Honda puts in its windscreen purely by robot. Here, they have a robot that will bead up the silicone sealant, but they will have a machine that assists someone in putting the windscreen in the right place. That's because Toyota believes that humans can do a final check on that." Pressed further on the automation he has observed in the past four months, he concludes: "I wouldn't say automation is overplayed, but there are definite advantages of trying to bring people back into building a car. But you've got to make sure that they are consistent in what they do."Our time is almost up, and being particularly aware that Toyota's PR officer is standing behind us, it is now or never to see if we can coax out any inside info about the upcoming Corolla, soon to be produced at the plant. "I don't know anything other than it's getting the more powerful hybrid driveline, I think with little tweaks," Stephen says. "I'm glad the Corolla name is back – it's easier to pronounce than 'Auris'." 
Stephen's tour doesn't finish here. Next, he is off to engineering firm Horiba MIRA, where, back in his comfort zone, he will be working with chassis and dynamics, as well as dipping his toes into modelling and crash tests. Following that, he will spend the last month of his work experience at Jaguar Land Rover before taking nine months off to relax. And by relax, he means developing a spaceframe chassis, fitting it with a Jaguar S-Type V6 and gearbox and using it as a test bed for an active camber system. 
Pages