Four months in: Stephen's time at Nissan
12th October 2018
Autocar Courland Next Generation Award winner Stephen Crossley tells Max Adams what he took away from his latest placement with Nissan It's fair to say that Stephen Crossley, the Autocar Courland Next Generation Award winner, got on swimmingly during his latest work placement at Nissan's European technical centre. Having been declared the winner of our 2017 contest to unearth the automotive industry's future stars, the Oxford Brookes University student had already completed successful placements at McLaren and Honda, before moving to the Nissan Technical Centre Europe (NTCE) based at the Cranfield Technology park in Bedfordshire last month. There he's been working closely with the engineering teams, along with Andy Todd, director of body, exterior and CAD engineering and Russell Wilkins, body design project engineer, on an investigation into the best way to install door locks, gleaning some insights into how to improve the process. At Cranfield, Nissan carries out design and development work for all the vehicles it produces in its European factories. NTCE is also the birthplace of the wildly successful Qashqai small SUV. James Frankland, section manager of communications, explains that the company recently built its three millionth Qashqai in the UK since that model's launch in 2007. The Qashqai is a car that Stephen got to know quite well during his time at Nissan because he got to watch it being built at the factory in Sunderland alongside the Leaf EV, Juke and X-Trail SUVs and Infiniti Q30 and GX30. "Previously, I was with the chassis team at McLaren and that's very much a team that's focused solely on performance and then ride comfort, whereas Nissan is focused largely on comfort. It was quite an interesting contrast," says Stephen. He also got to witness Nissan's chassis team at work at Millbrook test facility: "I spent a day with the noise, vibration and harshness (NVH) team to find out how they test their cars for NVH and what they do to reduce it. They were looking at wind noise from around the windscreen and how to reduce it, but also how to reduce the costs of bringing down noise levels."Life as an engineer at Nissan is not all about driving and developing the cars, however. There's also some administration work, which did surprise Stephen."It's been nice seeing how varied the job of being an automotive engineer actually is," he says. "It sometimes involves doing something that's not engineering related. For example, when Nissan's engineers were developing the heated windscreen that's now available on the Qashqai, they had to pitch it in a presentation to another department. They had to explain what it was, what the advantages were and then go on to say how it fit in with Nissan values and which other manufacturers were doing it in this segment."Stephen's time at Nissan was also useful in helping him to furtherunderstand the intricacies of developing the ride and handling of a car: "It's been quite interesting because it's a very difficult thing to do with a car such as the Qashqai, which has to be an all-rounder." 
The engineering challenges stem from the fact that the Qashqai not only comes with multiple wheel sizes, but two rear suspension options depending on whether you have front-wheel drive or four-wheel drive.The engineering team has the task of tuning the various suspension set-ups to make sure they all maintain a similar level of driver comfort.
Andy Todd, who is a member of the Autocar Courland Next Generation Award judging panel and worked with Stephen during his placement, says the company was sad to see him move on to his next task: "We get some good people through the door via the award, so it's important that while Stephen was here, we gave him a real flavour of what it's like to be on the front line of engineering.
"One gets the sense that my colleagues have been giving Stephen the full sales pitch, because not only has he been up to the factory and to Millbrook, he's also been to the Infiniti technical centre [which is in partnership with] the Renault Sport F1 team. We wanted to show off everything we do here at Nissan because Stephen's a very good engineer and maybe we could entice him back."
Stephen's next placement is with Toyota GB at its headquarters in Epsom, Surrey. He'll experience the product marketing aspect of the car industry, finding out what Toyota is doing in terms of advertising its current rangeand conducting market research into what customers want from future models.
Winner's story: Stephen at Honda
20th August 2018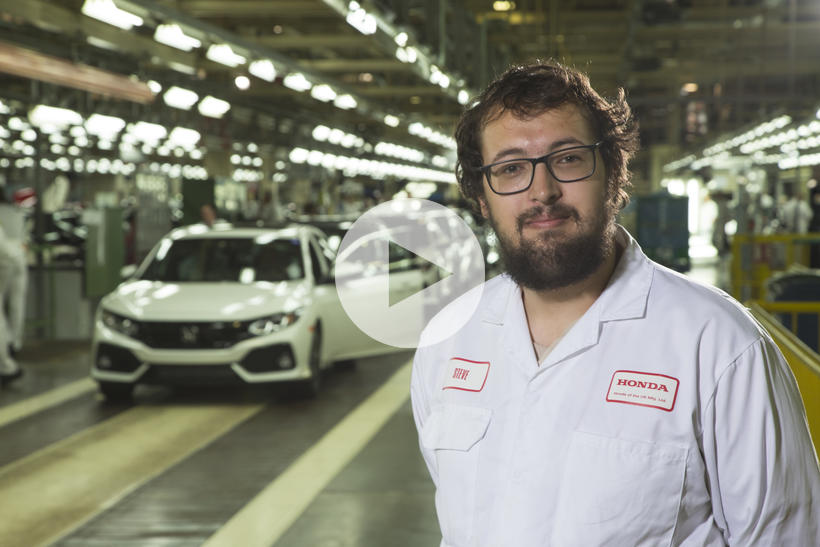 The Autocar Courland Next Generation Award is intended to give its winner a varied experience of Britain's automotive industry and that is best typified by the contrast between the first and second work placements of 2017 winner Stephen Crossley.
After his inaugural month at the sole factory of supercar maker McLaren, in Woking, he travelled 64 miles down the M4 to Honda's plant in Swindon – one of more than 30 Honda factories worldwide. McLaren hand-built 3340 supercars in 2017. Honda UK pumped out 166,228 Civics. "The cultures were certainly different," says Oxford Brookes University student Stephen. "At McLaren, I was with engineers, who have a deadline to meet and do what's necessary to hit that. At Honda, everybody starts at the same time, wears the same uniform and leaves at the same time." However, before reaching Swindon, Stephen stopped off at Honda UK's head office in Bracknell. There, he worked with the team who go to dealerships to check that they're meeting Honda's high standards and that they're able to get the right stock. Then he moved across to customer care. "I was surprised at how much Honda values loyalty," Stephen says. "If your car is out of warranty but you've owned lots of Hondas, they're often willing to help out." Assignment three was with the press relations team, assisting at the hectic Goodwood Festival of Speed. "I spent time with journalists," says Stephen, "and Nick Robinson from Honda R&D Americas, who was demonstrating an NSX. He's a vehicle dynamics engineer, focusing on ride and handling. That's the field I'm interested in, so it was very inspiring to chat to him". Soon after came the press launch of the fifth-generation CR-V in Austria. "We looked after journalists and were on hand with facts about the car," Stephen says. "It was fascinating to see how things are done. It was a friendlier atmosphere than I expected, while still being professional." Next, Stephen found himself at Honda Swindon, an enormous plant that handles global production of the Civic hatchback and Civic Type R and three types of engine. "I was with the project engineering  team," Stephen says. "They examine issues that arise and determine whether it's how the car has been built or a design fault. If it's the former, they work outwhether it's a problem with the factory or the suppliers. They also check with other factories to see if the fault is unique to them. And if it's the latter, they go back and discuss it with Japan. "When I was there, they were trying to find out whether an old problem involving a noise from cars' fuel return pipe at very low temperatures remained. The factory has a machine that can freeze a car to -30deg C or heat it to 80deg C, so they put it at -5deg C and then listened for this noise on the test track." Stephen was incredibly impressed by the intensity of Honda's product checking – in part due to the fact that his personal car is a Leyland-built MG Midget. Part of the process is initial quality study, or IQS. "They take random cars from the production line, inspect them for things like scratches and the harmony between the paint colour on panels, and then drive them on the test track to look for things including wind noise, rattles and loose trim," Stephen says. "They complement this with a shaker rig, which can simulate real-world tracks." There usually isn't much to worry about. When I quiz an IQS member on the worst thing he has ever seen, it takes him a minute to recall the world-shattering event of a piece of rear-view mirror trim dislodging over pavé. The most recent transgression has been line staff not catching a thread in the Type R's gearknob, meaning the ball could be unscrewed. The experience with a mass manufacturer has proved valuable for Stephen. "I got to experience everything Honda does in the UK," he says, "none of which I'd ever looked into or known about before. "It was really interesting to see how a car company on such a huge scale functions, from dealing with the customer right back to dealing with parts suppliers. "It has given me a good perspective. I've always wanted to eventually start my own engineering company, so it's great experience to allow me to understand all the things that need doing."
The journey starts here: 2017 Winner's story - Stephen at McLaren
20th July 2018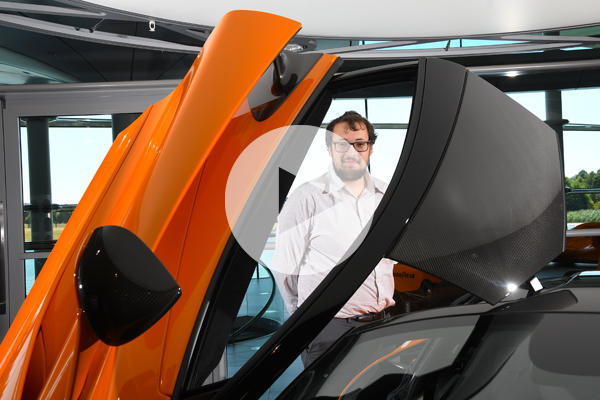 You would be forgiven for thinking that Stephen Crossley had gone straight into full-time employment at McLaren since being declared as the most recent winner of the Autocar Courland Next-Generation Award. That's because the Oxford Brookes University automotive engineering student has been on placement deep inside McLaren Automotive's Technology Centre in Woking for the last month. Whereas some work experience placements might involve making the tea and carrying out menial tasks, Stephen has been entrusted with working on top-secret projects in tandem with McLaren's brightest and best engineers.
Stephen was declared the winner of the contest to unearth and nurture young talent in the automotive industry after Tom Lingard, the would-be victor, sportingly stepped aside due to other commitments. The idea that earned Stephen the prize of industry work placements at some of the UK's leading automotive companies and £9000 is an active camber system for high-performance versions of road cars. Stephen's idea was that a car's camber could be adjusted without changing the chassis or suspension wishbones. His system could enhance the handling and reduce tyre wear, and could bring about road-holding benefits akin to those provided by four-wheel steering, which is now becoming more commonplace on driver's cars.
Stephen's passion for improving performance cars made McLaren the perfect destination for his first month of Next-Generation Award work experience. Being the consummate professional, though, he won't (or rather can't) tell us exactly what he did at the MTC – because he was working on a system for a McLaren model that doesn't even exist yet. What he can tell us, however, is that he was surprised by the level of responsibility he was given during his time with the Woking-based firm. "I didn't expect to be put on anything that could influence a real vehicle, but I was given a project that could tax me a little and could help McLaren," says the 22-year-old. "I worked on a project to improve the road cars, which was very interesting. It's always good to see your ideas in practice with an end goal." And what was the high point of his month at McLaren? "Going out in a Senna," he says without hesitation. "That was fun. McLaren takes the cars out to a test track on a shakedown, to make sure everything fits properly and the cars work as they should with no rattles. "After my ride in the Senna I was wondering how I could quickly make the £750,000 I'd need to buy one." And the biggest challenge? "Trying to make something that's usable for the McLaren engineers. Everything has to be done correctly, explaining what it does clearly." It seems as if Stephen was a natural fit during his time at McLaren, then. "I've always been good at thinking ways around a problem and taking a different route, and I've always been persistent," he says. "When you're teaching yourself a new software it's easy to just give up. Cutting through that so you're able to make something good or useful at the end is key."
Stephen's mentor during his stint was Geoff Grose, McLaren's chief engineer on its Sports Series models. "We're always looking for people with the right technical ability and aptitude, plus the ability to integrate in a team. To have all of that and really care about the product goes a long way," says Geoff. "Stephen fitted in well. We put him in the chassis team because of the nature of his award-winning project, and it was an easy fit. We put him in a team that gave him the best exposure to an area where careers would be open to him." Even Geoff is not allowed to talk in detail about what Steve worked on, but he says "it related to a vehicle's lift function. It involved computer modelling and test work, so was a nice test for the four-week timescale. He engaged with the project and the team around him really well. He did some good work for us and learned about the career options." Stephen is off to a flying start, and that's only the first of his work placements. Next, he is heading to Honda UK, we'll find outhow get's on next month
Pages