Josh at Toyota
6th October 2017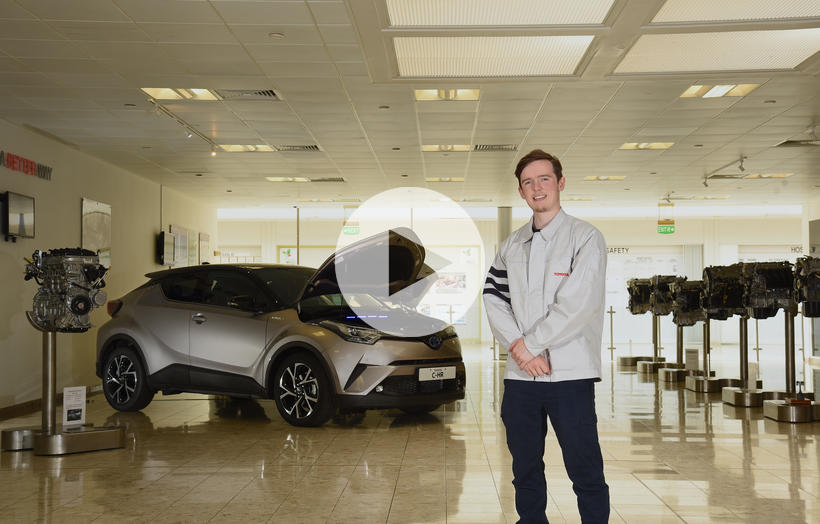 Josh de Wit has been on an incredible journey. Roll back to November 2016 and the University of Sussex student was waiting on stage at the Society of Motor Manufacturers and Traders annual dinner in front of a host of industry experts, wishing for his name to be called out as the winner of the Autocar-Courland Next Generation Award.
Josh did scoop the top prize, and with it he won £9000 and one-month work placements at McLaren, Jaguar Land Rover, Peugeot, Honda, Nissan and Toyota. Now, eight months later, he has just finished his final placement with Toyota and is about to return to university with a wealth of industry experience under his belt. "It's made me realise exactly what I want to do," Josh says. "I want to stay in this industry, and it's been so great seeing all aspects of it."
Josh has spent the past four weeks working with the product marketing team at Toyota. Based at the Japanese firm's GB headquarters in Epsom, Surrey, he has been working on everything from car brochures to online marketing, as well as meeting agencies that work with the brand to create car ads. His main objective, however, has been to research connected car systems. "Manufacturers such as Tesla, Mercedes and Audi are moving on very quickly with implementing smartphone connectivity into its cars," Josh explains. "So I've been analysing and evaluating how they do it, and how Toyota can consider its own approach. "This will also ultimately all help develop autonomous driving features, and that's an exciting thing to be looking into."
Although Josh's main interest lies in engineering, he has enjoyed the challenges presented to him in the Toyota marketing team and is grateful for having gained similar experience at other manufacturers. "The research was difficult," Josh says. "But when it comes to car sharing and autonomous driving, this research will be crucial, so motivation was easy to come by. "People want convenience – that's what I discovered in my market research. They want their smartphones fully integrated into their vehicles. Streaming music, using sat-nav, having apps showing live parking availability and fuel prices are all important."
Josh clearly enjoyed his work, and had the chance to present his findings in front of the product marketing team. "It was really helpful getting their views. They're an awesome team to work with – really fun and supportive," he says. But, just like all of his other placements, Josh's experience at Toyota was not confined to the office. He also spent time at the Toyota Motor Manufacturing (UK) factory in Burnaston to see how a car is physically put together through different manufacturing processes. The likes of the Avensis and Auris are made at the Derbyshire facility.
When we meet to discuss his time with Toyota, Josh is wearing a hard hat and high-vis gear after getting shown around Toyota's engine plant in Deeside, north Wales. "Places like this are the bread and butter of the industry," Josh says. To fully round off his experience and help immerse himself in what the Toyota brand stands for, he also had a Mirai hydrogen fuel cell vehicle Josh hopes to make the most of his new skills after university loaned to him for three days. "It was so interesting to experience a hydrogen-powered car. I was impressed with how refined it is," Josh says. "If the infrastructure can catch up, hydrogen has good potential as a fuel of the future."
Now that his placements have come to an end, Josh will return to university for his final year of study in mechanical engineering. "There are so many positives I can take from the Autocar-Courland Next Generation Award," he says. "Along with all the practical skills it's given me, it's been great making so many contacts. It's opened so many doors. "It's allowed me to get used to working at different companies, understanding the time and effort that go into these products, taking them from concept through to production and then to selling them.
"I'm looking forward to studying for another year and continuing my development, but it's been hugely helpful having this real-world experience. It's helped give me the edge over other undergraduates, and I wouldn't have had it without the Next Generation Award."
Josh at Honda
10th August 2017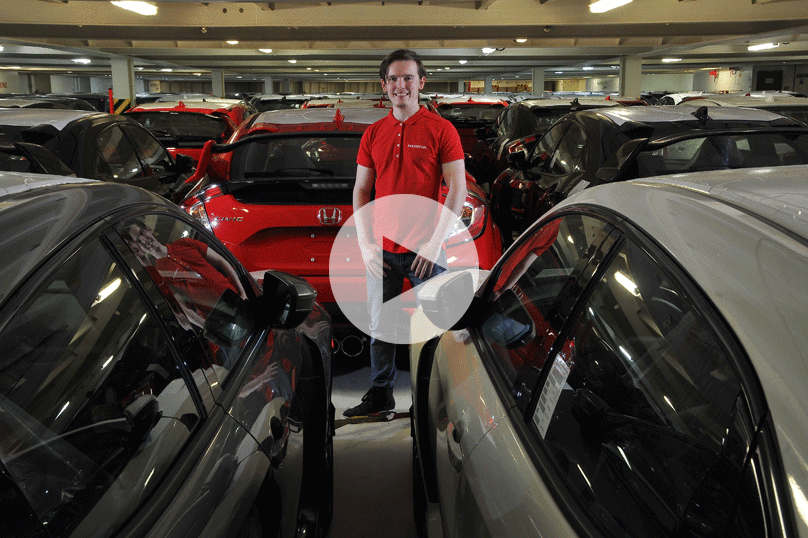 The penultimate station on Josh de Wit's whistle-stop tour of the UK motor industry was in Bracknell, Berkshire, the home of Honda.
The mechanical engineering undergraduate and 2016 Autocar-Courland Next Generation Award winner covered a wide variety of departments at Honda and says it was one of his best placements yet.
The first department that Josh experienced was dealer development. "I started by conducting a mystery-shopper report on a Honda dealership," he says. "Dealerships are selected for this every so often, to check the customer experience meets Honda's high standards." 
Josh then went along to another dealership with Honda's field team to see how relationships with dealers are managed. "The two dealerships were at completely different ends of the spectrum in terms of how they dealt with customers, which was very interesting to experience," he says. "It's all well and good engineering things, but they have to be sold effectively. Strategising the dealer network is a never-ending but important challenge."
It wasn't just cars that Josh worked with. He spent time with Honda's divisions for all-terrain vehicles, such as quadbikes, and for motorcycles, and visited the marketing agency in London to see how the brand's often ground-breaking ads are planned and produced. 
He also attended the Hampton Court Flower Show with Honda Power Equipment to talk to customers about the Miimo electric autonomous lawnmower. "People were put off by the purchase price, but once we told them about the annual running costs of £12.50, they soon warmed to the idea," he says. 
Next up for Josh was commercial planning and market research. "It's one thing to have the technical expertise," he says, "but you also need the commercial expertise and to be able to manage your employees." There was also time to visit aftersales and customer relations departments.
Josh then moved to the engineering and research and development side of things at Honda's factory in Swindon, where the new Civic and the CR-V are built. "I found it interesting that engineering and manufacturing are conducted at the same site," Josh says, "because they were separate at Nissan," his previous placement.
After that, he spent a day at one of Honda's main car export depots at the Port of Southampton, learning the processes behind transporting, documenting, storing and loading the cars, as well as where they were going and what the processes were at their destination. "It's a huge operation and it's great to see cars that were built in Britain and exported around the world," he says. 
Josh also got to drive several Honda cars, including the previous and new versions of the Civic Type R, one of which he demonstrated at CarFest North, and the new Clarity hydrogen fuel-cell car.
"There are challenges with hydrogen cars," he says. "These include the very limited infrastructure for them, efficient production and storage of hydrogen and packaging within the vehicle. So as much as I appreciate the rare chance to drive such a car and was impressed with its refinement and power, I still think the future is in battery-electric vehicles."
The biggest thing that Josh took away from his time at Honda is how "ethically driven" the company is.
"It's not 100% about the money," he says. "Soichiro Honda had this philosophy that if he saw something that wasn't right, he would cut it, regardless of the market. For example, there was once a massive market for two-stroke engines, but he didn't like their impact on the environment, so he made four-stroke engines instead. You'll also never find a Honda chainsaw, because he didn't like trees being cut down.
"The way employees are treated and the public image are also very important at Honda. I think ethics are key to a successful business."
Josh's next and final work placement will be at Toyota.
How to land your dream job
20th July 2017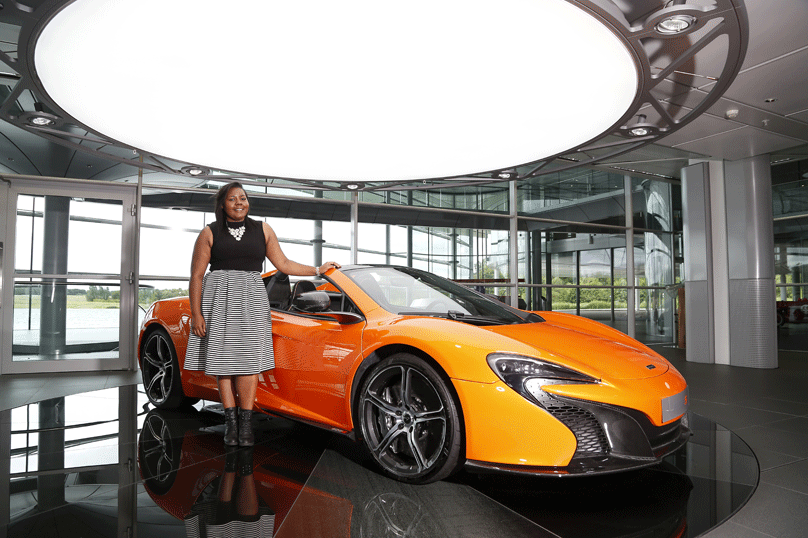 Winning the Autocar Courland Next Generation Award has propelled many young people on to successful careers in the automotive industry. We caught up with 2014 winner Nicole Agba, who is now a colour and materials designer at McLaren, to find out how she ended up back at the supercar manufacturer and how her experience of entering and winning the award helped get her there.
What did you do when you finished your Autocar Courland Next Generation Award placements?
My final placement was with Skoda in August 2015. When I finished that, I explored other creative opportunities as a freelancer and started a trend-forecasting blog called The Trend Tome. This experience eventually helped me get a role at the Advanced Propulsion Centre [which researches low carbon propulsion development and production] as a visitor experience designer, redesigning its exhibition space.
How did you end up back at McLaren?
I knew I wanted to get back into automotive and I was still so inspired by my Autocar Courland Next Generation Award placements. I started freelancing again and got back in contact with the team at McLaren, where I did one of my award placements in 2015.
Back then, I worked as an intern, supporting the senior colour and materials designer on the design of the McLaren 720S, as well as working within the advanced design team to develop future concept proposals.
All my manufacturer placements were amazing, but McLaren was my favourite. I stayed in contact and heard about an opportunity in the design department there. I had an interview at the beginning of this year and started my job six days later.
What do you do at McLaren?
I work in the design studio as a colour and materials designer. I've been working on colour and trim on a range of future products that will be launched as part of our Track22 business plan.
My main responsibility has been developing exterior body, caliper and alloy colours, as well as interior brightwork and leather.
I have to fulfil a brief, and what I've learned is how important it is for marketing, engineering and design to all work together to produce a world-class product. The cool thing about working here is that we don't accept 'no' as an answer and we strive to be innovative and figure out how to make a great idea happen, no matter what the challenges.
What's the best thing about your job?
It's just an amazing environment to be able to work in; there's such a buzz around the place. I'm grateful for the opportunity to work with such a supportive group; I'm constantly growing and learning and I'm excited to see what the future holds.
What's your advice to people thinking about entering the award this year?
Do it. No matter how big or small or extravagant or simple your idea is, everybody should enter. It's an incredible opportunity and it has helped me so much in my career.
Have you carried on working on your original award-winning idea?
My biometric steering wheel design is still something I would love to see go into production somewhere. It can monitor a driver's heart and respiration rate for indications of fatigue, anger or nervousness, so I really believe it would be beneficial.
After the competition, I was approached by a lot of companies who wanted to work on it. I didn't really have time to take it forward but I've been approached recently by more people interested in developing it. It would be cool to do something with it, but it needs a lot of investment. It's just about finding the right business opportunity.
Pages