Morven at Jaguar Land Rover
16th November 2016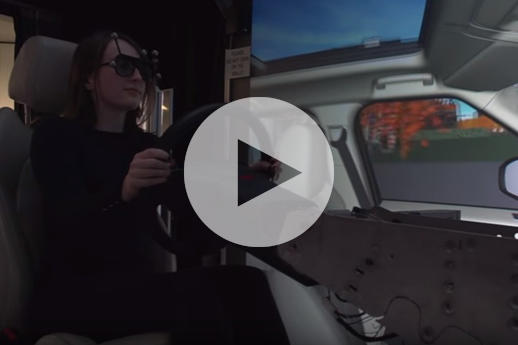 For her final placement with Jaguar Land Rover, Morven is based at thier research facility.  Here she explores how digital technology is used in the early stages of design and research.  Jaguar Land Rover's "Virtual Cave" brings virtual reality to the heart of vehicle development and Morven has been experiencing exactly what is involved.
Morven at Honda
26th October 2016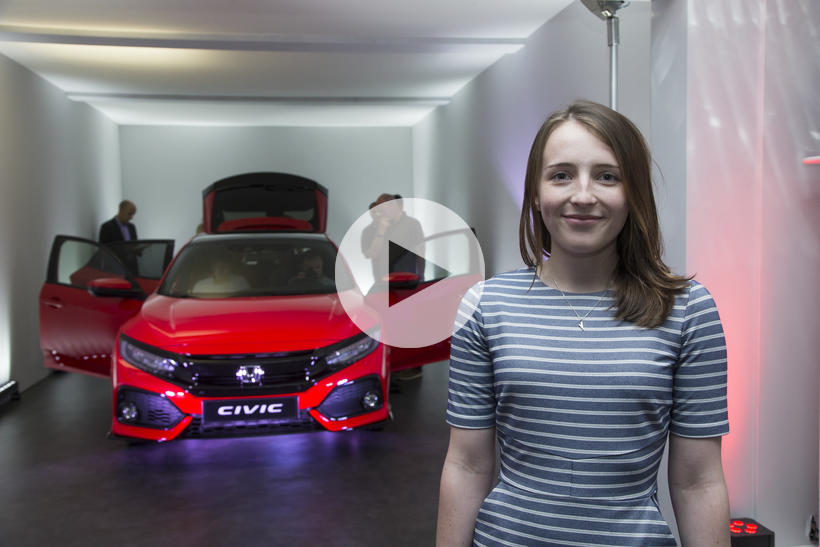 Before her month-long placement with Honda, Morven had never been to a motor show, or a car launch. Looking back at her jam-packed month which started with the press launch for the Civic, and ended with three hectic days in Paris, she's thrilled to have had such a diverse range of experiences.
"It's been so much fun," Morven says. "September is crazy for all manufacturers, so it was amazing to be right at the heart of it with Honda."
Morven was chiefly working with the press and PR team but her busy timetable packed in work across other teams as well. Her work quickly became focused around one of Honda's most iconic products: the Civic.
Now in its tenth generation, 25 years after the first generation was unveiled, the new Civic will go on sale in the UK early next year, and Morven attended the press launch of the new hatchback at the Honda factory.
"It was the first launch I'd ever been on so it was all new to me, lots of things were going on at once and I was just trying to take it all in."
Morven spent some time behind the scenes with advertising agencies, looking at past and upcoming TV adverts for the brand.
"It was good to see how an agency can get across Honda's brand message," Morven said. "I got to see all the really famous adverts, and also got a peak at some of the storyboards for the new Civic TV advert. It's really valuable seeing lots of these elements around the launch."
Then came Paris, where Morven was able to sit in on interviews with journalists and the head engineer of the new Civic following its official launch.
"It was my first motorshow, and the size was overwhelming but I still managed to see so much of it.
"It was really interesting hearing the different types of questions from the journalists, and seeing how they were answered. It was great getting to sit in and hear more about the engineering of the new Civic."
Morven at Toyota
9th August 2016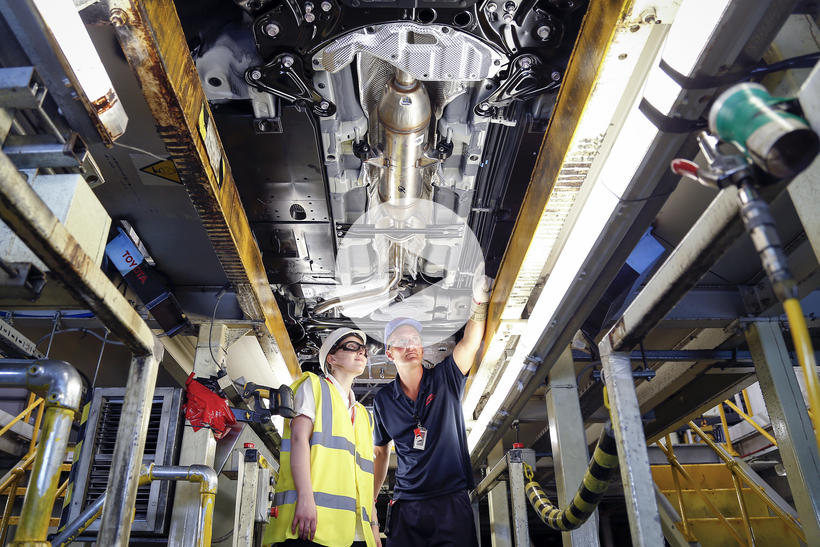 Morven Fraser's placement at Toyota was an entirely new experience for the Glasgow university student.
We catch up with the Autocar-Courland Next Generation winner in her second placement and she is clad in protective gear and a high-vis jacket, being shown around Toyota's mammoth Burnaston factory in Derby.
"I've been getting an in-depth tour of the factory, following a car through its production process," Morven explains. "You can walk around here for days!" Morven has a background in engineering, and believes seeing a car in its final phases of production is a great asset to her knowledge. "Because it's a mass-production plant, everything moves very quickly. A car rolls off the production line every 66 seconds".
A few cars are randomly selected for testing on track, to make sure there aren't any unwanted rattles or noises, and Morven was whisked around in the new hydrogen-powered Mirai.
"I'm fascinated with the Mirai, if we can get the infrastructure then hydrogen will prove to be an amazing way to power our vehicles. The problem with electricity is that you don't know where it's come from, and you don't know if it's green. With a hydrogen fuel cell you're getting all your energy very cleanly." Clean energy is something Morven is very interested in – her Autocar-Courland Next Generation award-winning idea involved solar panels for cars – and Toyota has proved to be a good fit for the budding engineer. Cars like the hybrid Toyota Prius and hydrogen Mirai have given Toyota a strong reputation for alternative-fuel cars, and during the rest of her time with the manufacturer – away from the factory – Morven was able to indulge her interest working on the Prius Plug-In.
Toyota believes the Autocar-Courland Next Generation Award is crucial for bringing fresh talent into the industry, and the manufacturer gave Morven a chance to work with the marketing team to look at ways it can position the product to its market. "My background is engineering, so for research I looked at other companies' websites and the apps they've brought out for green cars to find my feet," Morven says. "Lots of companies have an app where you can remotely control features like air-con from your smartphone or smart watch, and that's something I think could be involved with the Prius Plug-In. Other company's also have websites that let potential customer's compare their current fuel-powered car with an EV or hybrid to calculate the savings they could make."
Marketing is important for a car like the Prius Plug-in, which has traditionally sold in small numbers compared to the standard hybrid Prius, but Morven is clearly brimming with ideas. "I've never had any marketing experience, but I really relished the challenge and I can offer a different kind of perspective with my design background. It's been great to be involved in something new, and I've had a chance to meet Toyota's press team, social media team, fleet managers and see their take on the hybrid versus plug-in Prius."
Pages