It's an unusual scenario to engineer and build an electric racing car for a series that doesn't officially exist yet. But that's exactly what Cupra Racing has done.
ETCR (electric touring car racing) has been planned as a spin-off of the Europe-wide, conventionally powered TCR series for a while now. It's allegedly due to commence next year, but only two brands (Cupra and Hyundai) have built and revealed cars that meet the specifications. Cupra Racing bosses claim they have yet to sign anything official to say they will be racing next year.
Still, since Cupra has one working example of its Leon-based e-Racer, it's keen to show off its abilities. And that's why I found myself with a HANS device around my neck and sitting in the passenger seat alongside racing driver and Cupra ambassador Matthias Ekström, bracing myself for hot laps of the intense Castellolí circuit outside Barcelona.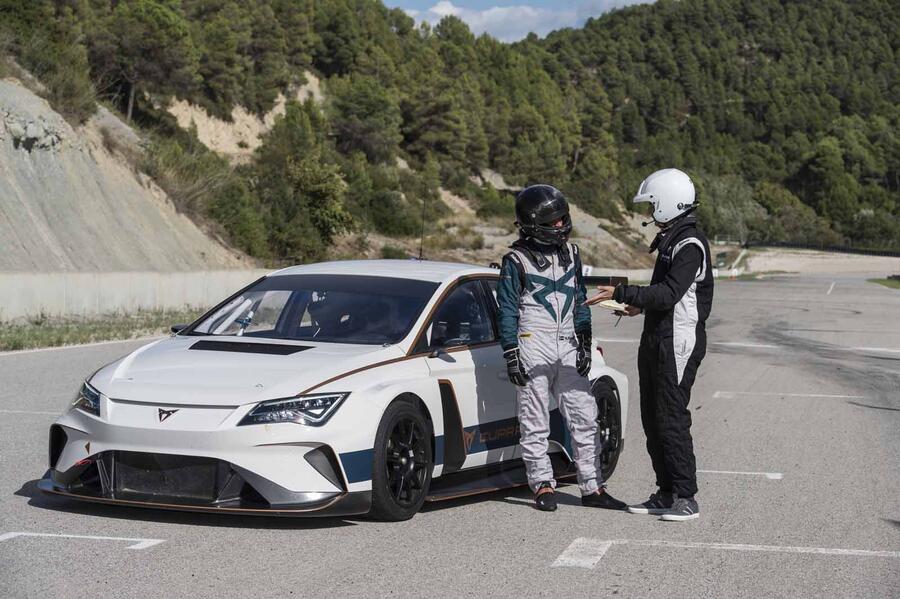 The e-Racer bears no mechanical resemblance to any Leon, with four (yes, four) separate electric motors putting a peak of 670bhp (or a continuous output of 402bhp) and 708lb ft of torque through the rear wheels only, spinning at up to 12,000rpm. That's substantially more than the petrol TCR Leon, but then the e-Racer does weight a full 400kg more. It'll do 0-60mph in 3.2sec, 0-124mph in 8.2sec and hit 168mph flat out.
Ekström is no novice. He's a two-time DTM champion, has won the Race of Champions three times, has a world rallycross title to his name and even founded his own rallycross team; EKS Audi Sport. But, by his own admission, he's had very little experience in EVs.