The single-motor Taycan overcame fairly chilly and damp test conditions to post acceleration benchmarks strong enough to impress on any modern, £75,000, four-seater performance car, electric or otherwise. The car's acceleration feels far from startling or savage, and doesn't really compare with that of the Taycan Turbo S. Even so, there's a nicely understated sort of potency and the usual pleasing linearity and responsiveness about this sort of electric performance, which our test car's 20in wheels and Michelin Pilot Sport 4 tyres make fully deployable on the road even in less than perfect conditions.
Porsche's electronic launch control governed the car away from rest very efficiently, with just the occasional snatch of wheelspin, to hit 60mph in 5.1sec, 30-70mph in 3.7sec, and 100mph from rest in 10.9sec. A two-motor, four-wheel-drive Jaguar I-Pace is marginally faster over the first two of those benchmarks, but the Porsche's second gear and its more slippery silhouette make it the quicker of the two cars to three figures and beyond. It's also only a tenth slower to 100mph, and significantly faster thereafter, than Audi's relatively bluff, three-motor E-tron S Quattro. Porsche always claimed that the Taycan was an EV made for the autobahn; as our numbers bear witness, that's true even of the entry-level version.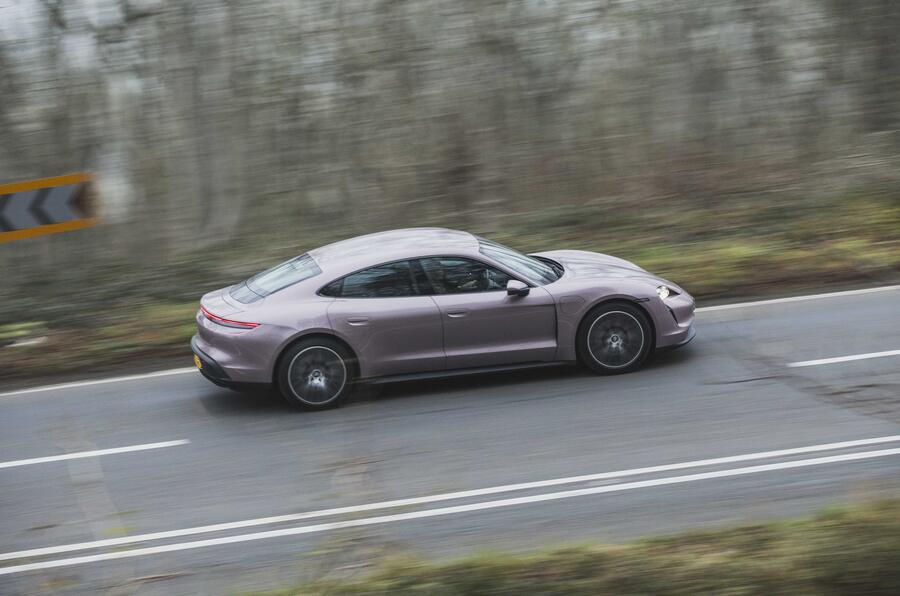 Launch control starts are one of very few occasions when you'll feel the car's gearbox shift. The Taycan sticks to top gear during most normal driving even at low speeds, and when it does shift you'll only be aware of it occasionally. Apply a big throttle input suddenly from low speed with the car's Normal driving mode selected, for example, and the downshift to first can come with a bit of a shove; speed down a motorway slip road under load and there is the briefest of interruptions in the car's power delivery, but one that takes concentration to notice. But during a full-bore standing start, the unmistakable but welcome percussive impact of a ratio change can be felt going through the Taycan's driveline somewhere between 70mph and 80mph. It's delivered so quickly that it made for no interruption to acceleration that showed in our satellite timing data trace, but you could clearly feel it – and also see the car's rate of acceleration slow slightly after that speed.
When driving the Taycan in more normal circumstances, you're rewarded with well-tuned pedals, and just enough control over the regenerative settings of the car's electric motor to adapt it to your whim and taste. Your can switch the car to coast freely, or to regenerate progressively with speed and driving mode, through a toggle button on the left-hand steering-wheel spoke. There are no regen-specific shift paddles, which is the one way that Porsche might have made the driving experience more involving, especially in everyday operation.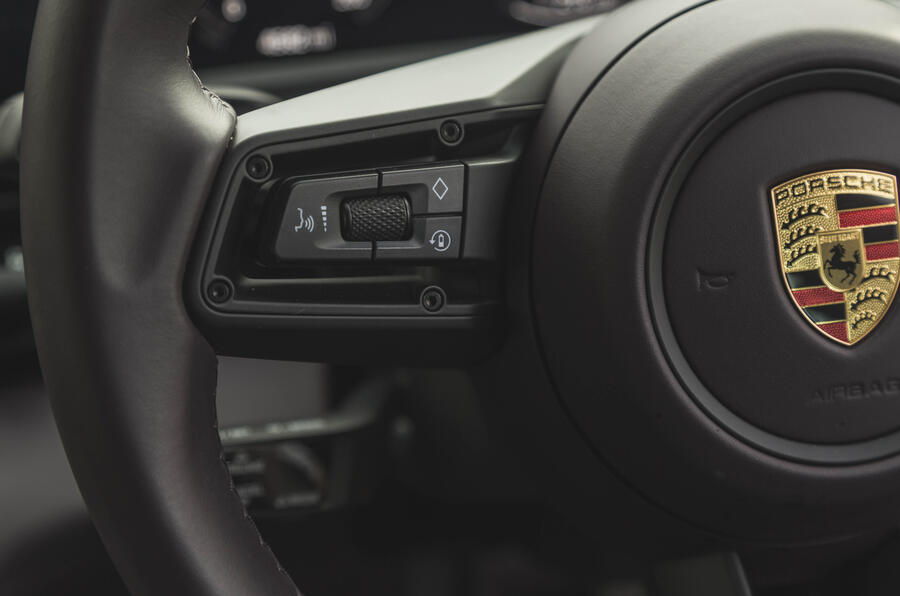 You can switch Porsche's synthesised 'engine noise' on and off on a button adjacent to the one for battery regen, if you so choose. It's novel and unusual to listen to, layered on the ear and varying with speed and throttle load; so it's more sophisticated than some, and interesting with it – but perhaps not enigmatic or genuine enough that you'll want to listen to it indefinitely.