Some car makers talk about making an 'and' car. It's a handy if glib marketing phrase that suggests they're capable of building cars with combinations of characteristics that you wouldn't necessarily expect.
Comfortable and agile. Fast and economical. Rakish and practical. That sort of thing.
This new Porsche Cayenne Turbo and just-revised Range Rover Sport SVR, mind, are something else again. 'And' doesn't quite do it justice. The plan is to take the most practical of all family vehicles – large SUVs – and throw the absolute works at them. Not to make them 'and' cars, but 'everything' cars; to be practical family cars that are also luxury cars and sports cars, which will go farther off road than you could imagine, will tow more than you could ever need to tow, be faster than most GT coupés and cosset you wildly while not looking like airport limos.
If you want a four-wheeled allegory for modern life – I want absolutely everything, please, and I want it now – these two are the leading edge of it.
The main reason for getting the two together is that the Cayenne is new. It's another full-size SUV to sit on the Volkswagen Group's increasingly ubiquitous MLB hybrid steel and aluminium platform, which also underpins the Audi Q7, Bentley Bentayga, Lamborghini Urus and Volkswagen Touareg.
In this range-topping Turbo form it costs all but £100,000, with power coming from a 4.0-litre twin-turbocharged V8, mounted in the front and driving all four wheels through an eight-speed automatic gearbox.
The front-to-rear torque transfer can be split, via a system of clutches. Air suspension is standard, optional is a 48V active anti-roll bar system, which can couple or decouple, adapting its stiffness in rapid time, depending on whether you want to eliminate body roll, or, say, allow more wheel articulation. The engine makes 542bhp and 567lb ft, the latter from 1960rpm. Granted, the kerb weight, partly as a result of all the above, is 2175kg, but in terms of hardware, few cars come more over-equipped.
One of them might be the Range Rover Sport SVR, the product of Jaguar Land Rover's Special Vehicle Operations (SVO) division. At its launch in 2014 the Sport SVR also came with 542bhp from its 5.0-litre supercharged V8, but it seems that wasn't enough. So here it is, post-facelift, with modest mechanical changes but, significantly, 567bhp and 516lb ft, the latter an increase of 14lb ft but developed from 3500rpm, such is the nature of supercharging rather than turbocharging.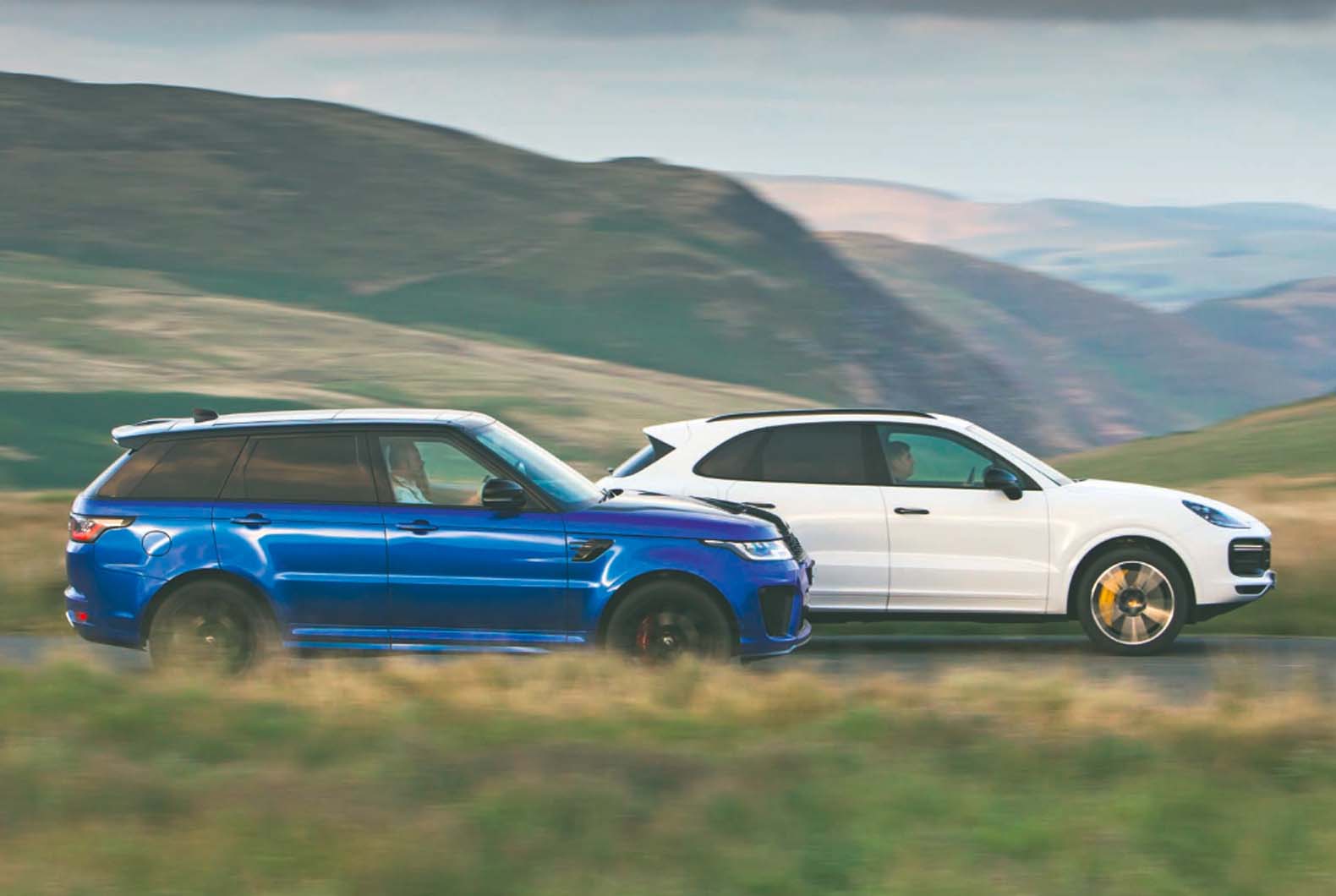 The remaining hardware and methodology are similar to those of the Porsche. There's an eight-speed auto and a four-wheel drive system which mostly offers a 50:50 front-to- rear torque split, although clutches in the centre diff can send 100% of the drive to either axle. There's a locking rear differential (standard, unlike the Porsche), air springs and a standard active anti-roll bar, although its hydraulics aren't 48V-powered. The towing limit is a mere 3000kg, to the Cayenne's 3500kg, but it gets a set of low-range ratios and is likely more capable in mud, although this isn't the test to prove it.